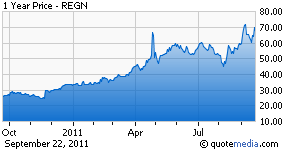 Roche AG's eye drug Avastin, recently linked to more than a dozen cases of serious eye infections, has been temporarily dropped by the Dept. of Veterans Affairs (a healthcare provider of more than 5 million people), and Regeneron Inc. (NASDAQ:REGN) stood to gain. REGN stock closed over 9% on Wednesday, and hit a 20-year high intra-day.
Avastin treats the condition wet age-related macular degeneration which affects more than 1 million Americans, and Regeneron currently has a drug under FDA review called Eylea that treats the eye disorder. Avastin has to be repackaged before it can be injected, whereas Eylea comes in a more convenient injectable form. The FDA's target date for completing Eylea's review is Nov. 18, according to Bloomberg.
Last month the FDA linked more than a dozen cases of serious eye infections to repackaged Avastin, some resulting in blindness. The VA said in an e-mailed statement that it is investigating cases of eye infections at its facilities and will reassess Avastin's use after the investigation.
Analyst at Citigroup Yaron Werber told Bloomberg, "It's a positive for Eylea ...The question is whether the VA is comfortable from this point onwards using an off-label product that needs to be compounded by the pharmacy."
Do you think Eylea will be approved? For a deeper look into Regeneron's prospects, we crunched some numbers on REGN stock:
*Written by Alexander Crawford.
Disclosure: I have no positions in any stocks mentioned, and no plans to initiate any positions within the next 72 hours.