By David Berman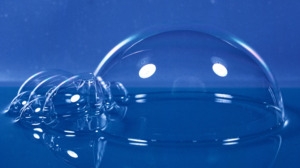 With bonds rallying on Thursday, sending yields to record lows, the bond-bubble chorus that dominated headlines throughout 2010 is looking very misguided.
There have, of course, been many doomsayers on bonds as yields crept lower, and then lower still. But Jeremy Siegel stands out as one of the most articulate and well-placed. The professor of finance at the University of Pennsylvania's Wharton School wrote an op-ed piece in the Wall Street Journal in August, 2010, headlined "The Great American Bond Bubble."
He naturally compared the bubble in bonds to the bubble in Internet stocks a decade earlier, and warned of a similar outcome. "Those who are now crowding into bonds and bond funds are courting disaster," he said, adding that "the possibility of substantial capital losses on bonds looms large."
Mr. Siegel updated his views a month ago, warning that the Federal Reserve's pledge to hold interest rates at ultra-low levels for the next two years, which drove yields lower, "reinflated the bubble to the bursting point."
So far, no burst. The yield on the 10-year U.S. Treasury bond fell to 1.74 per cent on Thursday afternoon, amid a global stock market meltdown and rush into safety. (As bond prices rise, bond yields fall.) That's an extraordinary level, an historical low, and down from 2.6 per cent when Mr. Siegel penned his first Wall Street Journal op-ed piece.
To be fair, bond yields have been jumping around a lot. The 10-year yield rose as high as 3.5 per cent earlier this year, amid optimism about the U.S. economic recovery – when some observers were saying "forget about the word 'recovery,' we're back to economic expansion, baby" – before falling with a return to pessimism.
But still, the fact that bonds have performed so well during these troubled times only underlines how difficult it is to call a bubble ahead of a pop. High price – or low yield, in the case of bonds – is only one characteristic to watch for. As Mr. Siegel's friend, Robert Shiller (a bubble-spotter, par excellence), has pointed out, it is also important to see a contagious "new era" story associated with an asset – and that hasn't occurred with bonds.
Disclosure: None