Another company has decided to join the Bank of America (NYSE:BAC) bearishness. Moody's just cut Bank of America's credit rating to Baa1 from A2. Short term debt was downgraded to Prime-2 from Prime-1.
Moody's cut the rating mainly due to concerns regarding the decrease in probability of the U.S. government supporting the bank if issues were to arise. Moody's analyst wrote, " The government is more likely now than during the financial crisis to allow a large bank to fail should it become financially troubled, as the risks of contagion become less acute."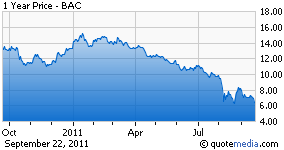 Moody's did not cite any risks regarding Bank of America's investments or holdings. Now my main concerns have mostly been the banks' ability to generate profits going forward, Moody's brings up a reasonable concern. The pressure from U.S. voters regarding the handling of the financial crisis will keep government in check. This is especially true going into an election year. The "To big to fail" mantra will keep the federal reserve from completing any big bailouts if financial institutions get in trouble once again.
I'm bearish on Bank of America and won't change my bias until I see a bankruptcy of Countrywide or see a fundamental change. I would wait to short a rally if you don't have a position yet. Bank Of America will have problems generating profits going forward and a downgrade of its debt will just make that even more difficult. Higher interest expenses is the last thing the bank needs at this point.
You can read more about my earnings concerns in my last article, Seeing further downside for BofA.
Disclosure: I have no positions in any stocks mentioned, but may initiate a short position in BAC over the next 72 hours.