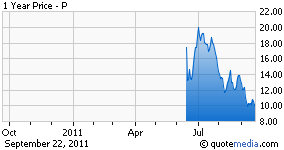 One dynamic about Pandora (NYSE:P) that investors need to consider is that the company is still losing money each time someone listens to a song. Thus, announcements of more registered users with more listening hours is always bittersweet from an investor perspective. Certainly the company is on the path to profits, but sometimes it seems like a two steps forward one step back approach to business.

The main issues that Pandora has is that royalty rates are quite expensive, the competitive landscape is growing, and advertising sales are not growing as fast as the user base. This has brought on a myriad of concern from some investors and analysts, while others choose to look at it as an investment in the future when better royalty rates and higher ad revenue come into play.

No matter how you feel about Pandora as a product or investment there is one thing that is certain. This company will be around for quite some time, and they will respond to the competitive landscape so as not to be left in the dust.

Over the last couple of days Pandora has revamped its website and made some interesting announcements on the business front. The website redesign is slick, intuitive and should make for a more user friendly environment. It is the shift to an unlimited service that caught my eye, however.

It is no secret that Clear Channel's (CCMO.PK) iHeartRadio has been on a roll. They have a big music festival coming up in Las Vegas, and have promised free commercial-free listening for the iHeartRadio service until the end of the year. With over 750 channels to choose from, iHeartRadio is stiff competition for Pandora. Clear Channel can and does promote the heck out of iHeartRadio an all of its terrestrial radio stations across the country.

With Clear Channel upping the ante, and Spotify making headlines, Pandora needed to do something to respond and get themselves a bit of the spotlight. That is exactly what Pandora has now done.

One drawback to Pandora was the limit of 40 hours of listening per month. At the 40 hour mark users would have to interact with the service and shell out an additional $0.99 to continue their listening experience. The thought behind this strategy was to get users to stream Pandora in a more active manner and stop streaming all day. Remember, each song that plays costs the company more money than they bring in.

Pandora has now done away with the 40 hour limitation and raised the bar to 320 hours, or "essentially unlimited." On its face this would seem to mean that the company is exposing themselves to more costs, and that theory is probably justified. However, the company would not do this if was going to doom the business. In my opinion this move is a combination of the competitive landscape as well as a business decision based upon the better traction the company is seeing in their ad supported model.

Pandora is likely still in loss leader mode, but perhaps the two steps forward and one step back is no longer the mantra. It just may be that Pandora is now only losing half a step by boosting ad revenue.

I am still not sold on Pandora as an investment, but do concede that there are many opportunities in this equity for traders, as the stock tends to trade in a wider range than other media companies. In my own opinion Pandora is still a wait and see. I want to see how they perform in the next quarter and see if the company can continue their impressive growth in active users before shelling out my dollars into the investment. Let's see how this new "unlimited" plan impacts the royalty line on the next conference call.

Disclosure: I have no positions in any stocks mentioned, and no plans to initiate any positions within the next 72 hours.