Atlantic Power Corporation (NYSE:AT) is a relatively new name to dividend seekers. The Boston-based company pays a monthly dividend at an attractive 7.9% annual yield. Atlantic Power Corporation operates various operations of power generation and provides infrastructure resources throughout the U.S. It sells electrical energy to utilities and large scale retail companies under long-term purchase contracting agreements.
In a slowing economy, Atlantic Power Corporation provides a necessary utility function to customers. In addition, the company pays a compelling dividend yield compared with the prevailing Treasury Bill and Treasury Bond rates.
The common stock pays a .0912-cent, per month, dividend. This equates to a $1.10 annual dividend. The yield is approximately 7.9% on today's $14.00 per share stock price.
Operation Area
Here is a look at Atlantic Power's diverse asset base: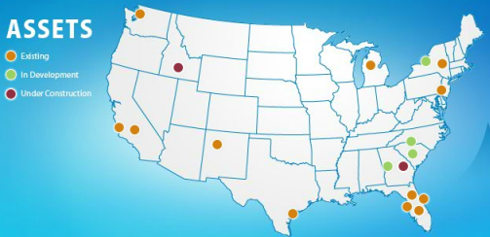 Business Strategy
Atlantic Power Corporation's mission statement clearly says that when it comes to corporate strategy, it strives for the production of steady cash flows from the assets that it already has, and to acquire new sustainable dividend payouts for shareholders. The growth is focused both on organic growth and by selective accretive acquisitions to the asset base.
Atlantic Power's updated portfolio includes interests in thirteen power generation projects that are operating in ten different states, with a biomass project that is still under construction in Georgia. Atlantic Power Corporation also has an electrical transmission line established in California, which has a generating power of five hundred kilovolts that is eighty four miles long.
Atlantic Power possesses a 60% position in a biomass power plant developer called Rollcast Energy. Rollcast Energy has 5-biomass plants in operation in the southeastern area of the U.S. Atlantic Power has the option to provide further capital investment in any upcoming Rollcast energy biomass plants.
Atlantic Power's power production plants, already in production, have an accumulated gross electric power production capacity, which comes in at almost 1, 962 MW, in which Atlantic Power has an ownership interest of about 878 megawatts.
Business Summary
Atlantic Power mostly deals in the production of fuels and energy. It has several different projects placed strategically throughout the U.S., some developed and functioning and some that are still under construction.
Atlantic Power has natural gas plants set up in Auburndale, Dade City, Orlando, and Umatilla, Florida, Bakersfield, California, Albuquerque, New Mexico, Corpus Christi, Texas, and Bethlehem, New York. The combined sum of energy generated from these plants is roughly 1170MW some holding an economic interest of up to 100%.
It has have one woody biomass project set up in Cadillac, Missouri, generated 100% economic interest, and producing energy that is generally worth 39.6MW.
Atlantic Power has set up a pulverized coal operation in Carney's Point, New Jersey, whose total worth comes up to 262MW, generating 40% economic interest, a Wind operational plant in Twin Falls, Idaho, that carries 27% economic interest but generates 183MW of energy produced. In Concrete, Washington, it also has a successfully operating hydroelectric power plant, which generates 13MW of power, but holds a 49.8% economic interest.
Utility Peer Group for Safety and Income
Here is a peer group with a strong safety rating for reliability as a utility company. The yields range from 3.3% to Atlantic Power's 7.9%:
(Click chart to expand)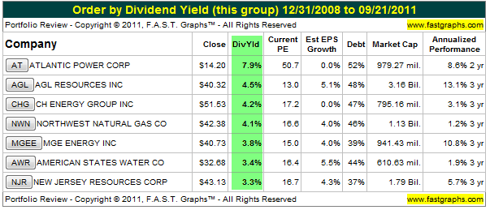 American States Water Company (NYSE:AWR): The company, through its principal subsidiary, Golden State Water Company, supplies water to 255,000 customers in 75 communities in 10 counties. The locations are in the general Los Angeles area and Orange Counties.
AGL Resources (AGL): AGL is a public utility holding company. Subsidiaries, serving 2.3-million customers, include Atlanta Gas Light, Chattanooga Gas, Elizabethtown Gas and Virginia Natural Gas. The area of operations are in The utilities operate in Georgia, Virginia, Tennessee, New Jersey, Florida, and Maryland.
CH Energy Group (NYSE:CHG): CH Energy is the holding company is parent corporation for Central Hudson and Central Hudson Enterprises Corporation. Central Hudson is a regulated electric and natural gas subsidiary. In total the company serves approximately 375,000 customers in the state of New York.
MGE Energy (NASDAQ:MGEE): The company is a holding company for Madison Gas and Electric, which provides electric service to 140,000 customers in a 316-square-mile area of Dane County. In addition, the company provides gas service to 143,000 customers in seven counties in Wisconsin.
New Jersey Resources (NYSE:NJR): New Jersey Resources is a holding company providing retail and wholesale energy services to 500,000 customers. The service area is in New Jersey, and in states from the Gulf Coast, to New England, and Canada.
Northwest Natural Gas (NYSE:NWN): NW Natural Gas distributes natural gas to 90-communities and 670-customers. The service area is primarily in Oregon and also in southwest Washington state. The core cities served are Portland, and Eugene, Oregon, and Vancouver, Washington.

Disclosure: I am long AT.