This is part 5 of the ten pack series of metals miners articles. Please refer to previous articles for Great Basin Gold (NYSEMKT:GBG), Entree Gold (NYSEMKT:EGI), Jaguar Mining (JAG), and Seabridge (NYSEMKT:SA).
I began researching Aurico (NYSE:AUQ), formerly known as Gammon Gold, and Northgate Minerals (NXG) in March for the article series. AuRico has recently agreed to purchase Northgate Minerals.

One thing that strikes me about both companies is the rich mineral resources each has already developed. AuRico has 2 operating mines in play and a third with 1.5 million ounces gold Proven and Probable in the works. Northgate has 3 mines in play with a fourth, Young Davidson, being brought online in Q1 2012, that will double current minable resources. Both companies are attractive on their own, and in fact I considered Northgate to be a dark horse junior once resource-rich Young Davidson came online next year.

The merger will create a very attractive mid-tier company with $22 billion in resources at current market values. Combined, the cost per ounce of gold production should be about $450 per ounce.

(Click charts to expand)

The 1.2 million ounce Ocampo mine for AuRico is currently recognizing a 77% margin at current market prices. With continuing gold price surges toward $2000 an ounce, this margin should continue to increase. While labor costs have risen by 17% at Ocampo, the price of gold is rising faster. In fact in a

recent article

by John Hathaway, it was noted that since 2008 operating margins of gold producers have been expanding.

Something to consider when purchasing gold miners are resource grades versus development costs. Companies that have a lot of mines in development will require increasing funding per ounce of gold, while those that have already developed mines that are producing in the current environment will have the advantage. John Hathaway also notes the decreasing resource grades since 2001.

With 5 producing mines and 1 large mine coming into production in early 2012, the new AuRico Northgate company will have sufficient cash to finance new projects from mines operating at record margins. That means more money to investors in the form of dividends and share price appreciation.

In addition to almost 11 million gold ounces of inventory, the combined new company sports 97 million ounces of silver and 860 million pounds of copper. This is where things get really fun, because 28% of the merged company value will come from secondary metals mining that nobody is really considering as part of the share price. Unlike other mid-tier producers, the new company will have some resource diversification that should help hold up revenue and therefore the share price if any one of the three metals temporarily slumps. For example as copper demand falls, the prices of safe haven gold and silver should rise.

The new company will be geographically diversified in established mining districts in Mexico, Canada, and Australia, all mining friendly countries. The company estimates 54% production gains into 2013, putting the investor right in the sweet spot of the growth curve the next two years.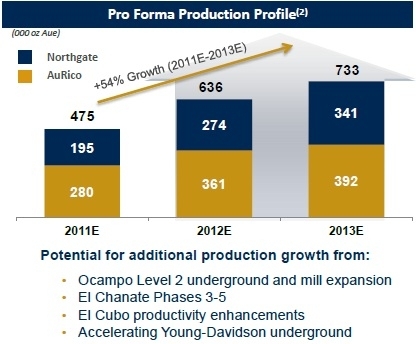 The addition of the dark horse Northgate Minerals with resource-rich Young Davidson and Kemass mines to the well-managed and well-funded AuRico should make for a very profitable investment.

Disclosure: I am long AUQ.