Exchange traded products that track the Chicago Board Options Exchange Volatility Index, or "VIX," continued to jump higher Thursday as volatility surged on growing concern of an imminent global recession.
The iPath S&P 500 VIX Short-Term Futures ETN (NYSEARCA:VXX) ended Thursday up 10.24%.
The VIX jumped for the fourth day in a row, the longest consecutive streak since July, report Cecile Vennucci and Jeff Kearns for BusinessWeek.
The VIX index ended Thursday at 41.95, up 12.487%.
Investors opted to hedge against equity losses amid growing concern that governments have run out of tricks to stave off another recession.
"It's very difficult to find clarity here in market direction and volatility when trading seems to be led by fear, panic and computers as opposed to rational fundamentals," Jeremy Wien, a VIX options trader at Chicago-based Peak6 Investments LP, commented. "Market sentiment flips 180 degrees on a weekly basis."
"The European Union is dealing with a problem they've never encountered before and that's worrisome for investors," Gareth Watson, V.P. of investment management at Richardson GMP Ltd., said. "It's unknown territory" and "there are no easy answers or quick answers to the European situation."
The VIX has maintained levels above 30 for two months now, its longest sustained rally since the Lehman Brothers fiasco, reports Mark Gongloff for The Wall Street Journal. The VIX, though, is still off its intraday peak of 48 on August 8.
iPath S&P 500 VIX Short-Term Futures
click to enlarge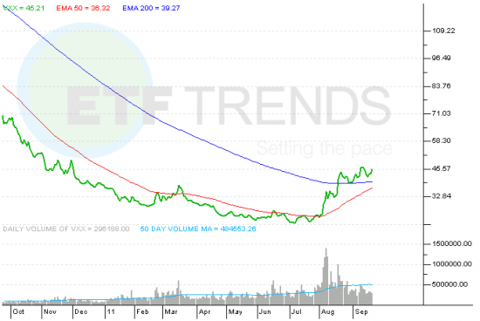 Max Chen contributed to this article.
Disclosure: None