On Aug. 2, IPSU was changing hands at a peak price of $24.49. Today (Sept. 23), its quote touched $6.60 - representing a 73% decimation from last month's high. What would cause such a tremendous implosion of value? Most would speculate with scenarios such as accounting irregularities, obsolescence of product, breeching of loan covenants, natural disasters or threat of bankruptcy. In IPSU's dive, none of those possibilities held true.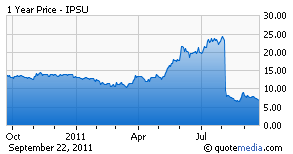 The fact of the matter is, the company simply missed its quarterly earnings estimate because it was not able to pass on its raw material increases to its customers. It's not the end of the world; it's a temporary thing, something you would expect when dealing with agricultural commodities. Volatile sugar prices took their toll, as the company's cost of raw sugar rose a daunting 34%, yet it was only able to raise its prices 21% - it is all cyclical.
Next time around, just the opposite could occur, these guys could conceivably enjoy selling price increases that exceed the actual escalations of its raw material. The point is, the stock's hate selling was way overdone, and sooner than later, market participants will come back to their senses and price the company accordingly.
This is a $15 stock, plain and simple, counting liquidation value alone. If the enterprise were able to get its act together and improve operations, this could be a $26 stock, based on a multiple of 13 times earnings of $2.00. Fixing IPSU is not rocket science, it is simply the proper execution of a well thought-out business plan. In other words, selling your product for more than you have invested in it, a very simple concept, that sometimes gets lost in the shuffle.
IPSU's management is more than capable of doing this, and taking its very long suffering shareholders back to the promise land. If not, stakeholders could always be rescued by a special situation arising, such as a sale of the entire company or a spinoff.
The overall market has been brutal. I realize that the averages have been getting pummeled these days on recession fears, but still am quite perplexed that Imperial (it's supposed to be a safe/defensive food stock for crying out loud) is getting smacked and beaten up much worse than the averages. When considering it is one of only a "handful of equities" that is selling below liquidation value, you would think that distinction would offer some downside protection and a solid floor. This stock, at this time and price, is the perfect opportunity for a deep value player like a "Warren Buffett" to capitalize on. "Oh Mr. Buffett", a little help please!
Disclosure: I am long IPSU.