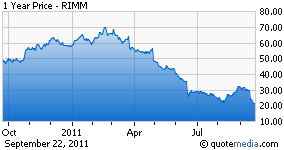 Research In Motion (RIMM) has had a tough couple of months. The stock has fallen nearly 64% YTD. The reason is simple. RIM is having a tough time competing with companies such as Apple (NASDAQ:AAPL) and Google (NASDAQ:GOOG).
Apple's iPhone has seen staggering sales, just as Google's Android phones have seen rapid adoption as well. These companies are growing at over 20% annually. A figure that is so hard to believe considering the size of these companies. As an avid iPhone user, I can easily say that Apple offers a product that every individual needs.
There is no doubt that both Apple and Google offer a better product than RIM. RIM is a relic and it's becoming increasingly difficult for the company to turnaround.
Let's go over the reasons why iPhones and Droid phones have a competitive advantage over Blackberries.
Speed: If you have an iPhone, you can just click the Safari browser and voila. Blackberries take a longer time to startup and if you have several applications running, the phone will become substantially slower.
Handling/Ease of Use: iPhones and Droid phones have touchscreens. This is becoming the norm for smart phones. Blackberry does have some models that have touchscreens, but in order to compete all of their phones should have this feature.
Brightness: The level of brightness for the iPhone is stunning. It has a nice crisp look and creates a strong appeal to users. Blackberry screens are not nearly as bright.
Apps: With hundreds of thousands of applications and growing, it's no wonder people love the iPhone. Individuals can customize their phone to match their personality or interests. Blackberry does not have a system, where it can appeal to all users.
The list goes on, but this should give you an idea of how bad the situation is for RIM. Many have been saying that Blackberry has a consisted base in corporate America, but that is changing rapidly. Corporations have begun implementing programs or already began issuing iPhones to their employees. 70% of Fortune 100 corporations and 50% of companies on the FTSE 100 are already in the process of switching to iPhones as the standard mobile device.
RIM is not only having a problem with sales of phones, but also with the sales of tablets. The tablet market has become highly competitive. The company announced the PlayBook, however the sales were well below expectations, about 90% below. Hewlett-Packard (NYSE:HPQ) has had a similar problem, the company had to sell its inventory of tablets for $99, which is a significant markdown from the original $399 price. Microsoft (NASDAQ:MSFT) is set to enter the tablet market as well by making the Windows 7 tablet. Not to mention Microsoft has a lineup of Windows phones as well.
The market for smart phones and tablets has become extremely competitive. RIM has very little room for turnaround and will most likely see further downside. The best case scenario for RIM would be to strategically sell itself in order to maximize shareholder value. RIM has a very similar story to Palm, which was bought by Hewlett-Packard after the stock was in free fall. Both companies used to be the best in the industry, but they did not innovate fast enough and held on to a crumbling business model. RIM needs to learn from Palm and do something quickly.
Disclosure: I am long MSFT.