I wrote on August 8, 2011, that at that time, the market was making its most severe break in its 30-month old uptrend. I warned that "to sit back and do nothing was not the right way to go." At that time, I gave the following advice (summarized):
Indiscriminate selling of everything is an "amateur" thing to do unless you own a bunch of sub-par stocks, exchange traded funds, and or mutual funds.
Sitting tight and doing nothing is the second worst thing that you can do. "Buy and hold" money managers are either lazy or uniformed.
I wrote that it was time to prune, weed, and hedge!
I recommended getting rid of stocks that were breaking down, or had not performed well during the bull market. I listed the sells like Caterpillar (NYSE:CAT) and Cummins Engine (NYSE:CMI), that I was making at that time.
I also mentioned the stocks like Autozone (NYSE:AZO), Green Mountain Coffee (GMC, Alexion (NASDAQ:ALXN), First Cash Financial (NASDAQ:FCFS), and others that I was keeping. Those stocks continue to hold up well even as of today.
Lastly, I recommended three specific hedges to consider adding to your portfolios. I also showed the charts of them at that time. I pointed out how they were beginning to break out while the market was breaking down. I mentioned

the ProShares Short Financials ETF (

SEF), which is inverse the financials,

the ProShares Short MSCI EAFE ETF (

EFZ), which is inverse Europe, and

the ProShares Short MSCI Emerging ETF (

EUM), which is inverse the Emerging Markets.
All of the above Exchanged Traded Funds have an inverse relationship of 1:1 on their underlying indexes. The charts of them looked very good back on August 8, but take a look at them now!
SEF-Inversely correlated to the Dow Jones U S Financial Index.
(Click charts to enlarge)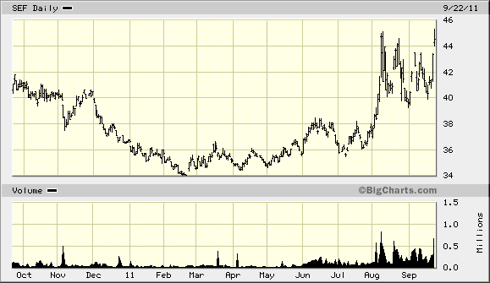 EFZ-Inversely correlated to the MSCI EAFE Index.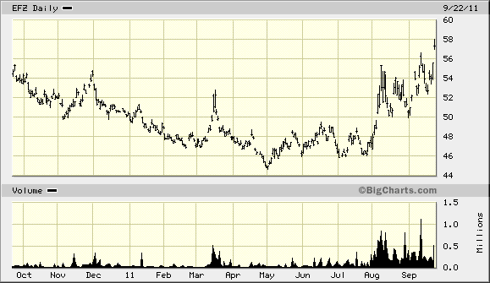 EUM-Inversely correlated to the MSCI Emerging Markets Index.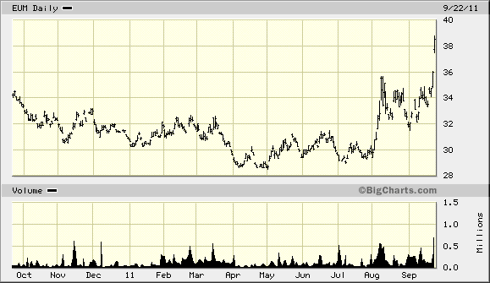 These inversely correlated Exchange Traded Funds are obviously quite extended right now, but there will be a chance in the near future to buy them at a cheaper price.
Why do I believe that it still makes good sense to hedge your portfolios?
The economy is getting worse instead of better. GDP has slowed down to a crawl, and we may even now be in negative territory. I do not see any near-term catalysts to get the economy going again any time soon. I look for the November elections next year, as the catalyst that may finally spark the economy once again.
Monetary policy has gone as far as it can go and we now need some business friendly fiscal policy to loosen up some of that massive amount of cash that companies are currently sitting on.
In my opinion, Europe is going to get worse before it gets better. Greece is a disaster area right now, and Italy, Portugal, and Spain are not far behind. Germany is getting a little sick and tired of bailing out weaker economies.
The jobs market is not going to get better any time soon. I see nothing in the President's latest proposal that is going to ignite the jobs market any time soon.
The housing market continues to be extremely weak. 35% of all home sales are now foreclosures, and another 12% are short sales. This does not bode well for the domestic banks that are already worried about their sovereign debt exposure.
It appears that there will still be a lot write-downs of bad debt in coming months.
In addition to this, new home sales are almost non-existent despite record low interest rates. It is almost impossible for the economy to recover without the housing market.
I still believe that doing nothing and being a passive investor, rather than an active investor is the worst thing you can do. I know that John Bogle, the CEO of Vanguard, would disagree with me, but I have been though the tech sell-off 2000, the bear market of 2002, and the horrible sell-off of 2008. To sit and do nothing makes no sense to me at all. Index investors have gone nowhere over the last decade!
I still believe that hanging on to companies that are flourishing in a very bad economy is still the right thing to do for now. If this market gets worse and a new bear sets in, they will also be vulnerable, however.
I also see no reason to hold on to grossly underperforming stocks like Cisco (NASDAQ:CSCO), Microsoft (NASDAQ:MSFT), General Electric (NYSE:GE), etc., etc. These stocks have gone nowhere in ten years and they certainly are not going to all of sudden wake up in this current environment.
Lastly, it still makes perfect sense to hedge your portfolio with easy-to-trade, inversely correlated exchange traded funds when they become a little cheaper again.

Disclosure: I am long EUM, EFZ, AZO, GMCR, SEF, DLTR.