I set up an EDGAR online screener to find stocks paying a dividend soon. I don't want to look at all the stocks that pay a dividend, so I filtered the results based on the following:
Options available
Dividend amount over $0.08 (I understand that many retail traders can not make money with an $0.08 dividend due to transaction costs, but most pros can)
Active volume to avoid paying a large spread to leg in and out
Investors can read about many dividend capturing strategies; most of them work better on paper than they do in practice. I tried just about everything over the years, and I learned quickly it is better to use a sim account first.
Now, I use a few methods that produce consistant results. In this article we will go over an upcoming dividend that I may capture with a minimum amount of risk. The criteria that I use is that I must be able to sell a call option in either the front or first back month that is in the money, and with enough premium that I will not mind getting exercised early (which happens often and can be a good thing if the trades are executed correctly).
This is one of my favorite and easy-to-understand methods of making gains through options and dividends. Although much of the gains will come from dividends, it should be noted that, in my experience, the option decay can provide a return. This is especially true in lower-yielding stocks.
MasterCard Incorporated (MA):

Yield: 0.18%
Dividend Amount: $0.15
Ex-Dividend Date:

October 6, 2011

Beta: 0.99
Strategy:
In combination with my buying the stock and after checking company updates, offer to sell the October $270.00 strike call for $3.08 over the intrinsic value. The option may get exercised early for a gain. If not, after qualifying for the dividend, I will look to close out the covered option with a gain of about about $2.55.
This trade is much more about the option premium that can be gained than a dividend. If I was already willing and wanting to buy the stock, I would move forward. Without wanting to own the stock the small yield is not worth the downside risk, in my opinion. The dividend adds to the option premium when the yield is this small.
The current trailing-twelve-month (ttm) P/E ratio is 21.1 The forward P/E ratio is 18.8. The current book value per share is 43.03. For the same fiscal period year-over-year, revenue has improved to $5.54 billion for 2010 vs. $5.10 billion for 2009. The bottom line has rising earnings year-over-year of $1.85 billion for 2010 vs. $1.46 billion for 2009. The company's earnings before income and taxes are rising with an EBIT year-over-year of $2.75 billion for 2010 vs. $2.26 billion for 2009.
At $331.93, the price is currently above the 200-day moving average of 274.62, and above the 60-day moving average of 319.96. Looking at the price movement over the last month, the stock has moved higher in price 4.85%, with a one-year change of 57.14%. Compared to the S&P 500, the year-to-date difference is 64.00%.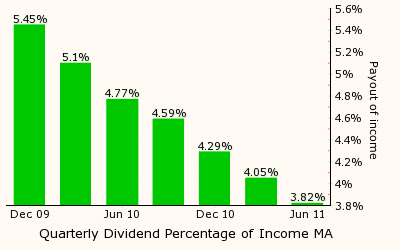 Remember, you must buy a stock at least three business days before the record date (at least one business day before the ex-dividend date) to qualify for a dividend.
My last step (completed before making a trade on the same day) is to check company announcements and news sources for possible events that may cause the stock price to move. This is especially important during earnings season.
I research the different call options and calculate the expected probabilities based on Beta, Bid, Offer, Volume traded the current day, open interest, and time value/implied volatility. The options offer some level of protection from down moves in the stock, and provide revenue to cover the times that the options do not fully cover down moves in the stock. Income is not needed from the option premiums, so a break-even from premiums received/stock losses ratio is a win.
I use a proprietary blend of technical analysis, financial crowd behavior, and fundamentals in my short-term trades, and while not totally the same in longer swing trades to investments, the concepts used are similar. Nothing in the article should be considered investment advise, but you may want to use this article as a starting point of your own research with your financial planner. I use Seeking Alpha, Edgar Online, and Yahoo Finance for most of my data.