When it comes to ranking stocks by reasonably feasible upside, Chesapeake Energy Corporation (NYSE:CHK) is near the top of my list. The reason for this is that I believe that I the natural gas industry has considerably likelihood of becoming the leading energy source within this decade or (at the very latest) this coming decade, above petroleum and other speculative green energy sources. If there would be an industry that I would go into business today, it would be in the natural gas business.
Below is a breakdown of energy consumption by source for 2009 America: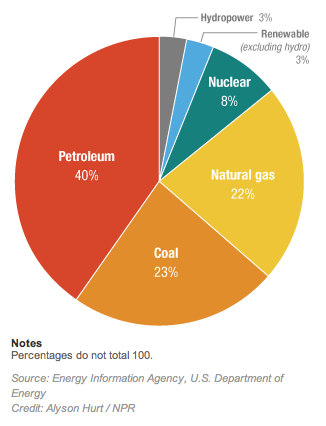 There is such a plentiful supply of known natural gas currently that I even struggle to understand why it is not being immediately tapped into right now and replacing petroleum production in the process. The energy is efficient and incredibly clean, giving off 30% and 45% less carbon dioxide emission than petroleum burning and coal burning, respectively, everything equal. Given rising concerns about foreign relations, a turn to natural gas could reduce the United States dependency and reinvigorate the economy.
Much of the work I perform is to survey business operations and, for the last year or two, I have specialized largely in reviewing natural gas fields. There is a certain understanding that I have gained from this due diligence that I would not be able to articulate without. Let me briefly describe some of this experience…
Imagine an industry dominated by independent producers, modern day wildcatters hoping to strike a fortune. More than 80% of natural gas is produced by small companies with a market cap below $500M, employing just a few burly men. These producers have little technology and are scattered across a few potential sites. For the vast majority of these independent firms, risk is the only thing abundant--fortune only a far out possibility.
Then you have Chesapeake Energy, the second leading producer of natural gas. While analysts rate the stock between a "hold" and a "buy," I find the company's strength and market position both significantly undervalued. The independent producers, on the other hand, are inefficient and far overvalued. If there could be a reasonable horizontal integration of this industry unfettered by the government (like what appears to be planned for solar and wind energy), this resource could fuel the foundation of America's new economy. It would unlock tremendous revenue and cost synergies through consolidation.
Most important to emphasize is the difference between competition in the energy industry versus competition in most other industries. While sites can be claimed by almost any firm, natural gas sites require high capital resources and technology to sincerely develop. Accordingly, there is a tremendous amount of inefficiency, production being far below the optimal level. Regulators should eliminate red tape and stay away from natural gas producers, especially in the area where anti-trust claims are concerned.
Chesapeake owns 46K wells, according to its 2010 annual statement, and 87% of these wells produce natural gas. The corporation is developing fields in north-Central and Eastern Texas, Northwestern Louisiana, in Arkansas, etc. It has targeted the Haynesville, Fayetteville, Marcellus, Barnett, Eagle Ford, and Bosier Shale.
What all this amounts to is a corporation well diversified in an industry where many competitor players are scattered and without substantial capital. Consider also that Chesapeake has been a leader in implementing technology in developing natural gas sites. The company is now moving into oil and natural gas liquids, having developed a foothold in natural gas. I am anticipating liquids making up a higher percentage of production in the future, rising from 11% in 2010 to around 29% in 2013.
Recently, information about Chesapeake's Buell #8H well in Utica was released: 6.5 MMcfe/d is high and respectable for a horizontal play drilled to 8.4K vertical feet, albeit not what the most bullish investors were expecting. The corporation believes that the Utica well holdings are worth somewhere between $15B and $20B.
The returns from production will follow a bell curve and I expect the release of near-mean returns to discount the company's stock price further below intrinsic value. As a value investor, however, one should be focused on the long-term. Chesapeake's fundamentals and diversification make the corporation well positioned--a few lucrative plays will eventually be struck, in my opinion.
Moreover, Chesapeake already has enough sites to transition many energy users to this efficient and environmentally-friendly source. Manufacturers are designing an ever-increasing amount of cars and trucks to run on a natural gas, a resource that is a third cheaper than oil by the mile. There is more than a century's worth of supply and it is available reliably as of now. It is a logical progression for the energy industry.
The company currently trades at 26.5x and 10.1x past and forward earnings, respectively, while paying out a 1.2% dividend yield. As a bear estimate, I expect revenues to grow by 40% to $13.1B in 2011 and then by 13.9% the next year. The upside, however, is huge and immeasurable.
*Note: The railroad industry is worth exploring in connection with this analysis. I predict a strong correlation between returns in energy and returns in Union Pacific (NYSE:UNP).
Disclosure: I have no positions in any stocks mentioned, but may initiate a long position in CHK over the next 72 hours.