Every bubble has four things in common: Easy money, a popular theme, an investment vehicle, and a herd of investors chasing after that vehicle. And bursts when at least one of these factors reverses course—usually after a catalyst—rising interest rates, a stock market crash, or accounting irregularities.
China's recent Internet bubble displays all these characteristics: Easy money around the globe, a popular theme, Internet- and social media, and a batch of Chinese start-ups that have been chased to the stratosphere by a herd of investors. Some of these companies have made their way onto the US exchanges, through a controversial Chinese corporate structure, Variable Interest Entity (VIE)—a practice that has drawn the scrutiny of US regulators, due to a string of accounting irregularities among these companies. Now, VIEs have come under the scrutiny of Chinese regulators, the China Securities Regulatory Commission (CSRC), which has asked the State Council to take action against VIEs.
Here is a list of the most active Chinese web companies in early August:
| | | | |
| --- | --- | --- | --- |
| Company* | Business | Forward PE (Dec. 2012 | Operating Margins |
| Baidu, Inc. (BIDU) | Internet search engine | 30.88 | 52.18 (%) |
| Sina Corp (SINA) | Media and mobile value-added services | 51.54 | 22.30 |
| E-Commerce China Dangdang Inc. (DANG) | Business –to-Consumer e-Commerce | 121.57 | 0.32 |
| Renren Inc (RENN) | Social Networking | 187.50 | 5.42 |
| Youku (YOKU) | Internet TV | 1,312 | -20.41 |
| Sohu.com Inc. (SOHU) | Brand advertising, on-line gaming | 13.29 | 37.50 |
*These statistics should be interpreted with caution, as Chinese accounting standards are different from those of the US--so they aren't comprable with those of their US counterparts like Amazon.com (AMZN) and Google (GOOG).
Source: Yahoo.finance.com
As can be seen from the table, most of these stocks have been recently trading at high or even astronomically high PEs with thin or even negative profit margins like E-Commerce China Dangdang Inc. and Youku. But rising rates at home, accounting irregularities and an unsettling world market have been taking their toll on these stocks. It seems that the bubble is bursting. What should investors do? Should they buy into this revolution or stay away altogether?
(Click charts to expand)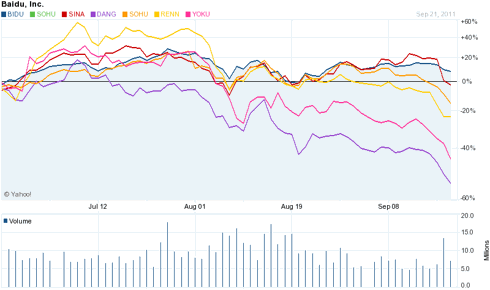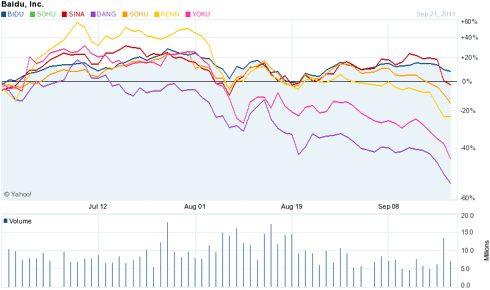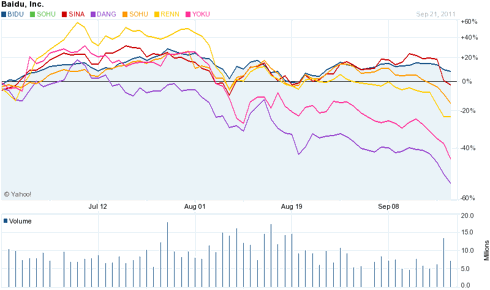 Click to enlarge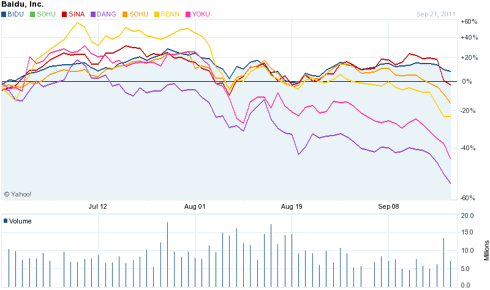 Click to enlarge

Stay away. That's at least the lesson from the burst previous bubble, e.g., the Japanese bubble of the 1980s, and the high-tech bubble of the late 1990s—The Nikkei is trading close to 80 percent below its 1989 high; most of high-tech high-fliers of the late 1990s, including Cisco (CSCO), and EMC (EMC), trade at a fraction of their 2000 high.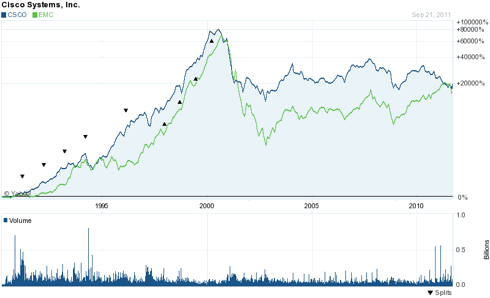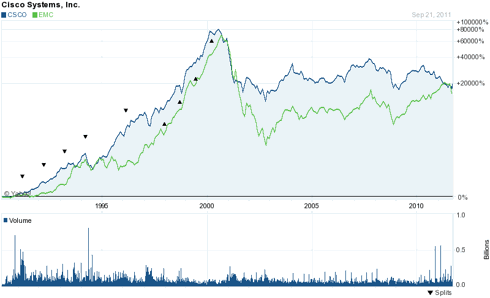 Click to enlarge

Disclosure: I have no positions in any stocks mentioned, and no plans to initiate any positions within the next 72 hours.