From the ongoing sovereign-debt debacle in the EU to weakness in the U.S. economy, macro-level concerns drove the late-summer swoon in global stock markets. Although it's impossible to protect your portfolio fully from the market's short-term gyrations, selling your holdings when fear and panic rules the ticker is a sure-fire way to lose money.
To cushion the blow, make sure that your balanced portfolio includes exposure to safe-haven stocks and consider shorting likely underperformers with exposure to the weakest parts of the economy.
Don't dismiss consumer-staples stocks as slow-growth laggards that only outperform when uncertainty makes investors pay up for steady earnings and reliable dividends.
The S&P 500 Consumer Staples Index has generated a total return of 87% over the past decade - almost three times the 30% return posted by the S&P 500. As we first posted on our Facebook fan page, with a beta of 0.56, the sector is only half as volatile as the S&P 500. Solid returns and low risk are an attractive proposition, particularly when you focus on names with exposure to rapidly growing demand in key emerging markets.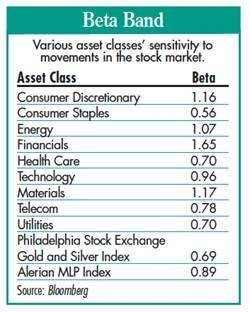 Given the current austere market conditions, I am bullish on the consumer staples sector, which is why I am boosting allocation to consumer staples in my personal finance advisory portfolio.
One name that stands out in the sector is Kimberly-Clark (NYSE:KMB), which boasts an impressive portfolio of health and hygiene brands, including Huggies, Kleenex, Cottonelle, Kotex and Depends. Although consumers in the U.S. and other developed markets have long trusted and purchased these products, Kimberly-Clark's growth potential resides in emerging markets where penetration remains low and domestic demand (along with household incomes) is on the rise. You can uncover several more names of U.S. companies capitalizing on growth trends in emerging markets by checking out Jim Fink's excellent article, How to Profit from the Coming Boom in Chinese Consumer Demand.
In the second quarter, Kimberly-Clark's revenue surged 8.2% from year-ago levels, with gains in the company's international segment leading the way. Favorable currency exchange rates contributed roughly 5% of this revenue increase, while price hikes and organic sales growth accounted for the remaining 3.2%.
Cost inflation remains Kimberly-Clark's biggest obstacle. In the second quarter, the company's adjusted gross margin fell 240 basis points to 31.2%, prompting management to raise its estimate of full-year materials costs to between $650 million and $750 million from $450 million to $550 million.
Thus far, the company has pushed price increases through to customers without endangering its competitive position. In a conference call to discuss second quarter earnings, management emphasized that the firm has maintained or increased its U.S. market share in six of eight product categories. Sales of certain product lines have also enjoyed above-trend growth in Brazil and China.
To combat higher input costs, Kimberly-Clark continues deliver on an efficiency initiative that's expected to cut costs by $300 million to $350 million in 2011. Meanwhile, the introduction of a line of slip-on diapers and other higher-margin products should limit further erosion of the firm's profitability.
Disclosure: I am long KMB.