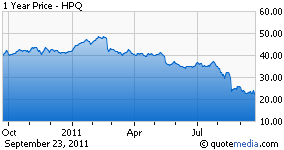 The board of Hewlett-Packard (NYSE:HPQ) is finally stirring to life. A month has passed since CEO Leo Apotheker festooned a weak earnings report with cataclysmic changes in the company's direction. Repelled by these seemingly ill-conceived moves, investors have driven the company's market capitalization down by nearly half. Apotheker's effort to justify his new strategy has only further eroded his credibility. Now that the board has to meet, it has to consider his termination. And it has, with the nomination of Meg Whitman in his stead. We applaud the move. Though a recent addition to the board she is versed in the company's situation and well up the learning curve. Action is needed, after all. But the question remains: where to from here?
If only we could turn back the clock to reverse these changes. Consider them in tandem: 1) after just six weeks in the market, HP — one of the largest vendors of consumer technology — ends its tablet and Smartphone offering; 2) to better focus on the Enterprise, it agrees to purchase the highly acquisitive Autonomy for an eye-popping $10 billion (roughly 10x forward revenue); and, 3) more or less out of the blue, the company announces the intention to consider the divestiture of its PC business.
But we cannot go back in time. The egg is broken. The milk is spilt. Indeed, the board itself approved these actions. So what is to be done?
Clearly, the board of directors must assert its fiduciary responsibility to protect corporate assets for the share- and stakeholders of the company. Apotheker's tenure was tumultuous, to say the least. Every effort must be made to reassess the company's position and its alternatives before any of these changes are made permanent. This requires a CEO with a mandate to thoroughly review existing strategies using the corporate infrastructure that exists to this end. Meg Whitman is presumably so equipped.
Among the questions I would want answered are:
How are the company's financial and technological assets best organized to support its disparate Corporate and Consumer businesses?
What is the best way to sell servers, networking and storage products, Enterprise software and services, and

printers and PCs to corporations?

What is the best way to sell PCs, printers,

tablets and smart phones to consumers?

What is the best strategy to manage the company's capital structure, burdened as it already is with extensive debt and goodwill generated in previous acquisitions?
What corporate structures and mechanisms might allow for more efficient capital allocation between the Corporate and Consumer businesses, without challenging the fundamentally beneficial synergies in combined technology roadmaps and purchasing and distribution arrangements?
Once an optimally bifurcated structure is achieved, could it be possible to issue securities that tracked financial performance of the respective businesses? Would this allow investors to more efficiently value these constituent businesses?
The board should do nothing until it has answers to these very basic questions. Accordingly, to the extent it can, it must halt and possibly reverse announced changes. And it must eliminate the management turmoil that has existed for months, turmoil that has no doubt interfered with the business.
And what of Apotheker's tumultuous changes? First, it will only be possible to address the PC business once the above (and other) questions are properly addressed. In any event, it was a mistake to so hastily exit the tablet and smart phone businesses. Palm had been purchased to this end and credible products were in the market, albeit without sufficient marketing support. Yes, numerous tablets have faltered as it becomes clear that — at this juncture, at least — consumers favor iPads over the clone-tablets. That said, there will be a place for a differentiated tablet, one that is properly positioned and supported in the market. In every market it addresses, Apple requires a "less-cool" foil, one that is less (though sufficiently) profitable to its maker and a better deal to the consumer in the end.
Regarding the Autonomy acquisition? I have never see a deal that could not fall through, contingent as they always are on extensive due diligence and financing. the board must confront what produced the extreme valuation, as it is not a rational use of corporate assets. The debt required to finance the suggested consideration is excessive and will limit the company's financing capacity and strategic flexibility going forward. I understand that the high consideration to Autonomy may well be matched by an overly-generous purchase agreement. And, yes, among Autonomy's constituent companies are very attractive assets. Nevertheless, to the degree it can, the deal should either be re-priced or abandoned.
As for HP shares: I removed the stock from my model portfolio when the board stumbled so badly in showing Mark Hurd the door. It was a foolish move, in my view, one that was contrary to the advancement of shareholder value. Things are looking up, though, and I am getting ready for a closer look.
Disclosure: I have no positions in any stocks mentioned, and no plans to initiate any positions within the next 72 hours.