In this article, we will provide you with financial fundamental analysis of the top 12 companies in the beverage industry on U.S. stock exchanges. For each company, we have provided price targets, buy/sell/hold ratings, buy/sell ranges and theses. Additionally, using a multitude of financial analytical ratios and comparisons, we have given each company a score on growth, profitability, financial health, value and management indices to compare each company and see where companies excel and where they have weaknesses.
Click to enlarge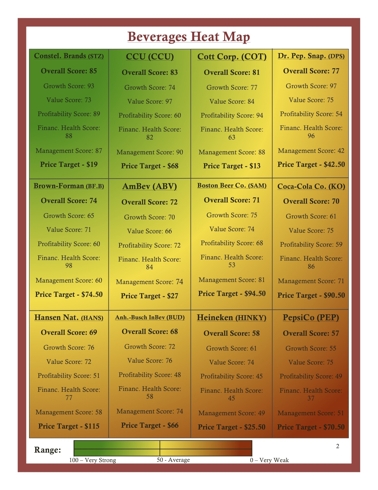 Company Profiles

AmBev (ABV)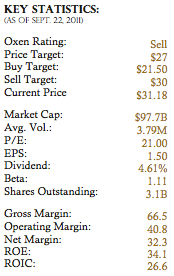 AmBev is our only sell-rated beverage company, and with a P/E ratio at 21, the company sits with a more significant valuation than most of its competitors. The company does have better growth prospects over the next two years than many of its competitors, but we do not see a lot of upside from current levels.
One of the most significant issues for ABV is its extremely large number of outstanding shares. They have 3.1B shares, which causes their equity value to be divided among too many shares.
Another negative for ABV that curbs our expectations for the company is that they continue to see significant capital expenditures that are cutting into the business at over $1.5B per year. A drop-down in these would help the equity value, but the trend is for more capital expenditures.
Additionally, we are not bullish on the company given its 83% exposure to Latin America. The company's growth prospects weaken in a widespread global economic slowdown. Developing nations will see the largest hit, and we believe that there are much safer bets.
If you are a South America bull, ABV is a great vehicle, but we see too much risk. Additionally, the 41% operating margin is an all-time high. Its tough to imagine that continuing to improve and could see a hit soon.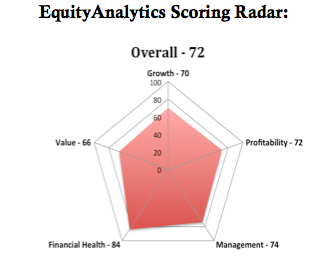 Anheuser-Busch InBev (NYSE:BUD) -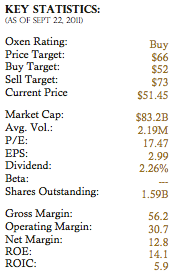 Anheuser-Busch InBev is a gigantic conglomerate now capturing some of the world's most popular beers such as Bud, Stella Artois, Beck and Hoegaarden.
We are a fan of BUD as the company has massive scale and economic moat given its brand names and sheer size. Further, we see profitability increasing over the next five years. Operating margins dropped last year, but we attribute this more to continued merging and expenditures to integrate the companies. From here, the upside is large.
The company can use its European brand name recognition and combine that with its U.S. recognition to complement one another and create very strong synergies that are already being seen with the growth of Stella Artois in the U.S.
Further, InBev has a reputation for cost cutting that will benefit AB and we believe we are going to see operating income grow by over 16% in the next five years.
The company has a very solid dividend that yields 2.26%, which should stay stable and complements a low-beta name.
Additionally, we like what we are seeing from sales in Asia that are growing as that market seems much more stable than other emerging markets.
Cost cutting should continue and profits should continue to grow.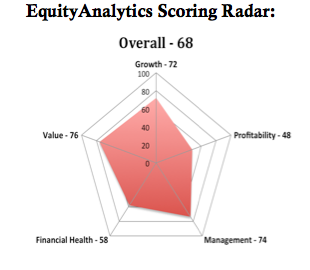 The Boston Beer Co. (NYSE:SAM) -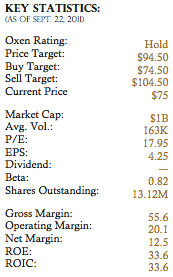 The Boston Beer Co., maker of the famed Sam Adams line of beers, is now the largest wholly owned U.S. brewer. The company is undervalued currently, but we see it as Hold. The company is facing the same headwinds as other companies in the industry and does not offer a dividend. Its only value is in upside in price.
We also are a bit worried in the story of SAM. The growth from a small-cap to a mid-cap is finishing, and the 10%-plus growth in revenue does not seem likely moving forward without aggressive international expansion.
The company's economic moat is also not as strong as some of the other brand names given its craft status and more significant price, which can easily be replaced for other smaller U.S. brewers and microbreweries.
Further, a tough micro-environment will hurt some of the smaller names over the larger brand names. We see some weakness coming in margins throughout 2012, as premium pricing will only go so far to curb rising costs.
The company also has a fairly weak financial health score. The score is weak due to a number of weakening financial health gauges. For example, the company has seen its acid-test ratio drop over the past five years by over 50%.
The company does not have any debt, which is good to see, but we would like to see more free cash flow as its minimal.
The company is an investment for mid-cap investors that believe the U.S. market can still provide opportunity for discretionary.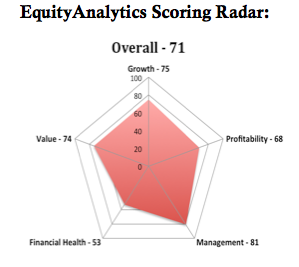 Brown-Forman (NYSE:BF.B) -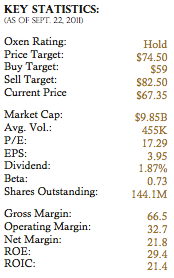 Brown-Forman is the maker of a significant number of our iconic liquors and wines, such as Chambord, Jack Daniels, Korbel and Fetzer. The company is a low-growth, low-beta company that is coming out of weak times in 2009/2010, and while growth looks flat over the next two years, the company has great profitability and financial health.
The company has good pricing power and a narrow economic moat given its brand names that allows them to stay at significantly high profitability levels.
The weakening macro conditions do not worry us much as they stay pretty stable in most environments, but we are worried about upside. The stock is very low-growth, and they are going to only be able to improve equity value through dropping debt, capital expenditures and increasing cash. Even these moves are going to have little effect on equity value.
So, it is a good Hold. The stock will hold up and provides some upside from current levels, but it's not significant. They also offer a nice dividend that allows you to make money holding a safe, slow stock.
Overall, BF-B lacks growth. Good management, financial health, value, and decent profitability all make this a nice Hold, but we see upside limited for this one to 10% in the next 12 months.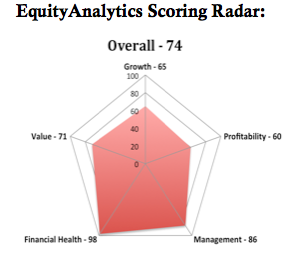 Coca-Cola (NYSE:KO) -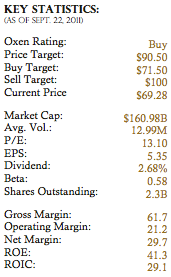 Coca-Cola (KO) is a stalwart of a stock with a 2.7% yield and beta near 0.5. The company is one of the best holdings to have in your portfolio. On top of this, the company is cheap according to our projections. With a 13 P/E and 15 forward P/E, we see the stock as relatively cheap right now.
Growth of this stock continues, and we see it continuing at around 5% over the next few years with margins rebounding after a major pullback over the TTM.
We see operating margins headed back to 24% over the next few years, and that is booked into our price target that we do not believe is currently priced into the stock.
Further, when buying KO, you are buying a strong economic moat that is not going to be penetrated. Soda is a two-horse race (and the second horse is no where near this one), and even with a drop-off in demand in the U.S., other markets can replace that demand.
We believe right now that the multiple on KO is much too low for the safety, yield and growth they provide. A growing margin will help that case be more prevalent.
We believe in KO, and in these uncertain times, a company that continues to perform exceptionally will continue to be in a positive light.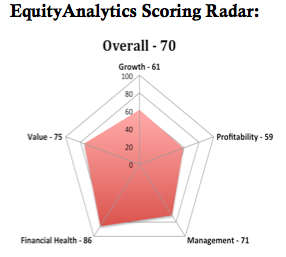 Dr. Pepper Snapple (NYSE:DPS) -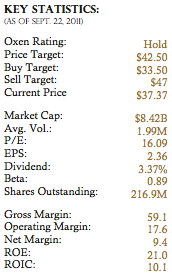 Dr. Pepper Snapple (DPS) has some strong points and weak points that give us a mixed image and Hold rating.
We are a big fan of the 3.37% yield that the stock has and it has lower risk as Dr. Pepper is one of the top-five most drank soft drinks in the U.S. Yet, DPS is a low-growth company.
They have little international exposure that does not seem to be growing, and they should not see more than 20% growth in the next five years. They have had great growth, though, in the past five years.
We are a big fan of the company's growing cash levels and FCF margins that are at a whopping 22% in the TTM. The lifeblood of a company is its cash flow, and it is good to see that is healthy for them.
Yet, with only around 20% growth seen in the next few years for the company, we once again see the upside limited without significant decreases in debt, shares outstanding, capex and more.
The company, though, operates a consistently strong mix of drinks that give it some edge, but it lacks a major economic moat that can hinder it during uncertain times.
The company has a great balance sheet and good financial health with great equity to debt, FCF, TIE ratio, and more.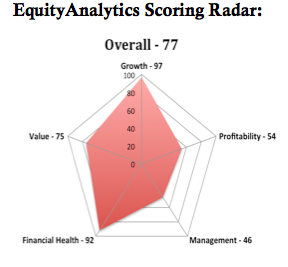 Hansen Natural (HANS) -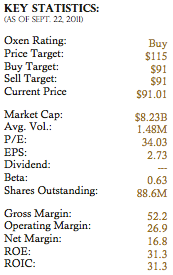 Hansen Natural is one of our favorite companies in the sector because they provide GROWTH. With over 20% growth expected in both of the next two years in revenue, the company is operating at a higher multiple that is justified.
They have prospered from their Monster energy drink that continues to give them a small economic moat, and that growth should continue as they continue to expand that market.
An issue for the company, though, is that they need to diversify for their earnings and revenue. Their juice and tea lines do have some good following, but we believe the only risk plaguing them is that they are a bit un-diversified. A drop-off in the popularity in energy drinks could hurt Monster sales. The company, however, operates a strong margin that should stay fairly stable and even has some upside in it.
They did not score significantly on a lot of our scores because of the company's takeoff in the last several years. A company that broke our during the recession is the kind of company, though, at which we want to look more closely.
A P/E at 34 is the highest in the industry, but its future P/E is around 25, and we also believe a higher multiple is deserved when they are growing at 10x the rate of other companies. Investors will pay more for more growth.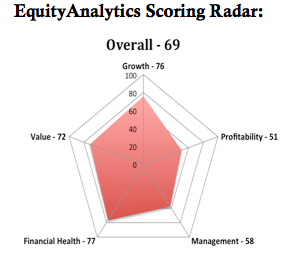 Heineken (HINKY.PK) -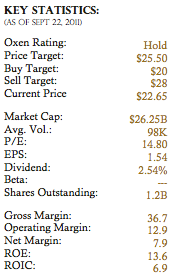 Heineken was one of our weakest scorers on all of our EquityAnalytics scores. The company has a lot of headwinds right now, and one of the largest ones is that they are on pink slips OTC. Hard to invest in a company like that.
The company does have a large market share and brand name economic moat with over 10% of the beer market in the world.
Yet, we see a number of problems for this company. Margins have been inconsistent, and they remain lower than a lot of their competitors.
We see a lot of problems at the management level. The company has had a 48% decline in net income per employee over the past five years. ROIC has dropped at over 65% in the past five years along with an over 45% decline in ROE in that time period.
Financial health looks worrisome as well with $11B in debt, dropping current and quick ratios, increasing cash conversion cycles, and declining working capital.
While we appreciate the global scope and moat of HINKY, we compare that status with KO and BUD and do not see the same sort of struggles, which make us believe they are centered on the company.
The premium pricing of HINKY products as well may be hurtful to them in more uncertain times, especially with their hub being Europe.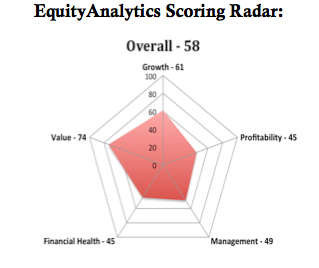 PepsiCo (NYSE:PEP) -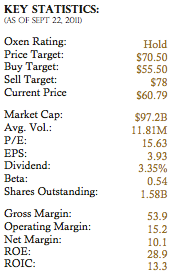 For all the safety of Coke, PepsiCo (PEP) plays second fiddle to KO and does not provide the same kind of success. With a nice dividend and low beta, holding PEP is not a bad bet, but upside seems quite limited for this soft drink maker.
The company has a cloud hanging over it right now with its drink versus snack business and a possible split of the two. Until this situation is resolved, the stock price may continue to suffer, as investors do not want to invest into uncertainty.
Additionally, the company's wide economic moat that is supposed to provide strong ROE and ROIC as well as margins has not been doing its job. ROE has dropped by over 12% in the past five years while ROIC has dropped by over 40% in the past five years. We see these drops as signs of weakness for the company.
Management gets a low score as well for five-year declines in net income per employee as well as larger increases in payoff to executives than revenue growth seen in their SG&A.
Additionally, the company is taking on massive amounts of debt. The company now has over $25B of debt compared to $2B of cash and $62B in TTM revenue. We see this debt as very burdensome and affecting its equity value negatively. The company has very limited upside from here, and we cannot invest until we see a split of the company.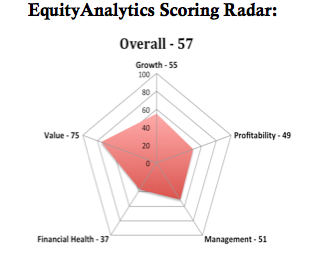 Disclosure: I have no positions in any stocks mentioned, and no plans to initiate any positions within the next 72 hours.