This morning on Barchart I screened for stocks selling under $10 that were hitting the most frequent new highs in the last month and discovered EXFO (NASDAQ:EXFO), a company that makes diagnostic and testing equipment for the electronics industry. I added it to the Barchart Van Meerten Speculative portfolio based on its price momentum and sales and earnings projections.
Click to enlarge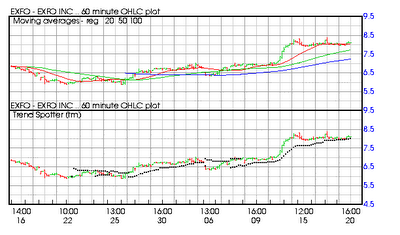 EXFO designs, manufactures and markets test and service assurance solutions for wireless and wireline network operators, and equipment manufacturers in the telecommunications industry worldwide. Its products include AXS-200 SharpTESTER, a handheld test platform for characterizing residential and commercial access networks, FTB-1 Platform, a single-slot test solution built for network infrastructure construction and troubleshooting, and for fiber-to-the-home and Ethernet testing applications, and FTB-200 Compact Platform, a two-slot portable test unit for multi-technology and multi-application characterization of metro and access networks.
The company also offers the FTB-500 Platform, which provides network operators a way to perform various tests for installation, maintenance and troubleshooting applications; and IQS-600 Intelligent Test System that tests optical, and transport and data communications technologies based on Internet protocol. Its platforms and related test modules are supported by integrated and intuitive graphical user interfaces that enable the user to store, handle and retrieve test results and measurement data.
In addition, the company provides various handheld and benchtop test and measurement instruments. It serves network operators, cable television companies, public utilities, private network operators, third-party installers, equipment rental companies, enterprises, network equipment manufacturers, component vendors, laboratory researchers, universities, medical schools, governments, and private and industrial research laboratories, as well as printing equipment manufacturers through direct sales force and channel partners, such as sales representatives and distributors. The company was formerly known as EXFO Electro-Optical Engineering Inc. and changed its name to EXFO Inc. in February 2010. EXFO was founded in 1985 and is headquartered in Quebec, Canada. ( Yahoo Finance Profile)
Factors To Consider
Barchart technical indicators:
40% Barchart technical buy signal that is strengthening
Trend Spotter buy signal
Above its 20, 50 and 100 day moving averages
15 new highs and up 37.29% in the last month
Relative Strength Index is 65.14% and increasing
Barchart computes a technical support level at 7.85
Recently traded at 8.10 which is above its 50 day moving average of 7.16
Wall Street brokerage analysts predict sales will increase by 33.20% this year and another 16.00% next year.
The earnings consensus is for an increase of 12.00% this year, an aggressive 75.00% next year and continue at an annual rate of increase of 12.00% for the next five years.
Based on these sales and earning projections they have released one strong buy, two buy and four hold recommendations.
General investor interest:
I base the individual investor interest on the opinions of the readers of Motley Fool.
The 177 readers who have offered an opinion voted 94% that the stock will beat the market.
The more experienced and savvy All Stars are much more positive with a 100% vote for the same result.
Competitors and sector leaders:
During the past 12 months EXFO was up 45.16%. As for ts major competitors, Agilent Technologies (NYSE:A) was up 11.19% and JDS Uniphase (JDSU) was up 6.15%.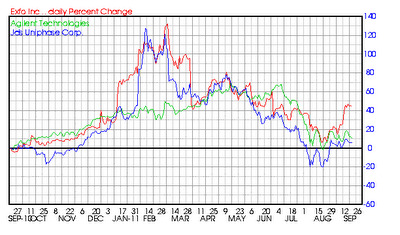 The SIC sector 3825 - Instruments for Measurement and Testing of Electronics - had winners this year in Transcat (NASDAQ:TRNS) up 63%, Frequency Electronics (NASDAQ:FEIM) up 50%, Lecroy (LCRY) up 24% and Allied Motion Technologies (NASDAQ:AMOT) up 23%.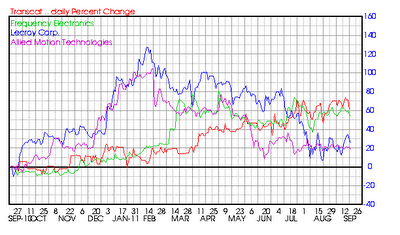 Summary: I added EXFO to my speculative portfolio based on both its price momentum and very favorable projections of increases in sales and earnings. When at all possible find stocks that have not only positive price momentum coupled with double digit sales and earnings increase projection but also have positive sentiment with both professional and individual investors. This stock clears the hurdles on all those criteria.
Disclosure: I have no positions in any stocks mentioned, and no plans to initiate any positions within the next 72 hours.