In China, the preliminary Manufacturing Purchasing Managers index slipped to a reading of 49.4 in September, according to preliminary figures released on Thursday, September 22nd. A number below 50 is a sign of contraction in the Chinese economy. This decrease in manufacturing activity is the first since February 2009. That does not bode well for the bellwether industrial metal, copper.
World Copper Consumption
China 37%
Europe 19%
North America 11%

Much of the electrical and electronics manufacturing demand for copper is from China.
Do you remember Goldman Sachs' forecast for copper in 2011 as was announced in December 13, 2010? "We maintain our 12-month ahead copper price forecast of $11,000 tonnes and believe that prices could spike substantially above these levels, most likely in late 2011," it said.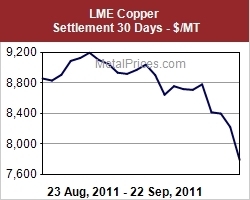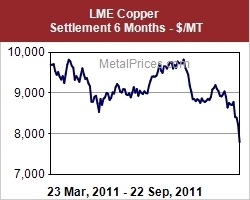 That is not a pretty picture. The numbers, at the close on Thursday, look just as bad. As you may see below.

The whole industry tumbled down, way down.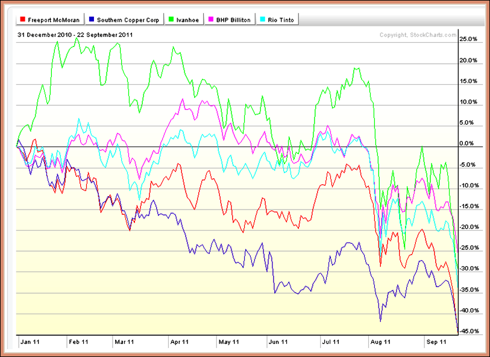 Dr. Copper is said to be the metal with a PhD in economics. What is he telling us? Is this a forecast for a deeper recession?