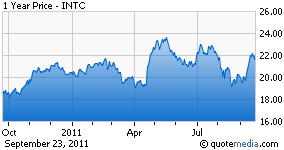 It looks like the support level on the S&P 1120-1125 held for another day Friday. Although the near term prospects for the market are likely to remain volatile, long term buying opportunities are starting to emerge. Stocks with low valuations, solid dividends, possessing solid technical support and that have outperformed the market recently are good places to start to invest. One stock that meets all the criteria is Intel (
INTC
).
Intel "engages in the design, manufacture and sale of integrated circuits for computing and communications industries worldwide. It offers microprocessor products used in notebooks, netbooks, desktops, servers, workstations, storage products, embedded applications, communications products, consumer electronics devices and handhelds. The company also provides system on chip products that integrate its core processing functionalities with other system components, such as graphics, audio and video, onto a single
chip
." (Business Description from Yahoo Finance)
Eight reasons to find value at Intel at $21:
1.
It has outperformed the S&P recently, especially over the last month (see chart).
2.
Intel is selling near the bottom of its five-year valuation range based on P/E, P/S, P/B and P/CF.
3.
INTC yields a solid 3.8% and has raised its dividend payout by an average of 13% a year during the last half decade. The dividend yield should put a floor under the stock and given its operating cash flow, dividends should continue to grow at an impressive pace over the long term.
4.
The stock has solid long term technical support in the $19 to $20 range (see chart).
5.
Intel has grown earnings at a 16% clip over the past five years despite the economic turmoil. Despite this, INTC is selling at 9 times this year's projected EPS.
6.
It has a five-year projected PEG of .84 which is an over 35% discount to its five-year average.
7.
It has beat earnings estimates for six straight quarters and consensus EPS for 2011 and 2012 have been raised over the last three months.
8.
In a time of very heightened concern over debt levels worldwide, Intel offers an A+ rated balance sheet, strong operational cash flow and almost $2 a share in net cash on the books.
Disclosure: I am long INTC.