With the stock market in turmoil, companies, good or bad, are being sold off indiscriminately. It is more important than ever to select stocks using bottom-up analysis. The rumors that will move share price in the coming days involve Research in Motion (RIMM), Amazon.com (NASDAQ:AMZN), and Apple (NASDAQ:AAPL). The nightmare with Hewlett-Packard (NYSE:HPQ) will negatively impact shares.
1. Amazon.com (AMZN) Tablet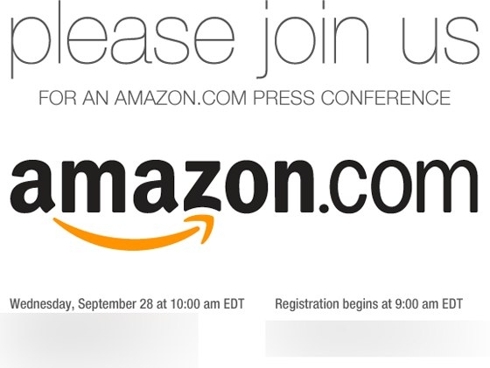 Click to enlarge
Amazon is holding a press conference on Wednesday, September 28th in New York. The rumor is that a device launch will be more than a Kindle with a touch screen: there could be a 7-inch Kindle tablet for $250. Amazon shares closed recently at $233.75 (P/E is 98.64) after peaking at $244.00.
Click to enlarge
Excitement might build for a tablet that will successfully compete against the Apple iPad, Asus Transformer, or Samsung Galaxy. The substantial value of Amazon's eBook library content is already priced in the share price. Any tablet release from Amazon will only more realistically be able to compete with the Nook Color from Barnes and Noble. This would effectively keep Amazon's tablet presence strictly within the ebook market.
The anticipated impact of the announcement on share price is negative, since investor optimism is already very high.
2. RIM Playbook 16GB for $249
It is no secret that the Playbook from Research in Motion failed to live up to its hype. RIM promised native email in the summer but failed to deliver. In its quarterly earnings call, the company touted the release of Playbook OS 2.0 in October, which would include native email and an android player. Analysts speculated an excessive inventory build for the Playbook during the quarter.
RIM recently ended a $100 discount sale on the Playbook. Major retailers, including Walmart (NYSE:WMT) were reported to already be selling the Playbook for $249.
The Playbook is a huge distraction for the company, but a necessary one. Investors place much faith on the upside of a QNX-based phone, but RIM will likely face delays for this release. Developments of QNX on Playbook may be thought of as the "proof of concept" phase for phones. It is easy for a consumer to demand a "fluid" experience, but RIM must transition its development team, security infrastructure, and backend systems in this operating system migration. Such a task takes time.
RIM closed at $21.45 and trades at a P/E of 3.89. With a market capitalization of $11.17B, it is 33.6 times smaller than Apple, whose market capitalization is $374.82B.
The anticipated impact of the announcement on share price is positive, since a larger user base for QNX is beneficial for RIM.
3. Apple iPhone 5 (AAPL)
Al Gore recently let it slip that an iPhone 5 would be released in October. However, if Wall Street Journal is correct, and Apple releases 3 iPhones, the company might be able to stem sales lost due to the success of Android. The existing iPhone 4 would compete with budget Androids, the tweaked iPhone 4S would fit the mainstream, and the iPhone 5 would represent the refresh of the iPhone lineup.
The anticipated impact of the announcement on share price is positive.
4. Hewlett-Packard (HPQ)
Hewlett-Packard fired the CEO responsible for ending HP's efforts in the smartphone and tablet space. This will cost HP around $7M in severance payments and $18 million in stock for 10 months of service. In the letter he wrote:
Dear HP Employees:
This afternoon, HP issued a press release announcing my resignation as president and CEO, positions I have held with great honor this past year. Meg Whitman will assume the role of president and CEO.
As you know, Meg is a technology visionary with a proven track record of execution and has served HP well as a member of the board for the past eight months. Meg will be supported by a broad and deep management team, and I have the utmost confidence that HP will succeed in executing its strategic evolution.
On a personal level, I cannot begin to express the admiration I have for all of you – and what you have accomplished together. Over the past year, we were tasked with developing a strategic vision for HP and I know we have made important contributions to the company's future.
Your efforts on behalf of HP and your dedication to our customers have inspired me – and I am confident that HP has a bright future because of the talented people that come to work here every day. Thank you for your commitment to HP and for your dedication in serving HP's customers and partners. It has been a tremendous honor and a pleasure to work with you here at HP.
Sincerely,
Léo Apotheker
HP's board chose former the former CEO of EBay Inc. (NASDAQ:EBAY). Meg Whitman stated she agreed with Apotheker's direction for the company. In effect, nothing changed for HP. This is disturbing, because nothing is being solved.
To understand HP's existing problems, review the Palm acquisition. WebOS failed for HP failed to launch the Pre3 quickly. In the small window the company had to release the phone while the iPhone 4 was delayed, HP did not release the Pre3.
The TouchPad had similar interest from consumers, but the company failed to build a user base by selling the device without a heavy discount. If HP recognized a need to get the devices into the hands of the public eager for an iPad alternative, there could have been equally excited developers for the webOS. Ironically, the interest in WebOS came because of the surprise fire sale of the device after the company stopped hardware developments of the tablet.
The impact of the announcement on share price was negative. HP reached an intra-day low of $21.50 before closing at $22.32 on Sep 23,2011.


Disclosure: I have no positions in any stocks mentioned, and no plans to initiate any positions within the next 72 hours.