Prior Week Market Movers and Their Lessons for the Coming Week:
Technical Picture

Fundamental Picture

Lessons & Ramifications: Don't be surprised by a risk rally
Technical Picture
For the big picture for risk assets we turn to the weekly S&P 500 chart.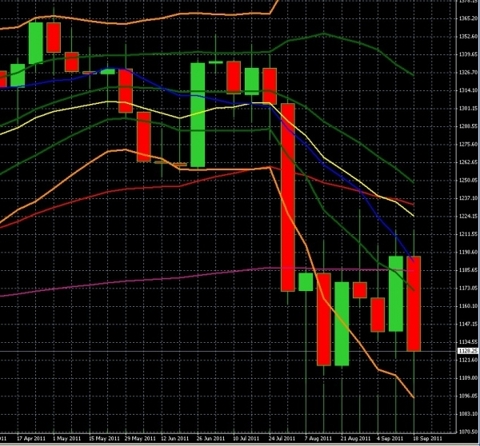 S&P 500 WEEKLY CHART 23 JAN SEPT 18 2011 COURTESY ANYOPTION.COM 03 sept 24 23.15
Technical points to note:
Past 7 weeks show firm resistance @ 1200

An almost bearish engulfing candle this week

10 EMA already crossed under 20 and 50 EMA, 20 EMA crosses below 50 EMA

Worse, the index is now spending the 7th of 8 weeks below its 200 WEEK EMA, and the one exception was a minor breach above 2 weeks ago on a rally founded on nothing but faith and hope (see here for details). The index may soon close its first Month below the 200 MONTH EMA, a further bearish signal for the longer term.

For all the drama of the past week, we're still very much in a range bound market for the past 7 weeks, awaiting new fuel from fundamentals. As we discuss below, while over the longer term they're bearish, we wouldn't be surprised if next week were stable or saw a bit of a rally back to the upper end of this 7 week range.
Key takeaway: more long term technical breakdown likely in the coming months.
On daily chart: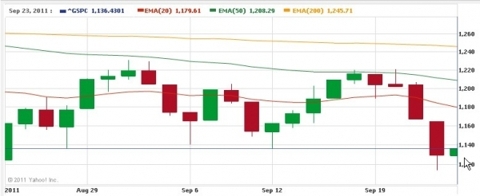 S&P 500 DAILY CHART 04 SEPT 2321
It was straight down and down hard, most notably -3.16 % Wednesday and -3.2% Thursday (its biggest 2 day drop in years), with an essentially flat close Friday on a bit of short covering ahead of the G20 results.
The index accurately reflected the flight to safety, which was so strong that at times even the EUR was up vs. perceived riskier currencies, despite the dire EU situation, merely because the EUR was lower down on the risk spectrum than the AUD, NZD and CAD.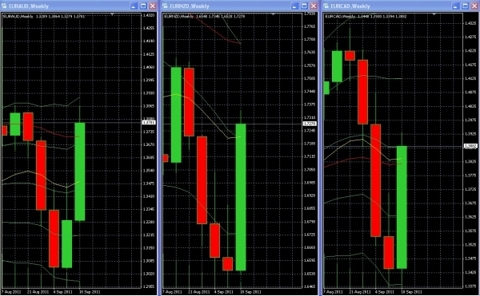 EUR VS AUD, NZD, AND CAD 02 SEP 23 1057
The EUR was also moderately higher against GBP but only due to new BoE dovishness, and against CHF, but only due to SNB intervention. The EUR was down hard against the other safer havens, the USD and JPY. JPY was the strongest currency this week, followed by USD, suggesting a straight flight to safety move (and that markets are still not too concerned about the coming US budget battle and a potential government shutdown).
That's somewhat understandable. Congress can avoid any trouble for now if it chooses to do so. Events are still well within America's control as long as its politicians behave and act responsibly. However for the EU, events are moving beyond their control as the crisis in confidence has clearly spread to the EU banking system itself because it's so loaded with bad GIIPS bonds. Major money center banks in France and elsewhere are in trouble, facing lack of funding as the world shuns them as too risky, given that Greece and others are expected to default, hence credit rating downgrades too. US and Asian banks were already known to have cut way back on lending to EU banks; now so has China.
Despite EU debt troubles and what looks like yet another US budget political battle and crisis (both EU and US troubles should be great for gold), gold dropped hard on what appears to be a combination of profit-taking to raise cash needed to cover losing positions, a normal technical pullback after its recent moon shot higher in August, and a sheer drive for greater liquidity.
So What Was Behind The Panic Last Week?
Here's the quick view.
Technical Resistance
Yes, that's not a fundamental factor, but it needs to be mentioned here. First, after last week's rally in risk assets on nothing but faith, hope, and charity, they were back up against near term resistance. For example, the S&P 500 opened the week back near the 1220 level, which has held firm since the beginning of August. So for markets to advance, they'd have to see some substantial fundamental evidence in order to progress. Thus they were primed and ready to plunge when they got the opposite.
Fundamental Picture
EU: Doing Another Greek Freak & More
As always, the EU sovereign debt and banking crisis was key, with markets rallying at times early in the week on news of progress with the Troika-Greece negotiations. Then on Tuesday an early rally based on this optimism faded on news that there's still no deal, the Troika may not return to Greece until mid-October (which is right before Greece runs out of cash to make bond payments). Adding to EU fears:
Reports that a Slovenian government collapse could delay the next bailout also helped stop that rally.

S&P downgraded Italy's credit rating from A+ to A with a negative outlook, that is, more downgrades could come if things don't improve. Italian bond yields rose, making further borrowing more costly.

The Bank of China stopped foreign exchange swaps with European banks due to fears that these banks could become insolvent from possible coming GIIPS bond default losses. The recent Moody's downgrade of Societe Generale (OTCPK:SCGLF), Credit Agricole (OTCPK:CRARF) and BNP Paribas (OTCQX:BNPQY) also contributed to China's decision.

A Spanish bond auction of 12 and 18 month treasury bills saw yields soar higher than just a month before.
While Greece may be the central item again, its default is already mostly assumed. It's the ramifications of that default for the EU banking system and for other GIIPS block members' ability to borrow that is now the bigger concern. But it's no longer just about the EU.
The big dive Wednesday (2.5-3% plunges for most indexes) and Thursday (3-5%) was driven by the following.
US Stimulus & Bernanke Douse Market Hopes
On Wednesday the much awaited Fed stimulus plan, Operation Twist, was seen as inadequate and a signal to the markets that they could not expect enough help from the fed to keep risk asset prices aloft like with QE2 last fall. Bernanke also issued a significant warning on the economy. Fed stimulus was what kept risk assets rising from the fall of 2010 into the spring of 2011; they certainly weren't rising due to a deteriorating global growth outlook, which is the normal and legitimate justification for a rising market. Now markets were being told they're mostly on their own. With the stimulus crutch gone, markets dropped hard. Asia missed the news and was mostly up Wednesday, European stock indexes dropped 1.5-2.5% in anticipation of this announcement, and the US fell similarly after it, with the S&P 500 down over 3%. The realization that there was no major Fed help coming continued to weigh on markets Thursday, especially in Asia, which was catching up to the bummer Fed announcement.
More Evidence Of Global Slowdown
China
The HSBC Preliminary China PMI fell hard from 49.9 in August to 49.4 in September, renewing fears that the world's premier growth engine is slowing and cannot be expected to fill in the gap left by the sputtering US, Japanese, and European economies. This added to concerns about China after a series of negative reports out Tuesday, one from investor Jim Chanos of a real estate collapse having started, and another about the weakening of the Chinese banking sector on soaring bad debt rates.
Europe
In addition to the above woes of Greece, Italy, Spain, and EU banking:
French and EU PMIs missed forecasts and mostly slipped below 50, indicating contraction.

French Banks In Crisis: A dramatic FT article reported that PIMCO's CEO said that there are "all signs of an institutional run on French banks" as other banks refuse to lend to them for fear that they may soon be insolvent if Greece defaults and sparks a wave of similar sovereign and bank defaults.

New Greek Austerity Measures Need To Pass Parliament – creating yet another round of drama similar to that of late July.
US
Threat Of Federal Government Shutdown and Budget Battle: The House voted down a bill to fund the federal government into the next year. Though there is agreement on the total cost of the bill, Republicans and Democrats are still arguing over how the money is allocated.

Weekly First Time Jobless Claims: higher than expected.
The World
Professor Nuriel Roubini and Investor George Soros both opined that a double dip recession had arrived, and the IMF downgraded its growth forecasts.
Conclusions & Ramifications: Don't Be Surprised By A Risk Rally Next Week
Strategy
General Risk Assets: From both a technical and fundamental perspective, the odds are that we're headed lower in the coming months. However, markets have dropped very hard last week on a lot of fear, and the economic calendar is light next week, so a short term bounce could easily happen when we get any kind of good news. That should happen, because…
The EU: George Soros said there won't be any defaults yet because the EU isn't ready to handle that, so one way or another, Greece et al get the cash needed. We agree, though there may be plenty of drama and market plunges along the way yet on EU issues alone. So as was the case in July, whatever Greece does in the coming weeks may be irrelevant; the EU doesn't want them defaulting yet. For example, note how the ECB has dropped much of its collateral standards and will accept yet more dubious debt as collateral. There's further confirmation of this idea from a report by Sky News correspondent Ed Conway (via a zerohedge.com report here) indicating that the G20 is preparing for a Greek default after sometime in November, and that the big focus now is on recapitalizing banks and preparing economies for default.
Given the concern over EU banks, we wouldn't be surprised to see announcements aimed at restoring confidence in them, especially in French banks, via some kind of recapitalization plan from France, Italy, or elsewhere.
The above suggests that we should be selling into rallies in order to gather cash. The USD and JPY remain the preferred currencies in the coming weeks though either could see a near term pullback given how fast they've moved on any risk-positive news.
There is one HUGE caveat to the above. It's possible that the recent consensus of an inevitable Greek default may raise questions about why the EU should knowingly waste another round of bailout cash just to buy another month's time, especially if the above reports of a November Greek default gain traction. If suddenly it appears that Greece may be cut loose early, then the coming week could get way uglier.
Gold: As noted above, we believe the gold pullback is due to a combination of normal technical pullback on profit taking and selling based on a need for liquidity both from fear and a need to cover margin calls on other losing positions. The fundamental drivers behind gold's rise, USD and ultimately EUR money printing-driven debasement, remain well in place over the longer term. One way or another the EU, and perhaps the US too, are likely to try more stimulus as things worsen. True, stimulus needn't be the same thing as money printing if banks hoard the cash and/or consumers don't borrow, but markets see a rising inflation risk with stimulus. So when it happens, the relevant currency drops. Exporter nation central banks and sovereign wealth funds should also continue to diversify out of both the USD and EUR into gold, keeping a floor under the metal. In sum, we, and others, wait to buy it on signs of stabilization.
Big Questions & Oxymorons
The Big Question #1 – When's The Next Big Rescue Plan? Given the real risk of another Lehman-type systemic market crisis, we suspect it's a matter of when, not if, there will be further coordinated central bank and other official attempts at a combination of:
Supporting the major banks so that when the sovereign defaults come markets won't panic.
Preparing private bondholders for haircuts so that when they happen they'll already have been priced in, the goal being again to avert a sudden panic.
In the end, we expect a much smaller Euro-zone or 2 of them, split into Northern and Southern versions. What happens along the way is harder to predict.
Can There Be An "Orderly Default?: It sounds like the ultimate oxymoron, but we're hearing more and more that this is the likely best case outcome for Greece. Most recently, Greek finance minister Evangelos Venizelos told socialists that the best scenario he foresees is the bailout collapses and Greece has an "orderly" default with 50% haircuts, while in a 'bad' scenario, Greece starts a disorderly default.
But what exactly IS an orderly Greek default? How can there be such a thing if it threatens to start a wave of both:
Sovereign GIIPS group default: Suddenly Ireland, Italy, Portugal, and Spain (and their banks) find their borrowing costs soar higher and force these too into default.
EU banks: The big ones hold a lot of bonds from these nations and their banks. Some will truly be insolvent, and many will be suspected of insolvency, which alone could be enough to kill them as funding sources dry up.
I assume that an "orderly default" is one in which the above events don't occur, or at least the second. The only way that can happen is the advent of a plan to support the banking system when the defaults start that is convincing enough to calm market fears of a wave of sovereign and bank defaults.
How that plan will work is a matter of speculation, too many variables to cover at this stage.
Disclosure/disclaimer: No positions. The above is for informational purposes only. All trade decisions are solely the responsibility of the reader.