It would be misleading to group the timber industry together with the broader paper and forest products industry. There are several unique characteristics that set it apart and are worth considering. The timber industry, which is primarily comprised of timberland owners, provides raw material, management activities for the paper and forest products industry including planting, fertilizing, thinning and harvesting of tress and the marketing of logs.
Logs are marketed and sold as saw-logs to lumber and other wood manufacturers or sold as pulp-logs to pulp and paper manufacturers. More recently, timberlands have gained in value as real estate holdings rather than for growing timber and many have been sold to realize these values.
As an asset class timber has gained in popularity as a diversifying tool used by portfolio and hedge fund managers. The three important reasons are:
Timber is a growing and renewable resource that when properly managed increases in volume and value as it matures over time. Larger diameter trees will command higher prices than smaller trees when sold to lumber mills and other wood manufacturers.
As intensive forest management practices develop and are applied the biological growth rates improve making predictable biological growth an attractive feature of timberland assets.
Timberland owners have some flexibility to increase their harvests when prices are high and decrease their harvest when prices are low allowing owners to maximize the long-term value of their growing resource base.
Supply And Demand

It's about simple supply and demand, there's no real DEMAND out there for lumber today... There's no home-building going on. The large timberland owners know this. They're smartly deferring their log harvests for better times.

So the recent lumber price jump is more about SUPPLY and speculators. There might be a lack of short-term supply right now... But trust me, there's PLENTY of wood supply on the stump out there. If prices stay high, that wood will be cut. Future demand will be met very quickly with supply.
Timberland expert to Dr. Steve Sjuggerud Daily Wealth 11/2010
Most sectors of the economy are governed by supply and demand where these factors play a large role. There are six primary end-markets for most of the timber harvested in the United States:
Products used in new housing construction

Products used in the repair and remodeling of existing housing

Products for industrial uses

Raw material for the manufacture of pulp and paper and OSB (oriented strand board)

Wood fiber for energy production

Logs for export.
Timber supply fluctuates based upon a variety of factors:
The supply is limited, to some extent, by the availability of timberlands.
The availability of timberlands, in turn, is limited by:
Government restrictions relating to environmental regulation and land use

Alternate uses of land such as agriculture

The large amounts of capital and length of time required to create new timberlands also limits timber supply
Timber supply over the long term will increase when modern forestry techniques are used to increase productivity of timberlands. In some growing regions of the US marginal agriculture lands have been reverted to timberlands while other areas have been planted as forests for conservation purposes.
The demand for timber has a direct relationship to the underlying demand for pulp in the manufacturing of paper products as well as lumber used to manufacture panel and other wood related products.
Macroeconomic conditions - population growth, per-capita income levels, and industry capacity – are the primary demand drivers for pulp and paper. Similarly, the level of new residential construction activity, the repair and remodeling of existing structures and industrial demand are all impacted by not only economic changes but by demographic factors as well. Population growth (expansion and contraction), interest rates (residential, commercial, and construction) play lead roles in determining demand for timber.
In the United States timber demand is also impacted by the amounts of pulp and paper products, lumber, panel and other wood products that are imported. Here again, there are significant factors that determine the volume of products shipped into the United States by foreign producers - shifts in currency rates along with imposed tariffs and quotas.
Historically, the cyclical natures of the economy, the forest products industry and the real estate markets create periods of extreme price volatility where risk levels fluctuate due to factors such as:
Changes in domestic and international economic conditions

Interest rates

Population growth and changing demographics

Seasonal weather cycles (dry summers – wet winters)
Canada has historically been a significant source of lumber to the US new home construction market. Currently there is a definitive agreement in place establishing a system of tiered taxes and/or volume restrictions on Canadian lumber imports to the US. This agreement expires in 2013. Without a new agreement a fair trade environment may or may not exist and the uncertainty could produce, continue or create downward pressure on domestic timber and lumber prices caused by Canadian imports.
Outlook and Research
Consider this:
Trees continue to grow through recessions, wars, and economic crisis

Unlike cash, timber prices ("stumpage "price – which incorporate the economic value of the entire tree,) have beaten inflation over the last century

Timber has long been used as an inflation hedge by wealth management managers by providing good risk-adjusted returns. Timber as a rule is a non-correlated asset so when stocks fall, timber usually doesn't (or at the same rate). Since trees are primarily cut down when prices are good timberland generally is a low-volatility asset.
As an investor, which would you rather have – an investment that has safely beaten inflation – or cash in the bank earning zero percent interest under constant pressure due to devaluation through the constant money printing being done by the Fed.
High quality investment grade bonds have been the investment of "choice" for the past 20 years paying solid returns with relatively low volatility. However, today bonds are paying nada-zero-nothing and going forward it appears this may be the case.
Investors big and small have been left searching for yield and safety. Neither can be guaranteed but taking a look at history gives some insight. Timber has a history of providing high returns (like stocks), with low volatility (like bonds). This has not always been the case as evidenced by the charts and graphs included within this report, but look deeper and see that while timber prices have been in decline money is moving into this sector not out.
Timberland ETFs
The issue of liquidity does come up and it is a reality if you own timberland. One cannot take profits out of land in a day as you can from a bank. However, there is a way around this as well. Currently there are two timberland ETFs worth looking at – CUT and WOOD.
Guggenheim Timber ETF (NYSEARCA:CUT) seeks results that correspond generally to the performance, before the fees and expenses, of the Clear Global Timber index. The fund normally invests at least 90% of total assets in common stock, American depositary receipts and global depositary receipts that comprise the Clear Global Timber index. It seeks a correlation over time of 0.95 or better between its performance and the performance of the index. It is non-diversified. The fund is currently tracking the performance of 27 global publicly traded companies and total assets under management of $143 million as of September 22, 2011.
iShares S&P Global Timber & Forestry Index (NASDAQ:WOOD) tracks the performance of the S&P Global Timber and Forestry Index. The Index is currently comprised of 24 global publicly traded companies that own, manage, or are involved in the supply chain of forests and timberlands and total assets under management of $172 million as of September 22, 2011.
Both ETFs hold companies that manage timberland, but also include holdings in manufacturing companies, a consideration if your focus is on timberland management companies. It may be reasonable to say that on a return basis the poor performance of both ETFs is attributable to the fund's holdings in manufacturing companies.
click on images to enlarge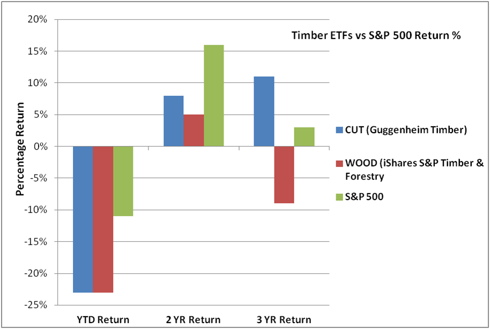 On a return basis both CUT and WOOD may raise the caution flag, but the weekly charts suggest a change may be imminent. Off of the March/April highs, both CUT and WOOD followed the broader markets lower and technically look to have completed corrective patterns.
An important observation to note - while the stochastic oscillator dropped back into oversold readings the MFI (Money Flow Index) has turned higher.
It is important to be clear about what "money flow" means. It refers to dollar volume, i.e. the total value of shares traded. For the purposes of the MFI, "money flow", i.e. dollar volume, on an up day is taken to represent the enthusiasm of buyers, and on a down day to represent the enthusiasm of sellers. An excessive proportion in one direction or the other is interpreted as an extreme, likely to result in a price reversal.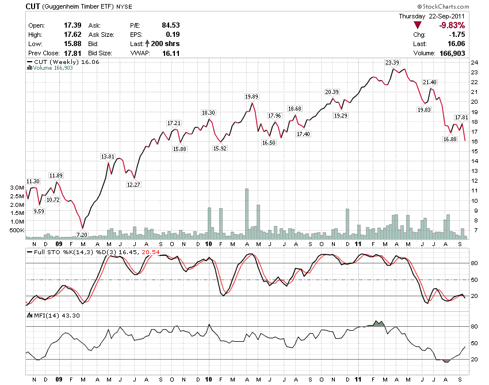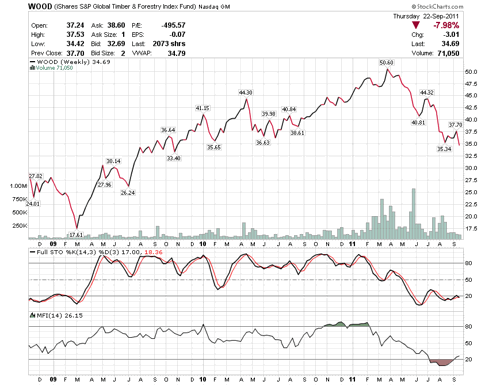 REITs: Real Estate Investment Trusts
Interest rates are hovering near zero and the outlook is for near zero to hold through 2013. This has sent many investors on yield (return) hunts. Another vehicle for the individual investor to buy timber and receive a higher yield than treasuries is through several well established large timber REITs.
During the first and second quarter of 2011 timberland REITs outperformed the S&P 500 and other REITs. We pooled results from the S&P 500, the NCREIF (National Council of Real Estate Investment Fiduciaries), NAREIT (National Association of Real Estate Investment Trusts), and FTR Timberland REITs Index.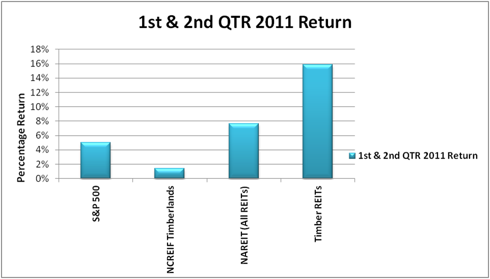 Investing in timberlands is primarily left to large institutions usually representing pension funds due to the required high initial investments and the longer holding periods. The best way for individual investors to buy timber is through four large timber REITs:
Because these companies are structured as REITs, 90% of what they make is returned to shareholders in the form of a dividend. Currently all are yielding 4% or more.
For the first two quarters of 2011 Timber REITs (as measured by the FTR Index) returned 15.9% and over the last ten years US timberlands and timber REITs returned on average 6.8% and 6.7% per year.
There were a couple of company specific key events that contributed to the overall strong performance in timber REITs. Weyerhaeuser's REIT conversion from a C-Corporation and Rayonier's strong results from its performance fibers business. Also, on a sector level, how timber REITs use the debt markets give it an advantage when compared to other REIT sectors using more leverage and accessing the CMBC markets more frequently.
Also, land sales by Plum Creek and Potlatch helped offset weakness in business segments affected by a continued slump in the housing markets. Demand from China though, kept export prices stronger in the Western region as the Southern region of the US continued to suffer through drought conditions which produced a weak demand even though the drier weather brings with it optimal harvesting conditions.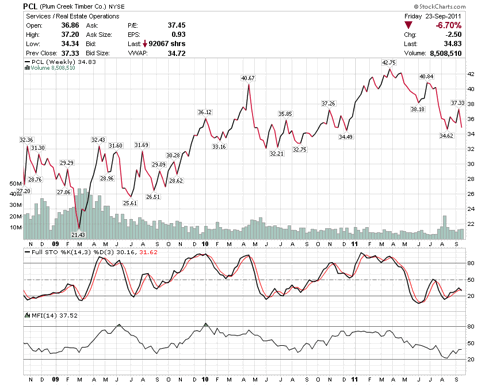 As we saw in CUT and WOOD, the divergence in the Money Flow Index suggests that even though prices are trending lower along with the broader indexes a near term bottom is at hand. If you are considering PCL the technical picture suggests additional downside is likely with stronger support just below at 32.80 to 33. The stochastic oscillator pointing lower supports the move occurring first before a sustainable rally phase would begin.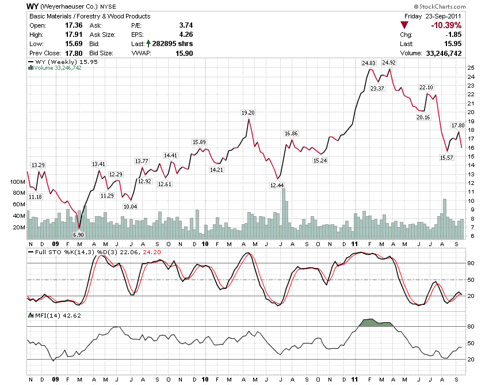 Same picture for Weyerhaeuser. The weekly chart suggests additional downside with a move to the 13 area occurring first before the next sustained rally phase begins.
This type of chart pattern as well as stochastic and MFI oscillator patterns are also evident in Rayonier and Potlatch. As a group then it appears that investors have been using the declines to move money into both timber ETFs and timberland REITs.
Conclusion
Based on history, timber may be an ideal investment for those willing to look outside the stock market and have a longer term objective. Jerry Grantham from GMO (a global investment management firm with $106 billion in client assets), believes that managed timber will be the best performing asset class over the next seven years and included in his quarterly letter dated August 2011:
For those with a long horizon, I am sure well-managed forestry and farmland will outperform the average of all global assets.
Good investments are ones where the risk/reward ratio allows for high returns relative to the amount of risk taken. Many investors are facing an increasingly daunting task of finding solid returns without high risk. Current interest rates will most likely not trickle down to the individual investor making it necessary to look outside the traditional investments (equities and bonds) to find returns that don't carry high levels of risk.
Timberland should not be overlooked. Timber ETF prices and Timber REIT prices have fallen dramatically along with the broader indexes. It appears that a tradable bottom is imminent and once the next uptrend has been confirmed the timber sector should continue its history of outperforming.
Disclosure: I have no positions in any stocks mentioned, but may initiate a long position in PCL, WY, CUT over the next 72 hours.