Billionaire activist investor Carl Icahn recently withdrew his slate of directors for Clorox (NYSE:CLX) on the grounds that shareholders are likely to not support the sale process he proposed. One of the companies that he cited as a possible suitor for Clorox was Procter & Gamble (NYSE:PG) due to the revenue and cost synergies it would provide. PG, however, has been growing much faster than Clorox and is far more undervalued.
PG is a leading multinational consumer goods company that was rated as the fifth "most admired company" by Fortune magazine in 2011. The stock currently trades at 15.6x and 13.3x past and forward earnings, respectively, which makes it slightly more undervalued than its peers on a multiples basis. The stock also offers an attractive dividend yield of 3.4%, which is, again, better than most of its peers.
Although the company has a beta of 0.5, I believe that the market has underestimated its vulnerability to macroeconomic stagnation. Consequently, the stock will offer weaker risk-adjusted returns than it should. Given that PG has a heavy portfolio of products from Tide to Charmin' to beauty products, decreases in consumer expenditures could hit the firm harder than what most investors expect. Particularly concerning is that, although the company has some sales in Asia, a huge chunk of the sales come from Europe, which I believe will provide slow growth at a weak time for the consumer goods firm. At the same time, I believe that margins will finally start to increase and help offset any erosion in volume.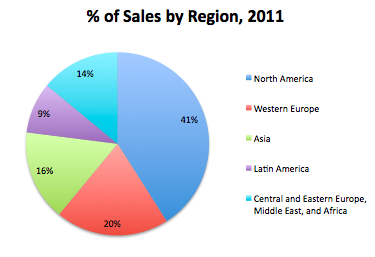 PG would be more of an activist target than Clorox, if it were not for its large market capitalization. Management has said for some time that it will attempt to monetize market share gains, but the result has been a precipitous decline in valuation. Measured from the start of 2008 to now, most of PG's peers went up in value, save Johnson & Johnson (NYSE:JNJ) which fell 8.9%. Clorox appreciated 5.6%; Kimberly Clark (NYSE:KMB), 2.7%; Church & Dwight (NYSE:CHD), 50.7%; Colgate-Palmolive (NYSE:CL), 10.3%. During the same time period, PG fell the most, down 17.5%. Investors have been, accordingly, calling for a restructuring as management fails to perform.
Due to the setbacks, PG could very well be at its low and experience strong gain in the years ahead. I believe that it should consider selling off assets and using the money to pay off its net debt, which stands at $29.2B, or 17.3% of the company's market value. I am further optimistic that the introduction of Tide Pods will help the top-line, although the $150M marketing budget may be slightly excessive. Management believes that it will capture 30% of the $6.5B laundry market through this product.
My forecasts are that revenue will grow by 7.1% to $88.4B in 2012 and then by 4.3% the next year. Consensus estimates for EPS are that it will grow by 7.1% to $4.23 in 2012 and then by 9% and 8.5% in the following years. Analysts currently rate the stock between a "buy" to a "strong buy", while I am less bullish.

Disclosure: I have no positions in any stocks mentioned, and no plans to initiate any positions within the next 72 hours.