The largest retailer and highest revenue-generating business in history, Walmart (NYSE:WMT), faces a long-term challenge competing from both sides on price competitiveness. The "dollar stores"--Dollar General (NYSE:DG), Family Dollar (NYSE:FDO), 99 Cents Only Stores (NYSE:NDN), Dollar Tree (NASDAQ:DLTR), among others--have started introducing substitute products with lower prices, while Target (NYSE:TGT) has continued to offer products targeting a more affluent market. Together, these competitors are eating away at Walmart's sales.
Gone are the days when Dollar General, Family Dollar, et al. can be considered the RadioShack (NYSE:RSH) of general merchandise retailing. In the past, I recall stepping into one of the stores to purchase a mechanical pen that broke the next day. These companies, however, have started to reinvent themselves by stacking up on inventories and offering lower prices than Walmart on a number of goods. While they have a long way to go to be a serious concern for Walmart, their growth is starting to make an impact.
On the other side of the equation is Target, which attracts a more affluent middle-class shopper than Walmart. The store design is brighter, cleaner, and generally more pleasant than what Walmart has to offer. Walmart specializes in stocking inventories to the full, offering low prices, and simplifying the shopping experience. For the last few decades, this practice has worked. Going forward, the retailer has started to change its brand image, whether through adopting minimalist logotype or through quelling women's interest groups.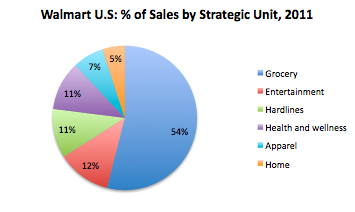 Walmart is also committed to growing sales and cutting costs. A new workflow program has already helped to increase productivity and improve margins. Furthermore, the retailer is expanding abroad, where it has seen higher growth rates than in the United States. Below is a breakdown of the company's stores by region.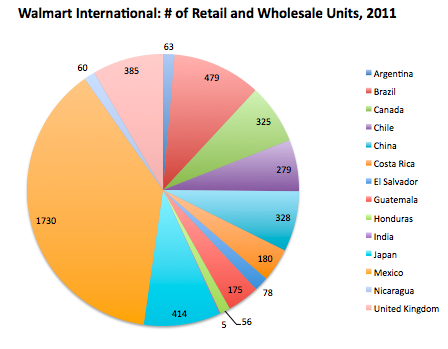 I foresee Walmart increasing store units in emerging markets, which will help to offset concerns about the United States and Europe. It will also help to offset concerns about the domestic competition mentioned above. Over the next two years, I forecast international sales growing by an average of 14.1%. Walmart US will be slow at 2.1% growth, with Sam's Club only slightly picking up the domestic pace. Overall, I expect revenue to grow by 5.5% to $445B in 2012 and then by 6.8% the next year.
Consensus estimates for EPS are that it will grow by 10.3% to $4.49 in 2012 and then by 8.9% and 10.6% in the net two years. Analysts currently rate the stock more towards a "hold" than a "buy" and I find this fair. Slowdown in traffic, currency concerns, and likely decreased share repurchases in the future additionally limit the risk/reward.
On a concluding note, the mature company is nevertheless led by incredible management who could very well turn the stock into a long-term "buy". This will only occur, however, if international expansion is approached in a way that offsets domestic risk.
Disclosure: I have no positions in any stocks mentioned, and no plans to initiate any positions within the next 72 hours.