After a hammering week of heavy losses, the U.S. stock market has become vulnerable to emotional trading and a pessimistic outlook. The Dow Jones Industrial Average lost 6.4 percent last week, its steepest loss since October 2008.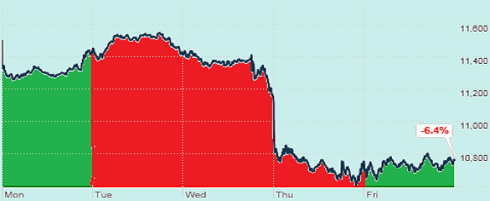 As investors prepare for another week of trading, domestic and global issues remain unresolved. Fears that the economy is headed for another recession are surfacing, the European debt crisis is threatening the global economy, and political leaders at home are still discussing spending and debt issues.
High levels of trading based on sentiments make any fundamental or technical analysis meaningless. When any decision made is equally as uncertain, throwing emotions out the window and taking a calmer approach to investing makes sense.
Instead of selling on worries, consider buying good stocks that are down on fears. If buying won't let you sleep at night, then refrain from trading emotionally when it comes to your current investments. As history makes it evident, stocks that are down because of market fears will recover with time.
Good stocks to buy in a low market:
AT&T Inc. (NYSE:T)
AT&T and its subsidiaries provide telecommunication services to consumers, businesses, and other service providers worldwide. AT&T has a strong balance sheet with its total debt to equity ratio at 58.34. AT&T also maintains a sizable market share, allowing it to exercise substantial power over its suppliers.
This stock is currently trading near its 52-week low of 27.20 with a 50 day moving average of 28.48. The company has reached its high at 31.94 this year. AT&T's price to book ratio is at 1.44 with its book value at 19.21. Additionally, AT&T is a strong dividend buy, currently yielding 6.20%.
Best Buy (NYSE:BBY)
Best Buy operates as a retailer of consumer electronics, home office products, entertainment products, appliances, and related services primarily in the United States, Europe, Canada, and China. Best Buy's strong balance sheet and sizable market share make this stock an attractive investment. Although Best Buy does business in a highly competitive industry, maintaining competitive pricing and increasing online offers will help Best Buy survive the competition.
Best Buy stock is currently trading near its 52-week low of 22.74 with a 50 day moving average of 24.57. The company reached its high at 45.63 this year. Best Buy's price to book ratio is at 1.32 with its book value at 18.31. One of my previous articles about consumer and retail stocks explains Best Buy and its peer, Game Stop (NYSE:GME), in further details.
Aflac Inc. (NYSE:AFL)
Aflac Incorporated is a general business holding company that oversees the operations of its subsidiaries by providing management services. Its principal business is supplemental health and life insurance through its subsidiary, American Family Life Assurance Company of Columbus (AFLAC). Aflac faces some downside due to its exposure to hybrid bonds for financial service companies. However, this risk is offset by Aflac's strong market share and a solid risk-based capital ratio, estimated in the range of 480 to 520 percent for the second quarter.
Aflac stock is currently trading near its 52-week low of 31.30 with a 50 day moving average of 36.06. The company reached its high at 59.54 this year. Aflac's price to book ratio is at 1.25 with its book value at 25.65. Although Aflac is not considered a high dividend stock, its current yield at 3.70% is not too meager.
Disclosure: I am long BBY.