Prior to the 2008 financial crisis, there was a small group of premier junior producers on the way to create the next generation of intermediate miners. I am referring to the likes of
Now in 2012, a new group of premier junior miners are ready to take the title of emerging intermediate / intermediate producers. These include
While most wouldn't consider or are unaware of AuRico Gold's (formerly Gammon) transformation throughout 2011 into an uncoming intermediate producers, I consider it to have the most upside potential of the aformentiond companies.

A brief overview of AuRico's assets barring its two strategic acquisitions -- Purely a Mexico focus with two operating mines and one advanced development, all having a unique focus on both gold and silver.
Ocampo: Mill and mining optimizations at its flagship property, currently producing in the lowest quartile as of Q2, with $340 cash costs per AuEq oz. Future development of a 3rd underground mining operation, pushing Au production towards 160k-170k and Ag towards 6m oz. annually.

El Cubo – A mine restart and ramp up in 2011 following the end of a miners strike. Au and Ag production should push 30-35k and 1.4-1.6m oz. annually by 2012. Multiple exploration targets identified.

Gudalupe Y Calvo – Advanced Development – PEA soon to be released in Sept. Personally, I'm expecting big things from this mine in terms of complimenting gold and silver production.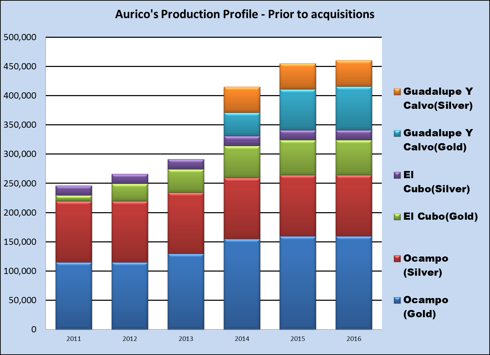 Acquisition of Capital gold at an extreme discount, paying $191/( 2p oz Au Eq) and $144/ (2p+M&I AuEq)

El Chanate

– Producing and currently undergoing phase 2 of a 5 phase expansion plan. By 2013/2014, El Chanate is expected to produce approx. 90k Au and 80k-100k Ag annually.

Orion – Advanced Development

– Although an initial PEA using a 750 tpd mill throughput was published by Nayarit, prior to Capital gold acquiring it, the economics were still attractive. Average annual Au and Ag production are forecast to be 30-35k and 1.7-1.8m/oz, however, larger mill throughput to the tune of 1,500-2,000 tpd will likely prove more realistic. In other words, more realistic estimates would be 60k Au oz. and 3.5m oz. Ag annually.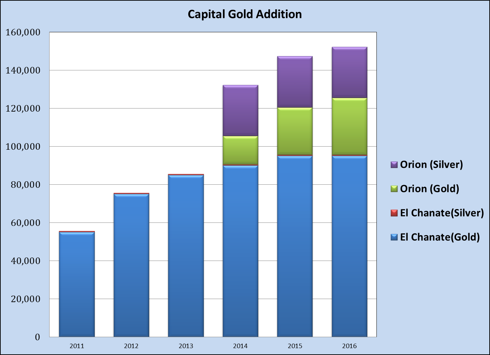 Pending acquisition of Northgate Minerals – Purchased at <$500/oz per 2p reserves. This strategic acquisition was 2-fold:
Acquire quality Canadian assets, notably Young-Davidson and Kemmes U/G to a lesser degree
Acquire a high quality management team to operate these assets in order to avoid AuRico's focus on its Mexican assets. Both of these assets fit into Aurico's profile, having operating cash costs in the lowest quartile in the industry.
Young Davidson (Construction)

– AuRico plans to optimize milling operation by increasing throughput by a whopping 66% or Au production of 300-350k annually at $400/oz. cash costs. This is much greater than Northgate's original 6,000 tpd operation or 180k oz annually. Management made this clear at the recent Denver Gold Forum. Commencing production in mid-2012, Aurico also sees a fast ramp up period than initially forecast.

Kemess U/G (Advanced Developement)

– Will further diversify Aurico's asset base and compliments its current profile of being a very low cost producer. Over an initial 12-14 year mine life, Kemess will produce 95k Au oz. at cash costs of $115/oz.

Fosterville & Statewell (Producing)

– Considered by AuRico to be non-core assets despite it being Northgate's only actively producing mines. As these two high costs Australian mines are highlighted by <100k Au oz. annual production, management will be looking to divest one or both of these assets in the not too distant future.




Click to enlarge images

Pro-Forma Production - Assumptions are using 45:1 Au:Ag ratio falling to 40:1 by 2013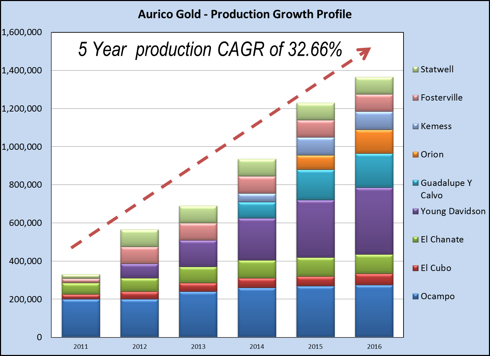 Disclosure: I am long AUQ.