The current yield on Pitney Bowes (NYSE:PBI) is 7.9% with a PE of 8.5 based on estimated EPS for 2011. Clearly on the surface, Pitney appears as a excellent candidate for dividend investors with the high yield that share holders receive. However, the dividend was only increased by one half of a cent in both 2010 and 2011 representing increases of less than 0.4% each year. Many companies, such as Paychex (NASDAQ:PAYX), Excelon (NYSE:EXC), and Merck (NYSE:MRK) have frozen their dividends for several years or more, which makes the small increases in Pitney's payment superior to many other income stocks.

Pitney Bowes: The company is in the business of providing equipment, software, and facilities services for mail processing equipment to companies for mail distribution. Since 2000, Pitney continues to expand as they have acquired over 83 companies world-wide to enhance their existing business.

Most estimates of Pitney's growth center around an economic recovery. Pitney has maintained that the slowdown in earnings are not constrained by the growth of mail, but in the credit restraints facing business and the expansion of business. They have a healthy cash flow generated from a recurring and steady stream of revenue. Cash flow exceeds dividend payments, but has failed to grow over the last ten years. Prospects appear good if and when the economy recovers, however, it appears that growth will be sluggish without a general economic recovery.

A look at the long-term history of Pitney's stock price and EPS is graphed below. The stock price reached a peak in 1999 while earnings peaked in 2006 at $2.51 a share, but estimates for 2011 range in the $2.23 area.
click on all charts to enlarge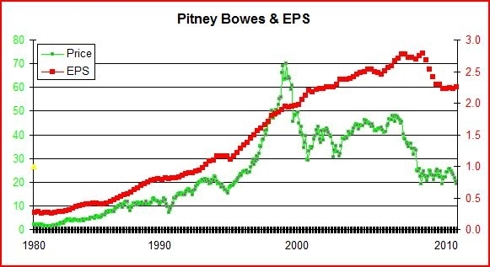 The dividend has continued to slowly grow over the last several years. The dividend growth began to decline in 2000 from its previous faster pace.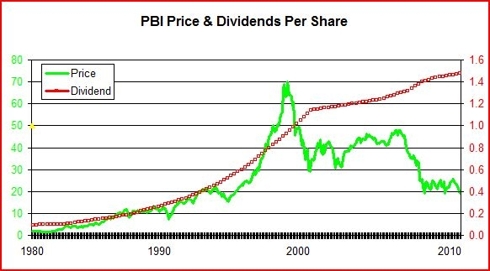 The current yield on Pitney has steadily increased as the shares have declined. The PE has also reached levels not seen since the early 1980's. The yield trades at 30 year highs.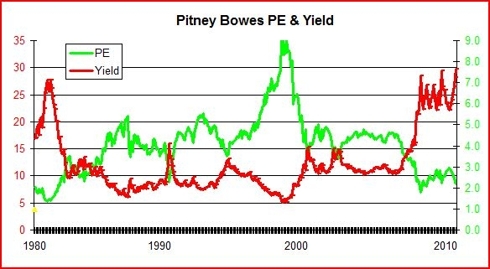 The earnings peaked in 2006, but the dividend has continued to climb, which has caused the payout ratio to rise. Therein lies the big concern for ownership of Pitney for long term investors seeking stability and dividend growth. The table below shows the trend in cash flow, dividend and payout ratio.
| | | | |
| --- | --- | --- | --- |
| Year | Payout Ratio From EPS | Cash Flow Per Share | Payout Ratio from Cash Flow |
| 2001 | 56% | $3.44 | 34% |
| 2002 | 65% | $2.98 | 40% |
| 2003 | 57% | $3.32 | 36% |
| 2004 | 60% | $3.36 | 36% |
| 2005 | 55% | $3.7 | 34% |
| 2006 | 51% | $4.21 | 30% |
| 2007 | 81% | $3.37 | 39% |
| 2008 | 66% | $3.6 | 39% |
| 2009 | 69% | $3.72 | 39% |
| 2010 | 65% | $3.06 | 48% |
| 2011E | 65%E | %3.03E | 49%E |

From the above table we see that the payout ratio for the dividend coming from EPS has climbed to 65% based on 2010 actual earnings and the same for 2011 estimates. A stagnant economic environment for Pitney should equate to slow or no dividend growth in future years.

Technical Picture: The shares enjoy excellent support in the 18 to 20 range. Resistance lies in the 23-25 area. Purchase should be reserved for prints below 20. An option writer should consider writing covered calls on rallies to the 23-25 zone.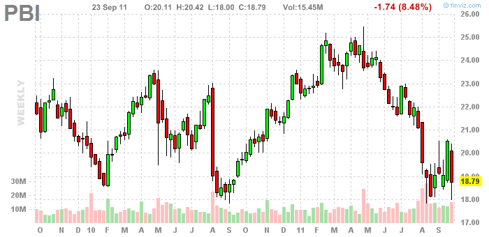 Conclusion: Clearly, the shares are a value based on historical PE and current yield. It would be considered a value trap if there were no hopes of future growth that equates into additional dividend growth.
It is my opinion that Pitney is not a value trap, as an economic recovery will benefit the shares. The shares benefit from a high yield, supported by a 65% payout ratio, a cash flow that amply covers the dividend, a steady stream of revenue, and a low PE.
Should an investor seeking a high dividend growth buy the shares? No, I do not believe the shares will provide that in years to come. But ownership will provide a large yield, which has all the signs of being secure for the foreseeable future. Present value has largely discounted a poor fundamental outlook. Any positive surprises will reward investors.

Disclosure: I am long PBI, PAYX.