The headlines were unequivocal:
As the media would have you believe it gold is on an unstoppable downward spiral and no one is ever going to buy gold again. That's utter nonsense. Gold has been one of the best-performing assets over the last year; in fact it's been one of the top-performers in the last five years.
Let's just use the popular ETF SPDR Gold Trust (GLD) as a benchmark. As of 09/24/2011 it's up 28.31% vs. the S&P 500's 0.96%. Over the last five years, GLD is up 174% while the S&P 500 is down -13.57%. If you've owned gold over the last five years (I recommended gold in 2006 at $500/ounce) you've outperformed the broader market by a wide margin -- even considering this week's carnage which saw gold drop by 10%. You can see GLD's performance vs. the S&P 500 in the chart below.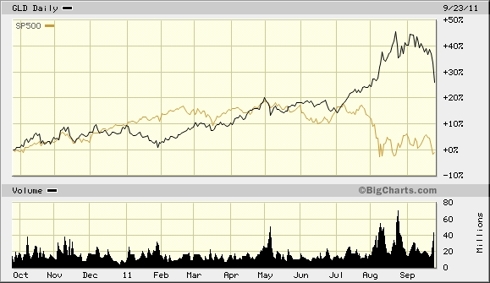 Let's put things in perspective and not forget that gold has had a stellar run throughout the summer, up 20% between June and September while the S&P dropped almost 10%. While I've been expecting (and hoping for) a pullback I must be upfront and admit that I was surprised at the sheer ferocity of the selling, especially on Friday. It looked like the bottom had fallen off and indeed many commentators hit the airwaves claiming that the gold bubble had finally burst.
I disagree. I believe gold was due for a pullback, and the data leads me to believe that gold is still a long-term buy. Yes this was a violent downturn, but the long-term gold fundamentals are still intact. I think this week's selling was magnified by margin calls as many traders were forced to sell their positions (especially winning positions such as gold) to meet margin calls.
Let's take a step back and look at the gold fundamentals for a second, especially the activities of central banks, traders, and overall demand dynamics.
Central Bank Buying
I analyzed extensively the activities of central banks vis-a-vis the gold markets in a previous article. I highlighted that central banks, for the first time in decades, have become net buyers of bullion. The central banks of China, Russia, Mexico, South Korea and even Kazakhstan made large bullion purchases this year. Take a look at the chart below on central bank activities in gold: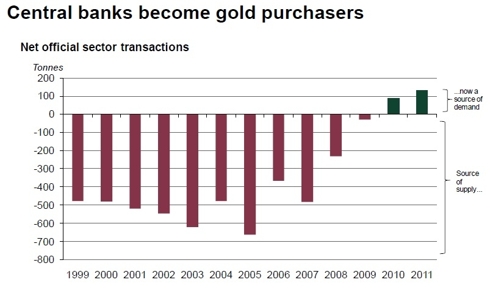 Source: World Gold Council
The shift of central banks as net sellers of gold to net buyers of gold adds tremendous support to the gold markets going forward.
Seasonality
Let's not forget that the overwhelming demand for gold isn't for investment purposes--it's for jewelry and ornaments. Yes, while the demand growth has recently been driven by investment demand (ETFs, hedge funds, central banks, private investors) that still represents a smaller percentage than jewelry demand, currently at 51%.
The fourth quarter of the year is usually the strongest quarter for gold producers and gold sellers: Holidays in the West (Christmas, New Years, etc) and Festivals in Asia (the wedding season in India and China) increase demand for gold as jewelry. That's an important market driver we should not overlook.
Valuations
It is no secret that I prefer gold equities versus the ETFs, as I highlighted in this article. I especially like junior gold equities since they can offer much more exploration upside than the seniors. Currently the Market Vectors Gold Miners ETF (GDX) is trading at a record low of 12.03X Earnings. That's a historical low for a highly profitable industry.
So where do we go from here?
How can you benefit from the long-term fundamentals in the gold markets? I've picked out three stocks that I believe will outperform the broader markets in the long term. I believe this recent pullback is a good opportunity to buy these high-quality, high-margin businesses at a discount.
Why I like New Gold at $11.65/share
I discussed New Gold Inc. (NGD) in a previous article and I still like the fundamentals of this company. NGD has terrific assets in the US, Mexico and Australia that are already producing, with production estimates for 2011 at 380k-400k ounces of gold.
In addition it has several properties coming online in Chile and Mexico that may double its current reserves. The company is tightly run and cash costs per ounce are an industry-low $350/oz.
Value catalysts include:
Strong Cash Flow Growth: 131% yoy
High Net Profit Margins: 45%
Solid Balance Sheet: $500M in cash
Increasing Margins Per Ounce: +74% since 1Q2010
Why I like AuRico Gold at $9.60/share
AuRico Gold (AUQ) is an intermediate gold and silver producer with several high-quality assets in Mexico, Canada and Australia.
Tale of the tape:
Active in three major gold belts in Mexico
295,000 hectare land package in Mexico (large exploration upside)
New mines coming online in Australia and Canada
Gold production 2011E: 185K oz; 2015E: 1M oz (properties coming online)
Operating Cash Flow Growth: 251% yoy
Earnings from Operation Growth: 246% yoy
In addition, operating margins are increasing to record levels as seen by the company's main asset in Ocampo: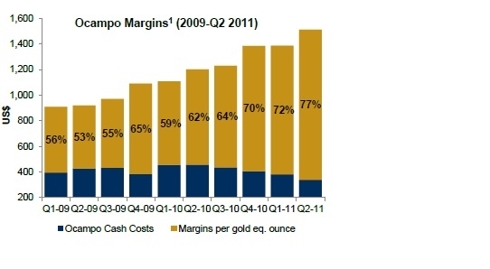 AUQ is a terrific company with very bright prospects. It has a real shot of ramping up production to the 1million ounce mark within the next 5 years. That should be a major value catalyst to boost the stock price.
Risk Factors
My analysis is based on long-term fundamental dynamics of the gold markets. The supply and demand imbalance indicate higher prices in the long term. My expectation is that there will be bumps in the road especially as volatility in the financial markets spills into the precious metals space as we saw recently.
Let me be very clear: we may see further downside in gold prices in the short term. Even next week (the final trading week of Q3) may see a large, perhaps very large, drop in gold prices. For long-term investors who have been waiting for a pullback in prices, this may represent a unique entry point.
We may see AuRico and New Gold drop further this week. That will be a solid buying opportunity in my opinion since you'll be buying terrific companies with strong growth fundamentals at an even deeper discount than before.