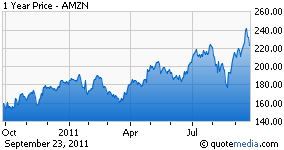 I love shopping on Amazon (AMZN), not just for Christmas gifts but throughout the year as well. They have great deals, competitive prices, low-cost shipping (especially if you spend more than $25), and no-sales tax. According to gasbuddy.com, a gallon of regular gasoline costs you 30% more today than a year ago. That is a big jump. Even in my fuel efficient car where I can get 35-40 mpg no problem, I'm still paying about $7-$10 more than last year. And so I'll be buying more on Amazon this year if I can.
Obviously, I'm not the only one buying more. Amazon is forecasted for 44% revenue growth y/o/y this quarter and 39% for the Christmas quarter. However, EPS for this quarter is only supposed to be about half of last year's number, $0.24 vs. $0.51. Next quarter's EPS decline is only supposed to be 5 cents off of last year's $0.91. For the full year, 42% revenue growth but a 22% decline in EPS. At least in 2012 both revenues and EPS are expected to grow.
Now I expect Amazon to have a good holiday season despite the economic slowdown and possible recession. Amazon is extremely competitive when it comes to electronics, and I've made a lot more purchases in that category on their site recently. I used to buy a lot of my games and movies in Best Buy (BBY), but I don't mind waiting a few extra days to get my purchase, if I can save some money and not have to go out and get it. Amazon may need to have some extra sales this year, as I believe that most retailers are going to have to lower their prices even more to get people in. With gas prices high and still 9% plus unemployment, Black Friday will be a lot more competitive this year, in my opinion. Amazon could benefit there.
Amazon just needs to translate its growing revenues to the bottom line. Trailing twelve month net margins are just 2.58%, which is why EPS numbers appear to be so low. And that's why the valuation is so high. With a trailing P/E of 99 and forward P/E of 70, any misstep will certainly bring this stock down quickly. Netflix's P/E numbers were only half of Amazon's, and it lost over 30% in just a week. Amazon is price for more than just perfection, and it needs to deliver.
Amazon's shares are up 39% in the past 12 months, and that includes the $15 drop in the past week. It appears that the stock is trading along with revenue growth and not EPS growth. The high valuation does scare some people off. If I were going to enter, I'd like to see a little more of a price break.
Now Amazon did extremely well with the Kindle, and there have been rumors that it might try to take on Netflix at some point. Also, the company is expected to announce a tablet offering this week, but it remains to be seen how well it will do. While Apple (AAPL) has done great with the iPad, but other companies have seen their tablets flop. Also, Amazon's tablet is likely to be priced for competition, so don't believe that a tablet will instantly boost margins for the company.
Amazon clearly has growth ahead of it, and may even have more revenues in the next few years than Target. But it needs to translate those numbers to the bottom line, or it will continue to scare people off with its staggering valuation. I am a true believer of the company and a repeat customer, but I just can't make an argument for the stock at this price.