Here's my October prediction: Apple's PE is going to get a lot smaller, even if the stock price goes up 10%.
You can count on that sad prophesy. Apple's PE is already an absurdly low 16 despite its booming business. Compare Amazon's much higher 98 PE for far less growth. Even Yahoo's valuation is higher!
How could the PE go any longer? After all, Apple's growth story is intact. If the analysts even come close in their predictions, this fiscal year's earnings are going to be up a whopping 80%. Yet, even sensational earnings won't matter. The sad fact: It is virtually certain the company's valuation will drop further. Before we go any further, look at how little the market values Apple's growth: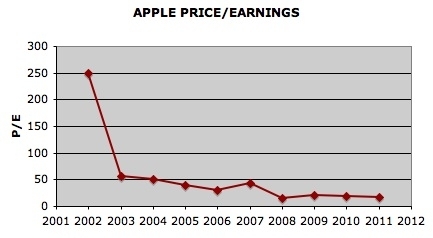 We're about to go experience a gut wrenching PE drop. Hold onto your Apple.
Apple closes its fiscal year in a week. For the last four quarters, Apple has earned $25.26. In October, the company divulges its fourth quarter earnings. Apple guided $26.12 in earnings for FY 2011. Consensus analyst estimates are $27.72. Apple has trounced analyst expectations for years. Me, I'm expecting $29.49.
At Apple's current share price of $404, PE must drop.
Below are the calculated PEs based on that price.

If the analysts hit the number (a first), earnings would be up 83% year over year. If I'm on the mark, earnings practically doubled. All for a piddling PE less than 15, probably 13.7. Crazy, no?
Incidentally, if Apple's share price increases 10% and the analysts' are right, PE stays at 16.
If Apple's share price increases 10% and I'm right, PE is still a lowly 15.
For those who want a sure bet, put your money on Apple's PE going lower.
Apple remains the single most undervalued stock out there.
Disclaimer: The opinions in this document are for informational and educational purposes only and should not be construed as a recommendation to buy or sell the stocks mentioned. Past performance of the companies discussed may not continue, and the companies may not achieve the earnings growth predicted. The information in this document is believed to be accurate, but under no circumstances should a person act upon the information contained within. We do not recommend that anyone act upon any investment information without first consulting an investment advisor as to the suitability of such investments for his specific situation.