In a slowing economic backdrop, investors are demanding more from their stocks. It isn't enough to be cheap even if the bottom line is growing. The only way to grow earnings year after year without corresponding revenue growth is to cut expenses. You can only do that for so long. At some point, there isn't any fat left to cut and you are cutting into bone. Investors want and need to see top and bottom line growth which is why high flyers like Amazon (NASDAQ:AMZN), Priceline (NASDAQ:PCLN), and Mastercard (NYSE:MA) have done so well. Unfortunately, a lot of the good news is reflected in these stocks.
One that has been overlooked is eBay (NASDAQ:EBAY) (Click here for my eBay recommendation on Fox Business News). This is a $41 billion company that is likely to grow its top and bottom line at over 16% and can still be purchased for less than its growth rate at 14x next year's earnings. Numbers like this get me excited, however, when you peel back the onion, the story gets sexier. eBay's PayPal system has been a home run and its mobile division is growing at 25-30%.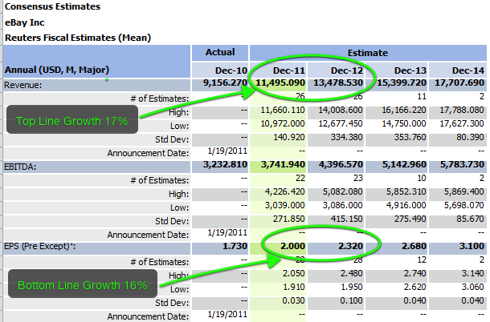 click to enlarge
Online vs. Offline
Increasingly, it is all about offline. Merrill Lynch analyst Justin Post, in a recent note, pointed out that PayPal will offer multiple payment options at retail for its 100 million active accounts. He also points out there are four ways to use PayPal's offline mobile payment system.
Payment with your mobile phone using a phone number and pin

Payment with a PayPal card

Payment with an app (scan barcodes and avoid checkout lines)

Purchase product on your phone and have delivered
There is no question that we are in the early innings and PayPal is growing fast enough to become eBay's largest business by 2014. That is saying something because eBay is likely to do well north of $13 billion in revenue next year. Clearly, there will be a lot of competition in the e-commerce payment space, but we strongly believe PayPal, with its strong fraud protection features, will be an industry leader.
Currently, the biggest bull on the street is Wedbush's Gil Luria. In his recent upgrade note he placed a $48 target on eBay a year from now. He points out that eBay currently trades with a PEG ratio of 0.8 and that as PayPal becomes an ever bigger part of its revenue, investors will start to afford a higher multiple, more in line with other growth stocks like Visa (V), Mastercard and Amazon.
I think the AMZN multiple is a stretch, but multiple expansion is right on target for eBay and could easily support a PEG ratio north of 1. eBay is worth at least 40, and with any stabilization in our economy, we could get a 50% return at 48.
Disclosure: I am long EBAY and expect to add to the position.