Apple (NASDAQ:AAPL) is a unique company due its size ($375B), earnings growth rate (125%), and volatility (1.3β). I have recommended option strategies on Apple since 2010 with tremendous results. For reference, please view the first and other articles in the series to fully understand the strategy and its strong potential returns.

Click to enlarge
click to enlarge
A brief recap of this week in Apple [Up $7.30 (1.8%)]:
· Al Gore Confirms Multiple iPhones Being Announced in October (September 21 The Next Web)
· Tim Cook To Announce New iPhone(s) October 4 (September 21 All Things D)
· iTunes Rated One of Best Netflix (NASDAQ:NFLX) Competitors (September 21 Wired)
iPhone 89% Retention Rate 50% Higher Than Closest Competitor (September 22 Apple Insider)
· Reports of Blocked Apple Vacations in October Support iOS 5 Launch (September 24 Apple Insider)
· Apple Opens First Hong Kong Store to Huge Crowds (September 24 Washington Post)
This was a rollercoaster week for Apple, but the stock finished in solidly positive territory while the broader market sold-off in excess of five percent. While the details of the iPhone launch are growing more definitive, the specifications of the actual product are still up for debate. It is widely acknowledged that Apple will release two iPhones, which is causing significant investor optimism: iPhone 4S and iPhone 5.
The iPhone 4S will essentially be a larger/faster iPhone 4 at a lower price point that will appeal to more price sensitive consumers and emerging markets. Despite having essentially the same form factor, do not underestimate the impact of this lower-end iPhone. The iPhone 3GS is still one of the top selling phones even while competing with new Google (NASDAQ:GOOG) Android phones.
The financial impact of the new iPhone 5 is largely baked into the current stock price, but the implications of an iPhone 4S in emerging markets are very difficult to estimate. I stand by the reasons I cited for Apple climbing to $500, but a lower priced iPhone is the catalyst that can accelerate the climb. For long term investors, there is minimal to worry about, but traders should be worried.
Apple historically rises on the weeks leading up to product announcements, stagnates before the launch, and declines immediately after the launch. This type of pattern can present opportunities for investors as you can use weekly option strategies to capitalize on the expected price swings. Investors are understandably optimistic so I want you to take advantage of the significant time value available to option sellers.
Below I present three possible scenarios and the potential returns for the September 30 weekly options (Source: TD Ameritrade). The first scenario represents a negative outlook for Apple while the final two scenarios are more reasonable. These scenarios are just projections and there is no guarantee that they will come to fruition. As a general rule, selling calls with higher strike prices has greater potential return but additional risk of loss due to the lower (or lack of) downside protection. For more information on the fundamentals of covered calls, consult Investopedia.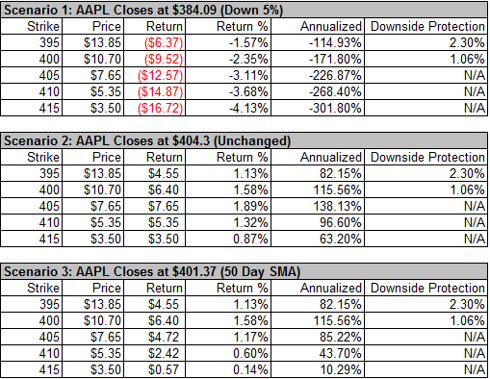 Click to enlarge

Additionally, if you would like even more information, I have prepared a sensitivity analysis for absolute return and percent returns, respectively. After studying the information above, these two charts make it easy to pick a strike price based on where you believe Apple will close on Friday.

Click to enlarge
With this information, executing a buy-write on AAPL September 30 (Weekly) 410s is the optimal risk-return strategy. If you are uncomfortable with this strategy, I suggest an ordinary buy-write 400s or 405s. The 405s have the greatest time value ratio (1.9%), but I want to maintain the opportunity for stock appreciation with the 410s (1.3%). Additionally, if you are confident that the volatility will persist, buy a 405 Call/395 Put Long Strangle to profit from these extreme price movements.
This past week was the least volatile in almost two months so I personally would shy away from this approach. An alternative approach is to sell out-of-the-money 400 puts and collect the premium without having to purchase the stock outright, but even this is quite risky now. Note that if the stock declines to the strike price, you are obligated to buy the stock (or close out the position).
Disclosure: Author is long AAPL and GOOG; short AAPL October 22 415 Calls.