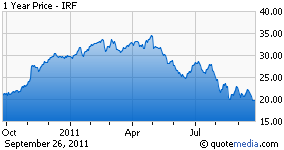 International Rectifier Corporation (NYSE:IRF), manufactures and markets power management semiconductors. Power semiconductors convert raw power from an electrical outlet, a battery, an alternator running off an internal combustion engine, a hybrid electric vehicle ("HEV"), an electric vehicle ("EV"), or a renewable energy source into more efficient and useful power for a wide range of electrical and electronic systems and equipment.
The more sophisticated the end product, the greater the need for specially-formatted, finely-regulated power. The importance of power semiconductor technology rises with the increasing complexity of electronic products and the proliferation of electronic features in information technology, industrial, consumer, aerospace and defense and automotive products.
With energy usage increasing worldwide and energy costs generally rising, governments and consumers are working to conserve energy, while at the same time demanding more efficient uses of power in all types of electronic products including computers, appliances, military aircraft, and hybrid cars.
Current data suggests that the market for power management semiconductors for calendar year 2011 is about $35 billion, primarily in power switching transistors including power MOSFETS and IGBTs and ICs.
The information technology, industrial, computing, consumer, high reliability and automobile industries use power management semiconductors to promote energy efficiency and improve performance metrics. Power management semiconductors enable energy savings by delivering the power tailored for a particular electrical device, rather than delivering a constant stream of power.
The company's products include power metal oxide semiconductor field effect transistors ("MOSFETs"), high voltage analog and mixed signal integrated circuits ("HVICs"), low voltage analog and mixed signal integrated circuits ("LVICs"), digital integrated circuits ("ICs"), radiation-resistant ("RAD-Hard") power MOSFETs, insulated gate bipolar transistors ("IGBTs"), high reliability DC-DC converters, digital controllers and automotive product packages.
The company was founded in 1947 and is based in El Segundo, California.
Basis
Financial information presented herein, is based on the company's most recent SEC Form 10-K filing for year ending June 26, 2011, as filed with the Securities and Exchange Commission on August 22, 2011.
Short-Term Investment Valuation
The stock closed recently at $19.84, with First Resistance at $20.87, a 5% increase from the recent close, and Second Resistance at $22.08, an 11% increase from the recent close. Should the stock price push through Second Resistance, the next point of resistance is $24.95, a 26% increase from the recent close.
Negatively, First Support for the stock is currently at $19.43, a 2% decline from the recent close, with Second Support at $18.70, 6% decline from the recent close. Should the stock price push through Second Support, the next support level is $17.83, a 10% decline from the recent close.
The Wax Ink median number, the midpoint between Resistance and Support, is $20.15, 1.6% above the recent close.
Earnings Growth Valuation
Earnings growth valuations are based on the spread between year over year earnings growth and the current PE.
In the case of International Rectifier Corporation, the company had year over year earnings growth of 57%, ending FY11 with earnings of $3.23 per share.
With a trailing twelve month PE currently at 6, the spread between earnings growth and the PE is 9, meaning that for an investor focusing strictly on earnings growth, the stock should be trading at $49.63, a $29.79 increase from the recent close.
Fundamental Investment Valuation
Liquidity: The company ended FY11 with a Current Ratio of 3.53, an 18.6% year over year decline, a Quick Ratio of 2.49, a 25.1% year over year decline, a Cash Ratio of 1.77, a 31.2% year over year decline, and a Cash Conversion Cycle of 134 days. In addition, Goodwill and Intangibles comprised 9.5% of Total Assets, lowering Book Value from $19.26, to $17.01.
Profitability: FY11 found the company with a Gross Margin of 46%, a 13.5% year over year increase, an Operating Margin of 18.6%, a 76.8% year over year increase, Net Operation Margin After Taxes (NOPAT) of 19.34%, an 18.2% year over year increase, an Effective Tax Rate of (5.58%), 96.9% year over year increase, and Return On Invested Capital (NASDAQ:ROIC) of 24%, a 51.1% year over year increase.
Debt: The company ended FY11 with no Debt.
Cash Flow: The company's FY11 Operating Cash Flow was $4.47 per share, a year over year increase of 46%. The company also ended FY11 with Free Cash Flow of $2.28 per share, a year over year increase of 2%.
Dividends: The company has not paid a dividend to stockholders during the past five years, and is not expected to pay a dividend in the foreseeable future.
Fundamental Valuation: Based on our review of the latest annual financial information for the company, we think a Reasonable Value Estimate for the company is in the $46-$53 range.
Portfolio Thoughts
An investment in this company is not without its perils regardless of how much research is performed. The company is involved in several environmental legal challenges in the United States and in Italy. While the company may indeed prevail in each of these causes, it may be costly. We could not determine if the company has insurance policies in place to offset, at least partially, the cost of litigation in these matters, nor any potential damage awards.
The company is also involved with several business related legal challenges in California. In each instance the company may prevail, but at what cost to its balance sheet? Again, we could not determine if insurance was in place to offset the costs associated with this litigation.
Potential legal issues notwithstanding, considering a Recent Close of $19.84, an estimated Merger and Acquisition payback of 4.8 years (assuming EBITDA remains the same), year over year earnings growth of 57%, year over year free cash flow growth of 2%, that the company has no debt, and our reasonable value estimate of $46-$53, we believe that on a fundamental investment basis the stock is currently UNDER PRICED, and a potential candidate for additional research for the Wax Ink Portfolio.
Disclaimer: The author has no position in International Rectifier Corporation at this time, and no plans to initiate a position in the next 72 hours. Additionally, the author has received no compensation to write about a specific stock, sector, or theme.