There may not be much time or many chances to take advantage of gold falling from over $,1910 on September 7 down to $1,650 last Friday.
We haven't seen a 13% correction in gold for quite awhile. Silver's correction is even more dramatic. Illustrated by the chart below of the ETFS Physical Silver ETF (NYSEARCA:SIVR), silver has fallen from around $50 in early may to near $30 last Friday.
That equates to nearly a 40% correction in silver. This is significant, and begs the question: What are some good ways to begin to invest in this kind of sudden precious metals correction?

Fair Warning: The Correction in Gold and Silver May Not Be Completed

By some technical standards (Fibonacci retracement levels) gold may fall a little further, or perhaps a lot. One colleague wrote me yesterday and said the following:
Gold hit the red resistance line [see chart below], which also halted gold's rise in 2006 and 2008. I drew Fibonacci retracement levels from the bottom in 2001 to the "Inflation Adjusted All-time High" around $2,300. We can see that the Fibonacci levels have done their job in the past. Will we hit the 61.80% level again (and this hit the orange line, which is right between the red resistance line and the green support line)? That level comes in at $1,516 and is the July 2011 breakout level.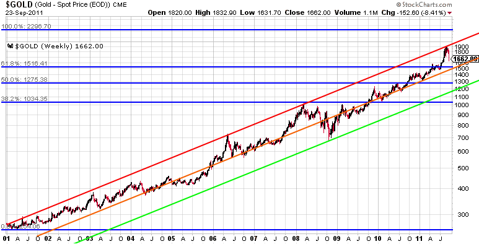 Chart courtesy of stockcharts.com.
From the chart above and the precedent set between April 2008 down to the green support line, which wasn't reached until around October 2009, the lower potential corrective price would be slightly above $1,200 an ounce.
That would be a monstrous 37% correction if gold fell from $1,910 down to $1,210. It could happen, but it is unlikely.
If that happened to gold, silver might experience a 50 to 60% correction from it's recent highs, which could see a meltdown to around $20 an ounce. Again, not impossible but not likely either.
Keep some liquid cash or cash-equivalents for the potential of the second-best buying opportunity of a lifetime (the best one goes all the way back to early 2001).
Four Stocks To Seriously Consider for a Major Precious Metals Correction
The first two are often looked at as proxies for owning gold and silver.
Royal Gold (NASDAQ:RGLD) owns royalty interests in gold mining companies in various stages of production. It's up over 90% in just the past 52 weeks and may soon offer an entry price at around $63.40 or lower. (Check out their user-friendly website.)
Silver Wheaton (NYSE:SLW) is a gem of an operation if you like the outlook for the future price of silver.
SLW operates as a "silver streaming" company worldwide. The company has 14 long-term silver purchase agreements and 2 long-term precious metal purchase agreements whereby it acquires silver and gold production from the counterparties. It negotiates purchase prices on silver that are amazingly low because many of these counterparties aren't mining for silver -- silver is just a by-product of what they're really looking for.
Most of these mining operations where SLW arranges their long-term silver purchase agreements are in Mexico, the United States, Canada, Greece, Sweden, Peru, Chile, Argentina, and Portugal. Silver Wheaton's business model and story are impressive and can be found in detail at its website. The company is headquartered in Vancouver, Canada.
I'd love to see the share price drop to nearly $20 and then "back up the truck," as I'm told they have many silver purchase agreements at prices well below $10 an ounce.
Another precious metals company that also makes money on mining and refining copper, which has taken a big hit of late, is Freeport McMoRan Copper and Gold (NYSE:FCX). FCX has loads of cash, a P/E ratio below $6, a current dividend yield of 3.10%, manageable debt, and recently resolved some of its labor problems. On Sept. 22, 2011, it hit a 52-week low of $30.97, close to a 50% correction from the 52-week high.
Last but not least, be watching Alexco Resources (NYSEMKT:AXU), which admittedly is the most speculative of the four but potentially the most rewarding. This well-managed, profitable company makes its money from the exploration and development of mineral properties in Canada, primarily in Yukon Territory.
AXU principally owns 100% interest in Bellekeno property, comprising 70 surveyed quartz mining leases and 14 unsurveyed quartz mining claims located in the Keno Hill mining district of the central Yukon Territory. It explores for silver, lead, zinc, and gold ores. The company also provides consulting and project management services in respect of environmental permitting and compliance, and site remediation and reclamation in Americas, primarily in Canada and the United States.
Carefully examine how it manages risk and unlocks value by studying its user-friendly website. I for one will
not be buying much more AXU until it falls to $6.67 or lower. When you can, take a look at the recent August 2011 lows to see that perspective as potential support.
Is this a "Mini Major" Correction or a "Maxi Minor" Correction?
I'm not certain, but if this has anything to do with the gold and silver speculators -- I mean the really big ones -- needing to cover their short positions and get long, it may be a shorter major correction that could turn on a silver dime.
As my old mentor used to say, "Ready, Get Set, Not Yet!" Sooner or later, though, these 4 stocks may provide some wonderful profit opportunities that don't come along very often.
Disclosure: I am long SIVR, RGLD, SLW, FCX, AXU.