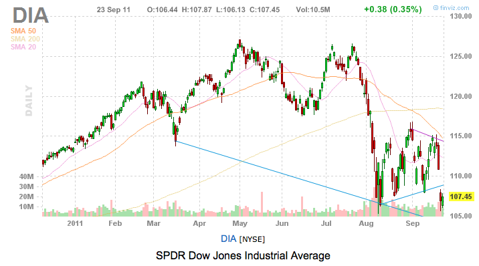 Click to enlarge chart
Last week was a mixed week, highlighted by a more than 300-point drop in the Dow Jones Industrial Average (DJIA)) on Thursday. The market is trading at fairly crucial technical levels that need to be held. A breakdown from the 10,700 level will push us to 10,500 quickly, and further losses from there may be on the way.

The coming week in the market is full of data as well with new home sales coming out on Monday, consumer confidence on Tuesday, durable orders and crude inventories on Wednesday, initial claims, GDP estimates are on Thursday, and Friday will show personal income, personal spending, Chicago PMI and Michigan sentiment. The data is definitely quite key, and we will continue to have significant market reaction to the data points. Yet, the most important news will most likely continue to be what's coming out of Europe.


The eyes of investors will be looking at European headlines about how the European leadership will be handling the Greece crisis. The market will continue to face headwinds until we get a plan that gives more certainty to the economic situation in Greece. Until then, things will remain rocky. The IMF/World Bank meeting this weekend was key as well to the market's early goings this week. Initial reactions appear somewhat positive.

Additionally impactful on the market last week was some key earnings from bellwether companies. We get a few more key reports this week from Walgreens (WAG), Family Dollar (NYSE:FDO) and Mosaic (NYSE:MOS) that all can have some impact on the market. Overall, though, earnings will be light until mid-October.
Technicals are going to be key this week as we have a lot of stocks approaching key support lines and channels. Those lines need to hold up this week, and they will continue to provide support. Another scary day could be setting us up for a terrible failure.

Strap in for an exciting week ...

Here is what we are looking at for the coming week:

Accenture (NYSE:ACN) - We believe that an early mover this week will be Accenture (ACN). The company reports earnings on Tuesday, and they have seen significant earnings pops over their past four reports. The stock has moved with significant upside over the past four reports, and we believe we are going to see some of that buying coming into the stock on Monday and Tuesday as traders want to get involved moving into the report. The stock is trading at some low levels that also give some attraction to the stock with a lot of key support below it at the $49 level.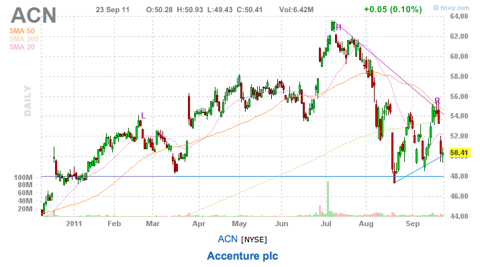 UPS (NYSE:UPS) and CH Robinson Worldwide (NASDAQ:CHRW) - According to our recent research, UPS and CHRW have performed quite well in the month of October historically, improving in the month over 80% of the time. CHRW has never declined more than 2% in the past 15 years in October. We believe these two companies would be good vehicles to continue to ride in October as long as the market holds up this week, and we will be looking to add them on at the end of the week.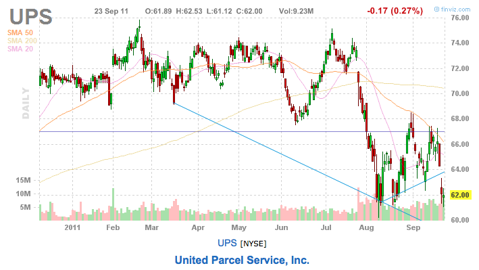 JDS Uniphase (JDSU) - JDSU remains one of our favorite stocks to decline lower in this market. The company broke its 50-day and 20-day MAs this past week, and it is in a strong downward price channel with $10 being its next major support line. We will want to be a seller of JDSU if this market does not turn around or shows more signs of breaking down this week.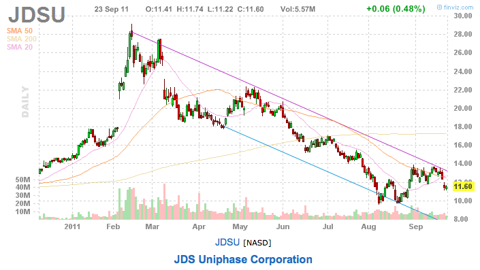 It should be a fun week in the market, and look for a lot of continued volatility.
Disclosure: I am long ACN.
Additional disclosure: I may initiate a trade in jdsu, ups, chrw, fdo, mos, wag in the next 72 hours.