Last week saw additional downward pressure on markets following Bernanke's comments on potential economic challenges ahead (for anyone who's been asleep for the last few months this must have come as startling news), and linked into fears regarding the eurozone, we witnessed another large sell off of leading stocks (apparently the markets had still not priced in this latest news and acted accordingly … or was it contagion sparked by panic selling?). This got me to thinking; rather than what buying opportunities exist at present, what stocks are definite sells, or should be left untouched until there are sustained upward price movement? As I was traveling overseas last week, I found one sector of stocks that to me are a definite candidate – U.S. owned airlines.
Researching the market share of leading airlines in America, the leading five companies are ranked by passenger numbers as follows:
1. Delta (NYSE:DAL)
2. United (NYSE:UAL)
3. Southwest (NYSE:LUV)
4. American (AMR)
5. US Airways (LCC)
When ranked by market share by the Bureau of Transportation Statistics, they are ranked as follows:

1. Delta = 16.4%
2. Southwest = 14.6%
3. American = 13.4%
4. United = 9.8%
5. US Airways = 7.9%
6. Continental = 7.3%
However, noting the merging of United and Continental, their combined market share for the previous year is 17.1%, which places it ahead of Delta.
With this in mind, I have summarized the Top 5 airlines in America (by market share), with their key financial statistics and 1 year performance graphs outlined below for investors. All information is taken from each stocks summary page on Seeking Alpha.
#1 – United Continental Holdings (UAL). Currently trading at $20.46 per share (52 week high of $15.29 / 52 week low of $15.92) . EPS is 0.79, P/E ratio is 25.90, and has a market capitalization of $6.77 billion.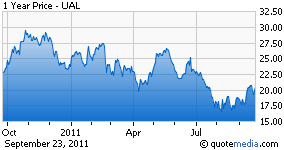 #2 – Delta Airlines (DAL). Currently trading at $8.17 per share (52 week high of $14.54 / 52 week low of $6.41) . EPS is 0.30, P/E ratio is 12.70, and has a market capitalization of $6.74 billion.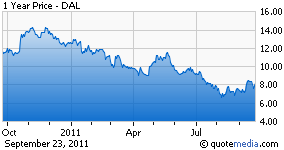 #3 – Southwest Airlines (LUV). Currently trading at $8.38 per share (52 week high of $14.32 / 52 week low of $7.79) . EPS is 0.66, P/E ratio is 25.90, and has a market capitalization of $6.77 billion.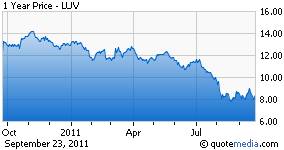 #4 – American Airlines (AMR). Currently trading at $3.32 per share (52 week high of $8.98 / 52 week low of $3.17) . EPS is -2.06, P/E ratio is N/A, and has a market capitalization of $1.11 billion.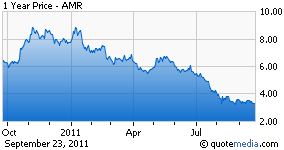 #5 – U.S. Airlines (LCC). Currently trading at $6.13 per share (52 week high of $12.26 / 52 week low of $4.68) . EPS is 1.16, P/E ratio is 5.30, and has a market capitalization of $993.57 million.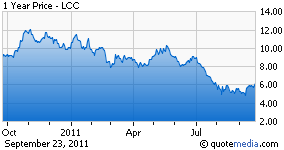 Why the negative perspective?
So having taken these things into account, why do I not see value in holding these stocks (even from a long perspective)? The fundamental reason for the existence of these companies is to provide a service to customers; to build revenue means building a customer base, and growing repeat business through satisfied companies remaining loyal to one airline. Revenue is driven primarily through satisfaction from value for money for airfares, satisfaction through a network of lounges (domestic and abroad), and incentives for repeat customers through frequent flyer programs. These three key areas are all underpinned by customer service (ironic for a service industry), whether it be the service representative at check in, the counter staff in the lounge, the ground crew handling luggage, the air steward in flight, or the company representative who answers calls in the customer service department.
Yet for many of the staff of these top 5 airlines, this is either a startling surprise, or wasn't covered in their initial induction (or ongoing) training. And as someone who travels frequently domestically and abroad (on many airlines), this failure to recognize their core reason for being (i.e., provide a service to customers) is bizarre, especially in current economic conditions. When airlines are under pressure from customers restricting their travel (choosing savings over spending), prices of fuel are fluctuating, and airfares are heavily discounted, the prime driver for growing revenue has to be exceptional customer service. And on this point the leading airlines all fail; and that has potential drastic consequences.
Take AMR as an example; its share price is heavily discounted, having dropped $5.66 (63%) since January this year. If I were a staff member at that airline I would be working to provide exceptional customer service, to ensure the airline's market share (and share price) continues to grow, and to ensure my own job security. Yet each time I travel on a U.S. owned carrier, I find the opposite to be true. The customer appears to be an inconvenience, and the less the staff has to do with them the better. Compounding the issue is the seemingly increasing complexity of buying an air ticket, and knowing up front what the price you are paying includes. The sales model of "only $69 one way plus tax plus fees plus baggage plus food for purchase = $249 each way" is not only confusing (when customers are trying to compare fares against competitors) but also a turn off for repeat business. It makes all inclusive fares far more attractive by comparison. In UAL's case, while its newly combined market share puts it out in front, its customer service is nowhere near a leading position (and unfortunately the performance of a few is severely let down by the majority). And while in some cases airlines might have a strategic hold on a particular route, and customers have no choice but to fly with them, they'll assess the airline on its performance and if weak, will choose not to fly with them on more heavily traveled routes. The customer as they say is always right.
Summary
Given current market turbulence, and the lack of any clear stand out airlines in the top 5, my recommendation is to remain out of airline stocks until there is a market wide turn around to the upside, or until a leader in customer service emerges which warrants getting into the stocks at a discount (noting significant market volatility at present). For those seeking a potential diamond in the rough though, an airline that does get its responsibility as a service provider is Alaska Air Group (NYSE:ALK). For those interested see Christopher Lee's article on ALK , to find a real service airline that is poised to grow in coming years. I agree with his assessment on why they are a real contender to be a market leader:
"The company has mastered the key to succeeding in a difficult industry: By maintaining excellent customer satisfaction, adding capacity and controlling non-fuel operating expenses, Alaska Air Group is able to produce consistent bottom line growth. Competitors surely know that this is the recipe for success, but unlike Alaska, they have not been able to execute."
Alaska Air Group (ALK). Currently trading at $58.40 per share (52 week high of $70.61 / 52 week low of $44.86) . EPS is 7.86, P/E ratio is 7.40, market capitalization of $2.1 billion.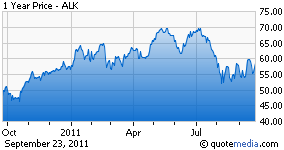 Disclosure: I have no positions in any stocks mentioned, and no plans to initiate any positions within the next 72 hours.
Disclaimer: This advice is general in nature only and investors should seek independent financial advice prior to making any investments of their own.