As a specialty retailer and designer of high-end clothing, Abercrombie & Fitch (NYSE:ANF) has exceeded its peers in value creation over the last four-year period. At the same time, the stock is far more overvalued than its competitors on a multiples basis. It currently trades at a respective 28.1x and 13.2x past and forward earnings, while offering a low 1.13% dividend yield. In addition, the company in particular--with its premium-priced goods--is vulnerable to macroeconomic challenges and rising costs.
As the European economy stagnates and the American economy recovers with lowered wage levels, there will likely be an increased amount of advertising from discount retailers. Kohl's (NYSE:KSS) even has the same amount of visibility with less advertising. This will assuredly eat away A&F's sales and result in decreased margins.
A&F faces a classical game theory dilemma in deciding how to approach advertising. The problem is that the company has become associated with expensive and quality lines--a brand image that the firm needs to hang on to if the goal is long-term growth.
There are three likely scenarios for the company to take: (1) advertising lower prices, (2) maintaining high prices and hopefully weathering the storm, or (3) slashing prices, but not advertising it. Option 1 is the riskiest in that it will limit the company's ability to return to high margin products in the future. Of the strategies, I find that it will be best for the company to lower prices, but to not advertise.
A&F has an attractive storefront, particularly in shopping malls, that draws customers in regardless of external advertising. Consumers are rational and have a unique willingness to spend that will make charging similar level pricing a poor strategy for A&F. Shoppers are simply more price-conscientious at this time. Accordingly, analysts are expecting margins to decline in the next two years. I forecast gross margins declining from 66.9% in 2008 to 61.8% in 2013.
Adding to the company's problems is that it is not well diversified in emerging economies. The firm has an All-American feel to it that also makes in unattractive globally. As of January 29, 2011, A&F has 1,069 stores in North America, Europe, and Japan. There was solid US store growth in 2Q11 driven by increased market penetration. Yet the company faces tremendous challenges in Japan and Canada, largely due to higher AUC. I anticipate free cash flow decreasing in 2012 and then increasing the next year as the company limits capital expenditures.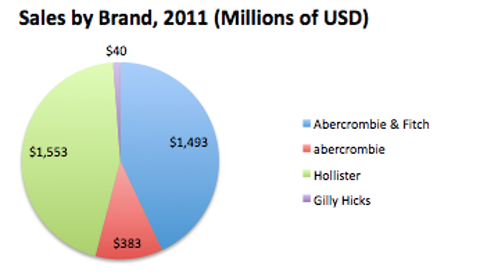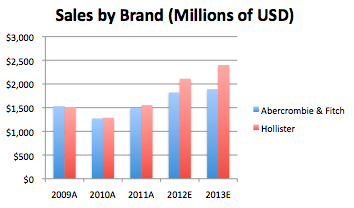 Analysts currently rate the stock around a buy, but I find myself much less bullish. Consensus estimates for EPS are that it will grow by 57.1% to $3.22 in 2012 and then by 46% and 41.3% for the next two years. I forecast revenue growing by 24.5% to $4.3B in 2012 and then by 15.7% in the following year. In conclusion, I believe that A&F will have difficulty competing against cheaper retailers, like Target (NYSE:TGT) and Kohl's, that still attract a relatively affluent middle-class and do so without a high budget for advertising.

Disclosure: I have no positions in any stocks mentioned, and no plans to initiate any positions within the next 72 hours.