How would you like to invest in a company that has an impeccable record of repurchasing its stock at high prices, reissuing at cyclically low prices, and missing some of the best opportunities to buy when prices are depressed? The title of this article gives away the name of the shameless value destroying entity formally known as General Electric Co. (NYSE:GE). I am certainly not the only shareholder with such sentiments. Below you will find a selection of the hoodwinking of investors by directors and executives.
(Click chart to enlarge)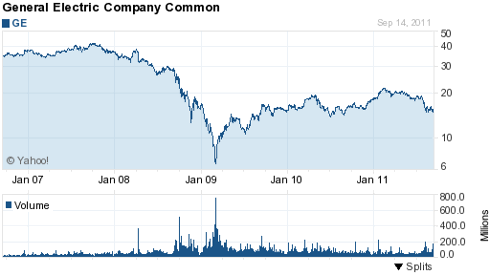 Click to enlarge

Sadly, generally speaking, we the shareholders (in fact, in most cases it's our fiduciaries) have gone along with the desirous, self-serving directors and executives -- "we" have previously approved a massive 500 million share incentive plan, as well as given the okay to the company's pay practices. Not only do most institutional investors enable corporate directors and executives (by way of proxy votes), they interestingly share the same talent of buying high and selling low (although to be fair, money managers can be forced into liquidating positions by hasty investors). Human nature naturally compels such pro-cyclicality. But let's not fool ourselves; or at least not let others fool us.
The stock buyback scheme at GE is mostly a charade and has historically been a failure. While headlines and sound bites tend to promote buybacks (the bigger the more impressive), and, yes, shares can be used in M&A and in employee (and director) compensation, the problem is that there's always risk of being far too liberal when paying with stock. This past May, CEO Jeff Immelt was masquerading as a CEO interested in enhancing shareholder value. He spoke specifically of wanting to reduce GE's share float to pre-'08 levels (10 billion compared with 10.6 billion shares). That's great, but it is proving very elusive. Meantime, GE's board and executives have proven themselves adept at what respected value investor Martin Whitman calls taking "something off the top" (receiving not insignificant salaries, equity, etc.). Please see my prior articles on GE for details.
Cutting to the chase, in order for GE to reduce its share count to 10 billion flat from a most recent 10.6 billion and change (as of the end of June), the company would have to spend just over $9.1 billion using its last close of $15.21/share. Coincidentally, that is nearly how much is left in the current repurchase program, $9 billion, which expires in 2013. However, here's the catch: since reinstating its repurchase program in Q3-'09, GE has spent a little over $2.7 billion to reduce the count – get ready for this – by 90 million shares. That's right, 1/6th to 1/7th of the targeted reduction has thus far consumed nearly 1/3rd of the value of the remaining ammo. The real cost to shareholders has been $30/share, almost double the current stock price. And while shareholders have been getting excited about GE's string of dividend hikes post-crash, the dividend is still less than half its pre-crash level, the stock price is, too, and to make matters worse, the buybacks have all been at levels in excess of the current stock price.
As Q3 is rapidly coming to an end, I look forward to seeing how much buying GE was doing this past volatile quarter in which its stock price fell to a 52-week low under $15/share after being as high as the $20-level in early August. Before shedding light on recent repurchases, please consider what I have published previously:
Between 2005 and 2007, General Electric (GE) repurchased approximately $25.7B of its shares, a period in which its stock traded between a low of $32/share in July 2006 and a high of $42/share in November 2007. During said period, GE's stock returned 2.3% versus +24% by the Dow Jones Industrial Average, of which it is a constituent (dividend returns not factored in either). Buybacks totaling $1.25B continued into 2008, but GE's buyback program was suspended in September, near the outset of the Great Financial Crisis, and its dividend was slashed by 68% in February of 2009. Thus, not only did these share repurchases fail to manufacture competitive stock price returns, following a $12B common stock issuance in 2008 (as well as a nearly $3B preferred stock issuance) and another $620M-plus issuance in 2009, shares outstanding are now approaching 10.7 billion, meaning tens of billions of dollars spent on repurchases dating back to the 1990s have not been able to keep a lid on GE's share count. The low of the past 15 years was just under 9.8 billion shares outstanding in 1997; there have not been below 10 billion shares out since 1999/2000, and as recently as 2005 the count was over 10.6 billion.
Share repurchases: # shares bought and prices paid
Between April and June (GE's 2nd quarter), GE repurchased 20.867 million shares at an average price of $19.48. The typical bad timing of buybacks is illustrated by the 9.1-plus million shares bought back in the month of April for an average of over $20/share, compared with 5.4-plus million shares repurchased in May at (a cheaper) $19.45/share. Repurchases did increase in June, to 6.3-plus million shares, but were nowhere close to the 9 million share-level of April, despite an average repurchase price of $18.55/share.
In Q1, GE repurchased 26.516 million shares at an average price of $19.87. Perhaps shareholders should be thankful for the $0.39/share cheaper purchases in Q2. Still, over 17.3 million of the 26.5 million shares were repurchased at an average of $19.70/share, which was the lowest paid, on average, in Q1.
In Q4-'10, GE was much more aggressive, repurchasing 55.333 million shares at an average price of $16.81/share – lower than the average cost paid in subsequent quarters, but still 9.5% higher than GE's most recent $15.21/share. True to form in Q4, GE repurchased the most shares at its stock's highest prices (average of $17.65/share) and the least number at its lowest prices ($15.95). Finally, in Q3-'10 (when GE reinstituted its repurchase plan after nearly a 2-year hiatus), it repurchased 53.287 million shares at an average price of $15.74/share – the average price paid during the quarter was a narrow $15.41 - $15.94.
Share count [amount spent]
10,600,337,000 as of Jun. 30, 2011 [$406M]

10,605,447,000 as of Mar. 31, 2011 [$527M]
10,615,376,000 as of Dec. 31, 2010 [$930M]
10,654,718,000 as of Sept. 30, 2010 [$839M]
10,691,220,000 as of Jun. 30, 2010
10,676,518,000 as of Mar. 31, 2010
10,663,075,000 as of Dec. 31, 2009
As established earlier, the above numbers are unequivocally problematic: $2.7B to reduce shares by 90M.
As a DRIP investor in GE, the reduced dividend continues to limit additional share accumulation, but may there be a silver lining in the $15 or a sub-$20 stock price, which enhances share accumulation? And now GE is to separate from the beneficent Berkshire Hathaway (NYSE:BRK.B) (NYSE:BRK.A). May we even find a surprise in the forthcoming 10Q that GE has been opportunistically buying back stock? Readers of my previous articles on GE will know, in fact, that I much prefer the use of excess cash for dividends rather than the dubious attempts at share count reduction. That has been wishful thinking thus far, but I will have more to say on that matter next time.
Disclosure: I am long GE.