Over the years, 3M (NYSE:MMM) has grown by diversifying its technology capabilities across multiple segments. In the process, the company has been left with many products that are not adding much to the bottom line, experiencing poor growth, and offering little to zero synergistic value. At a time when investors are fearful of a double dip, 3M is tied up into too many fields and its "growth" strategy has become increasingly out of touch. I find that the partial breakup value of 3M exceeds its current market value.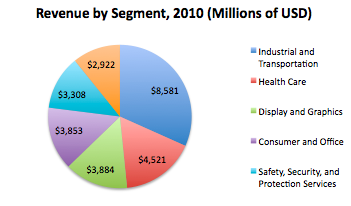 3M's Consumer and Office business features its biggest brand name products: Post-it and Scotch Tape. Yes, Scotch Tape is a trademarked name that has become synonymous with transparent adhesive tape. And, yes, this iconic product has performed poorly. The segment, as a whole, makes up 15% of revenue and has grown at 11% for the year, while the company's average segment growth is 15.9%. Operating income in this area has also gone up only 12.3% versus a 35% segment average. To be sure, Consumer and Office is the company's third leading segment in terms of revenue and has a large base to grow off of. At the same time, its contribution to sales is still less than half that provided by Industrial & Transportation (the leading segment) and yet its percent improvement in operating income was over 70% weaker. I am further concerned about the sustainability of the company's optical unit.
Instead of increasing R&D and acquisitions, 3M should accelerate share buybacks and lower dividends accordingly. Share repurchases will be beneficial to shareholder value, while any shareholder benefit derived through dividends will be partially offset by higher taxes. I believe that the company should spin-off its consumer and office segment, while retaining majority ownership of the brand name products. It should then use the cash to repurchase shares during this difficult economy. 3M should also consider strategic alternatives and fully sell off underperforming units within its healthcare segment.
The company also has a high SG&A budget. SG&A represents 20.5% of revenue at 3M, while it only represents 4.4% at General Electric (NYSE:GE) and 14.6% at Siemens (SI). Mounting pension costs will also negatively impact 3M's operating performance against its peers. In addition, other mature and non-diversified companies in the technology industry, like Microsoft (NASDAQ:MSFT), offer even higher upside at the same time.
3M currently trades at 12.6x and 10.9x past and forward earnings, respectively. Consensus estimates for EPS are that it will grow by 7.5% to $6.18 in 2011, and then by 9.9% and 4.3% in the following two years. Analysts currently rate it between a "hold" and a "buy." I forecast revenue growing by 11.8% to $29.8B and then having an annualized 4.4% growth for the next two years. While I have reservations about the company's growth potential in the current economy, I find it more or less a safe stock that has promising upside through strategic alternatives. It has a strong brand name with solid fundamentals, but just can be restructured and streamlined for the better.
Disclosure: I have no positions in any stocks mentioned, and no plans to initiate any positions within the next 72 hours.