I often speak about investing on the basis of the story. While some scoff at the notion, you can certainly blame the story for some of Pandora's (NYSE:P) recent weakness. As Clear Channel (CCMO.PK) relaunched its impressive iHeart Radio, shares of Pandora felt the pressure.

With much of the iHeart hype behind it, I think Pandora starts to aggressively turn the corner. The stock has performed well in recent days, but I believe considerably more upside exists.

First, Triton Digital just released August numbers for Internet audio listening. Now that Pandora fixed a software glitch, it receives full credit for its sessions. The result - a massive surge in its numbers, putting it way ahead of rivals Clear Channel and CBS Radio (NYSE:CBS).

Click to enlarge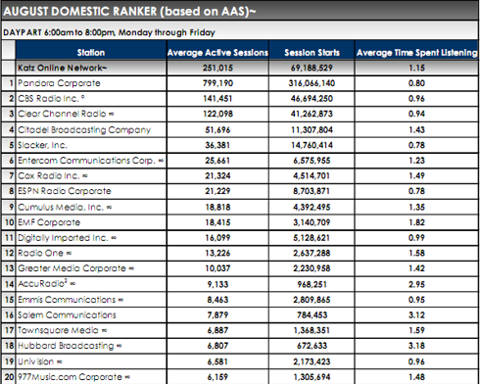 And Pandora's dominance is quickly helping it ramp up its advertising efforts. If you are an investor with an interest in the space, you need to watch the following videos from Pandora co-founder Tim Westergren. Both provide excellent information on Pandora and the overall space, but the key takeaway is that, as Westergren notes, ad agencies are actively shifting local broadcast radio dollars to Pandora.

Notably, Pandora - known to agencies as WPAN or KPAN - continues to get included on more and more buys that once only consisted of traditional broadcast mediums, particularly terrestrial radio. Westergren discusses the ability of Pandora to help advertisers - and maybe more importantly, artists - make connections with and bring out listeners in local markets. Pandora can boast scale, but it can also bring things down to the local level. This represents the tip of the iceberg in terms of what I think will be exponentially rising ad revenue for Pandora over the next several quarters.

Expect Pandora to begin posting profits by mid-2012, if not sooner. That's right. I am making that prediction. And I'm generally not one to make such bold predictions without qualifiers. Pandora will turn the corner to profitability, and stay there, by mid-2012, if not sooner.

As an investor, you want to get into a stock at this ground floor level, as the tide begins to turn, assuming you believe in the story. Pandora, by all accounts, delivers results to advertisers in meaningful and immediate ways. That's always been the power of traditional radio - massive local responses, almost instantly, from loyal core demos. Pandora has taken this strength into the 21st Century via web radio.

There's no use to get into comparisons between Sirius XM (NASDAQ:SIRI) and Pandora or terrestrial in this regard. Sirius XM does not advertise much on its music stations, nor can it. Not only does it lack meaningful scale, but it could hardly make the type of impact for advertisers, where it matters - at the local level, in multiple markets - via an ad campaign like Pandora does and terrestrial always has done and will continue to do.

What's important to note is this: SIRI stock is dying a not-so-slow death. I've been tracking its demise ever since I exited my long position at $2.25 back in July. After an ill-advised head fake bounce last week, SIRI continues to sport a broken chart that has now breached countless key technical levels, as of intraday Monday.
Click to enlarge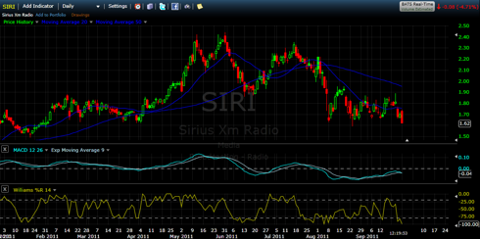 Chart courtesy of FreeStockCharts.com
The chart has sell written all over it, as does Sirius XM's story. Short of a blow-out quarter or meaningful M&A activity, not much can save it. A confluence of factors - over-reliance on the auto industry, neglect for online and mobile platforms, slow roll-out for what appears to be an uninspiring SatRad 2.0 product and updated guidance that falls short of consensus expectations - has derailed things for SIRI, particularly when you compare it to the aggressiveness exhibited by others in the space, particularly Pandora and Clear Channel.

Here's how I am playing it - I am kicking myself for not shorting SIRI when I called its post $2.44 top at around $2.25. I thought I did not have the size to make the trade meaningful, but, given the freefall, even a couple thousand shares would have produced a nice profit. And I am dollar-cost averaging into P. It will have its ups and downs, however, the long-term story remains incredibly bullish, justifying the approach of gradually scaling into a long position over time.

And, on a related note, I expect to have an interview with Bob Pittman, Chairman of Media and Entertainment Platforms for Clear Channel, later this week on Seeking Alpha. You could call him one of the people behind iHeart Radio and the aggressive moves toward Pandora.

Disclosure: I am long P.