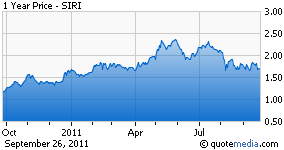 We are now in the final week of the third quarter with the stock market in turmoil, bank debt downgrades, rising concerns over eurozone banks and their holdings of sovereign debt, more gridlock in our nation's capitol, the price of gold plummeting and everyone wondering whether the Red Sox will set a record in futility as their wild card lead shrinks to one game. Against this backdrop:
Companies are getting set to report quarterly results and issue guidance for 2012
Mutual funds will be doing their end of quarter window dressing
It's time when many examine their portfolios and individual investors will be examining their holdings and checking their performance and allocations
And corporations will be deciding if they need to pre-announce misses on earnings
The last point is one that I find most encouraging. It is certainly not the most comfortable feeling to check out one's stocks after the markets posted their largest weekly loss since 2008 and "safer" bond alternatives are yielding near record lows. At the same time, corporations have been remarkably silent on pre-announcements of earnings misses and Warren Buffett's Berkshire Hathaway announced a buyback because the shares are undervalued. We also have a very diverse group of companies announcing substantial dividend increases within the past two weeks:
I have always viewed dividend increases as an excellent sign of the strength of companies since it represents management's level of confidence in their sustainability of future earnings. And these are some fairly substantial increases.

These are just some of the factors I consider when adjusting my portfolio. I usually start with the stocks in my portfolio that I considered the riskiest and that I think of as the speculative portion of my portfolio.

Last quarter when I was looking at my speculative holdings I included Sirius XM (SIRI) in that category. Now I am reconsidering whether it belongs in this category. The share price (at this writing it's $1.65) is down 25% from $2.19 at the close of the second quarter and down 32% from its second quarter high of $2.44. So why is this now less speculative? Is it the share price? A change in the basic fundamentals of the company? Better competitive position?

It's actually a combination of all these factors. The share price and improving fundamentals are the main reasons I am considering removing it from my speculative list. Based on recent company guidance of $700 million Free Cash Flow (FCF) for 2012, Sirius is trading at about 16 times the estimated fully diluted FCF. (The math is $700 million FCF / 6,804 million shares outstanding = $0.103 FCF/Share. $1.65 / $0.103 = 16 times.) In addition, the company finished the second quarter with $0.5 billion in cash and will have well over $1 billion at the end of 2012. With no major debt issues maturing next year, the balance sheet continues to strengthen.

On the competitive front, Sirius has increased its penetration on new vehicle dashboards and will be releasing 2.0 later this year with an increase in the number of Spanish language stations to address the Latino market. And, for those that have wondered about the company's marketing efforts, it was nice to see some car advertisements on TV emphasizing Sirius as a selling point (I think it was a Dodge commercial, but I was so surprised to see the mention of Sirius in a TV ad, I might be mistaken). There have been similar messages in print ads as well.

Other factors that have made me feel more secure in moving Sirius away from my speculative allocation are the scheduled price increase to $14.49/month and conservative revenue guidance of $3.3 billion - 10% above the level for 2011.

There are macro-economic conditions that could impact Sirius' subscriber and revenue growth. Gridlock in Washington has added uncertainty to business hiring plans. Unemployment remains persistently high and underemployment has been estimated as high as 15%. The European sovereign debt issues need to be resolved. The U.S. housing industry is dismal. But these are also issues that will impact most companies.

Sirius has close ties to the auto industry and new vehicle sales shortfalls could have an impact on Sirius revenue if car sales decline significantly. This seems unlikely since the sales have been at such a slow pace for the past three years. A Sirius subscription is a discretionary expense and it is these expenses that are curtailed in a weak economic environment. However, since new car buyers are most likely better off than the general population, they are probably more able to afford this particular discretionary service.

Sirius CEO Mel Karmazin has been discussing returning cash to shareholders for months. He has talked about acquisitions, but does not see any that meet Sirius' requirements. He has discussed a share buyback, but notes the problem if Liberty and John Malone don't participate.

And there is always the unlikely payment of a dividend. Although I doubt this will happen, I would prefer a dividend for the reasons noted earlier. It is a demonstration of the conviction of management in the ongoing prospects of the company and its ability to maintain that obligation. Despite my preferences, in these uncertain times, keeping a large amount of cash isn't all bad. When the next issue of debt matures, having cash on hand will give the company flexibility if the capital markets are frozen.

Sirius has moved well away from the near bankruptcy conditions it faced less than three years ago. It has moved past the three year anniversary of the merger and the FCC mandated price freeze. It has settled the Blessing lawsuit. It is about to introduce 2.0, continues to grow and builds cash.

And. it is a much stronger company that has moved out of the speculative portion of my portfolio.

Disclosure: I am long SIRI, MCD.

Additional disclosure: I am long SIRI, MCD. I have $3 January 2012 covered calls against most of my Sirius position. I may initiate (or close) a buy stock/sell option position discussed in another recent article at any time. I have no position in any of the other companies noted in this article.