MetroPCS Communications Inc. (PCS) is a $3.37 billion wireless telecommunications carrier which offers wireless broadband mobile services in the United States. After the last earnings release PCS fell off a cliff. You can read the conference call here.

I shorted put options with a strike price of $9 expiring in August and wrote an article about why I believed the $9 puts were over priced.

After that, PCS climbed in price to around $11.50 a share before moving back into the $9 price area of support. I reviewed the available information including the financial statements, and the status is once again ripe for me to short more puts. We can see by this chart gross revenue is on a very steady and consistent climb higher.
Click to enlarge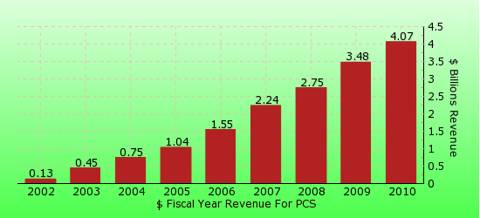 PCS currently is faced with an upcoming internet rule scheduled to take effect November 20, 2011. The rule from the FCC is concerned with net neutrality and the ability of Internet providers to curb the use of large bandwidth hogs like movie streaming to use an "unreasonable" amount of capacity. PCS customers have increased the amount of Internet use from increased sales of smart phones. The rule is going to find its way into the courts about .00001 seconds after publication in the federal register. PCS can be expected to sue in court along with AT&T (NYSE:T) and Verizon (NYSE:VZ). While the rule may have an impact, I believe the relative impact for PCS will be less than others that compete in the same space.

There are statements in the conference call clearly signaling the FCC rule matters, but at the same time it is not a deal breaker:
Chairman and Chief Executive Officer Roger Linquist -
"While Android is bringing in new customers, it is also attractive to existing customers. Of our customer base, 13% upgraded this quarter. And of those, nearly 40% upgraded to an Android smart phone. Clearly, customers are demanding the advanced features available through the Android OS.

With four Android devices currently available, we expect to produce additional smart phones throughout the remainder of 2011. Affordability of smart phones is key for our customers, and we are vigorously working with our suppliers to achieve this important goal. In the future, we expect prices for smart phones to decline as they did for feature phones, making smart phones more affordable for a larger segment of the population.

In regard to broadband capacity management, we are focused on efficiently adding data capacity to our CDMA network based on growing smart phone demands, and equally important, managing data traffic where possible by compressing and optimizing throughput. In preparing for the future, we are at the forefront of 4G LTE network deployment, having already introduced 4G service in all our markets, and we are currently expanding the footprint of our 4G network."
The attraction is from the single digit forward PE ratio of 8.75, a book value of over $7.60 per share, along with a proven, steady rising revenue stream. This is a growth stock without the growth price tag.

The highest volume, most attractive put options currently are the November $8 strike price with a bid of $0.50 each, while the stock is trading at about $9.10. Shorting put options offers me a way to gain exposure to PCS with lower risk than buying the stock outright. I believe the options are currently under priced and I intend on shorting. All else being equal, I find the openings to be the best time to short options.

I use a proprietary blend of technical analysis, financial crowd behavior and fundamentals in my short-term trades, and while not totally the same in longer swing trades to investments, the concepts used are similar. Based on my criteria, I have come to the following conclusion: This one is worth the time to investigate further for an ideal entry price to either write put options or buy the stock. Of course that in itself does not mean you should, but you may want to use this article as a starting point for your own research with your financial planner. I use Seeking Alpha, Edgar Online, Google Finance, MSN Money, cnbc.com, Zacks and Yahoo Finance for most of my data.

Disclosure: I have no positions in any stocks mentioned, but may initiate a long position in PCS over the next 72 hours.