There are new rifts opening between various euro area nations over how to proceed with regards to Greece. Germany and the Netherlands seem to be inching closer to letting a default happen. This is of course sensible, as it is simply impossible for Greece to pay its debt. On the other hand, renegotiation of the July agreement before it is ratified throws the whole process back to square one, which means the markets will continue to assume that there will be contagion from the default. The fact that the eurocrats have begun to squabble again is by itself probably sufficient to unsettle the markets further. From the same AP story quoted above:

Schaeuble also indicated that a preliminary deal for a voluntary contribution by the private sector as part of a second, euro109 billion bailout for Greece reached in July may no longer be sufficient, given the worsened economic situation recently discovered by international debt inspectors.

The July deal, which is still being negotiated with banks and investment funds, foresees a cut of 21 percent in the value of Greek government bonds — a haircut that most analysts say is way too small.

"What the involvement of the private sector (in a second bailout for Greece) will look like will be decided when we have the troika report," Schaeuble said, referring to a review of Greece's austerity efforts by representatives of the European Commission, the ECB and the IMF. He declined to comment on how much bigger the haircut for Greece's creditors may have to be.

Germany, supported by Austria and the Netherlands, is now pushing for an "orderly default" by Greece, which would involve larger losses for Greece's private creditors than foreseen in the July deal, said a European official.

A second official confirmed that a reopening of the July deal was supported by "the usual allies," shorthand for other rich eurozone countries. Both officials were speaking on condition of anonymity because of the sensitivity of the issue.

The push does not yet amount to a clear plan, and the European Commission and the ECB are concerned that Germany may be overestimating the eurozone's ability to contain the crisis, said the first official. "We don't really have strong firewalls," he said, adding that the crisis has already affected Italy and Spain.

Both IMF Managing Director Christine Lagarde and French Finance Minister Francois Baroin insisted at news conferences during the Washington meeting that the eurozone should stick to the July agreement — signaling further divisions over the best way forward.

If the summit was supposed to deliver clarity on the Greek situation, it has failed to do so. For more on the growing discord over the July agreement see also this story in the WSJ. As the article notes en passant, the euro area's budding banking crisis has just become a tad worse due to Moody's downgrading eight Greek banks on Friday:

"Earlier Friday, Moody's Investors Service downgraded the credit ratings of eight Greek banks by two notches. The ratings firm cited losses resulting from the banks' holdings of Greek government bonds as well as increasing concerns about the impact of a recession and fragile liquidity and funding positions."

and ibid:

The European Union has no plans to speed up recapitalization of banks that came close to failing the stress tests published in July, a European Commission spokesman said Friday.

Having no plan seems par for the course for the European Union, but the banking crisis seems unlikely to wait around for the gestation of new plans. Instead it is simply getting worse by the day. This would be no problem if not for the fact that the example of Argentina is a reminder that once a crisis of the fractionally reserved banking system gets out of hand, one can expect the property rights of depositors and savers to be sacrificed to the 'common good' (which consists of bailing out the banks by hook or by crook). Meanwhile, Deutsche Bank CEO Joseph Ackerman is, perhaps not too surprisingly, in the camp that thinks throwing more money at the situation is absolutely essential.

(Click charts to enlarge)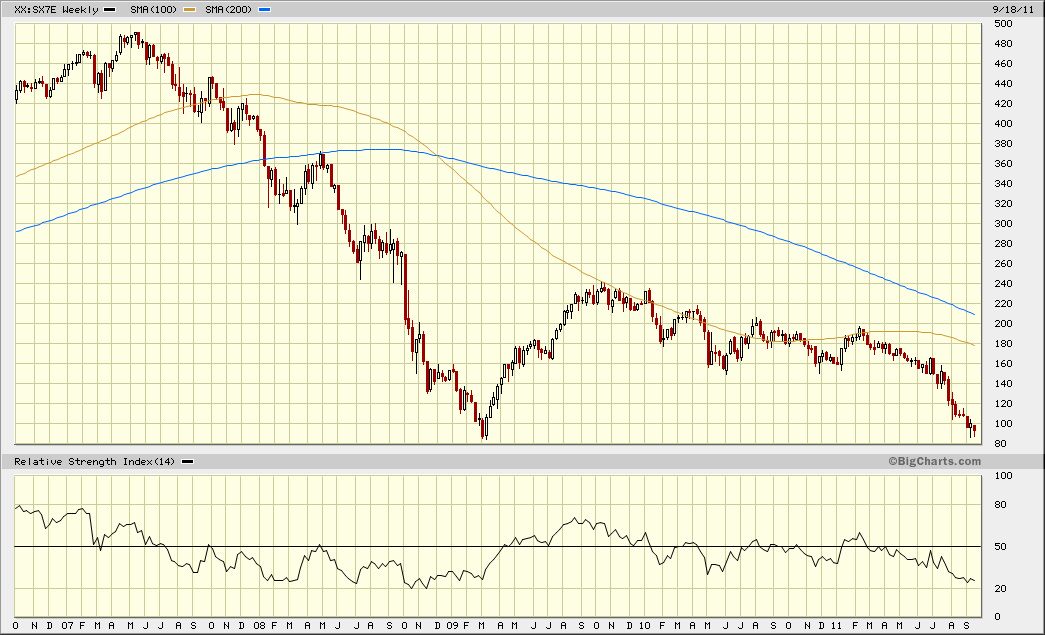 A long-term chart of the Euro-Stoxx Bank Index. Back at its 2009 crisis low. This area should actually provide some support to bank stocks.
In an interview on German TV, German chancellor Angela Merkel also weighed in on the crisis (we happen to have seen the interview and think it actually was quite an effective PR coup for Mrs. Merkel vis-a-vis her domestic audience).
As this summary of the interview at Bloomberg suggests, Mrs. Merkel is no longer strictly opposed to national bankruptcies. At the same time she indicated that Greece would likely get the next bailout tranche – not so much because anyone believes that Greece can ever pay up, but because the necessary 'firewalls' to defend the rest of the euro area against the inevitable contagion effect are not in place (she didn't say it outright in the manner we are putting it here, this is reading between the lines). In short she didn't make a secret of her desire to buy more time.
Euro Area Credit Market Charts
Below is our usual collection of charts of CDS spreads, bond yields, euro basis swaps and a number of other charts. Prices in basis points, with both prices and price scales color-coded where applicable. These are as of Friday's close. As can be seen, on Friday panic continued to reign in the credit markets. CDS on Greece made a new high at over 5,800 basis points, however our euro area bank CDS index managed a small pullback.
One thing that increasingly commands our attention is the move in CDS on JGB's. Japan's public debtberg has long been regarded as impervious, but as we have noted here on several occasions, it remains the quintessential 'gray swan' (a gray swan is a black swan everybody knows about, where only the question of timing is not yet settled). We want to keep readers abreast of developments in areas which are not necessarily on everyone's radar screen at the moment for the simply reason that this will help avoid nasty surprises. We don't know if the move in CDS on Japan is simply in sympathy with the moves in euro area sovereign credit default swaps, but there is always a chance that the finance minister's 'dreadful dreams' will come true.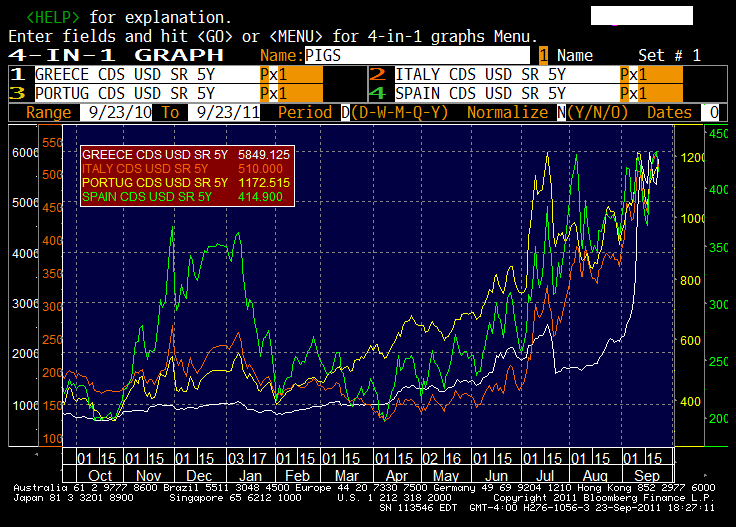 5-year CDS on Portugal, Italy, Greece and Spain – a new high for Greece and Portugal, but CDS on Spain and Italy pull back a little.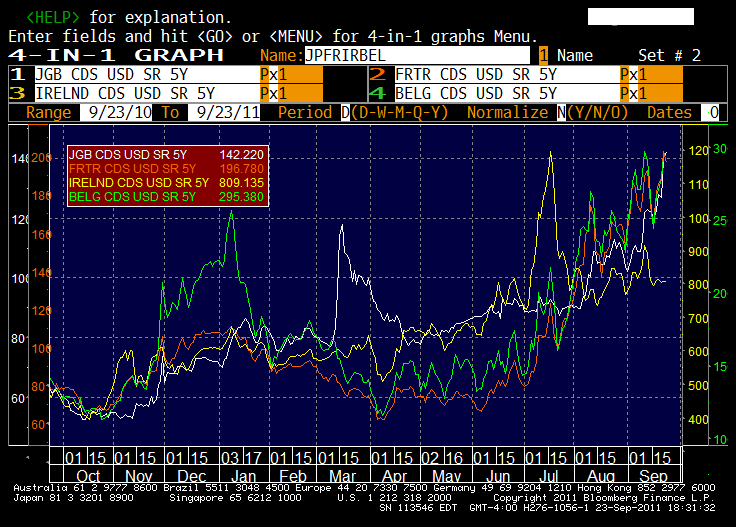 5-year CDS on Ireland, France, Belgium and Japan – new highs for Belgium and Japan. The breakout in CDS on Japan's government debt is a rather worrisome side effect of the euro area's debt crisis. To be sure, at just above 140 basis points it is not yet reason for grave concern – the 200 basis points we find CDS on France at are a good sight more troubling – but it's a move in the wrong direction, and it's accelerating.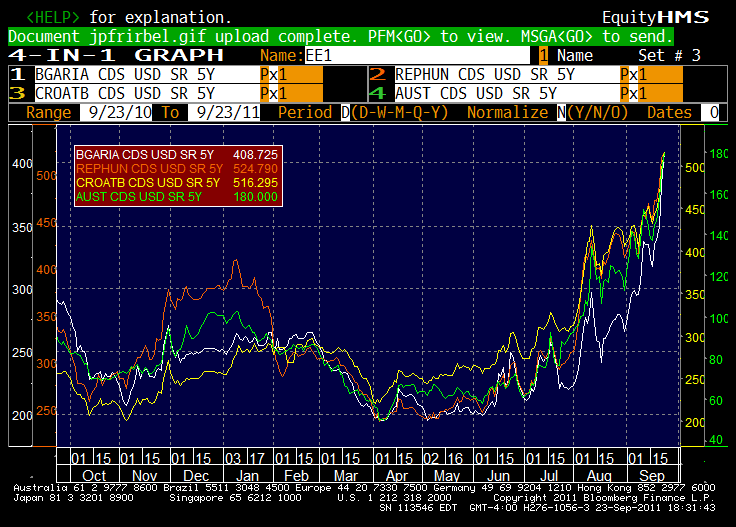 5-year CDS on Bulgaria, Croatia, Hungary and Austria – all once again moving to fresh highs on Friday.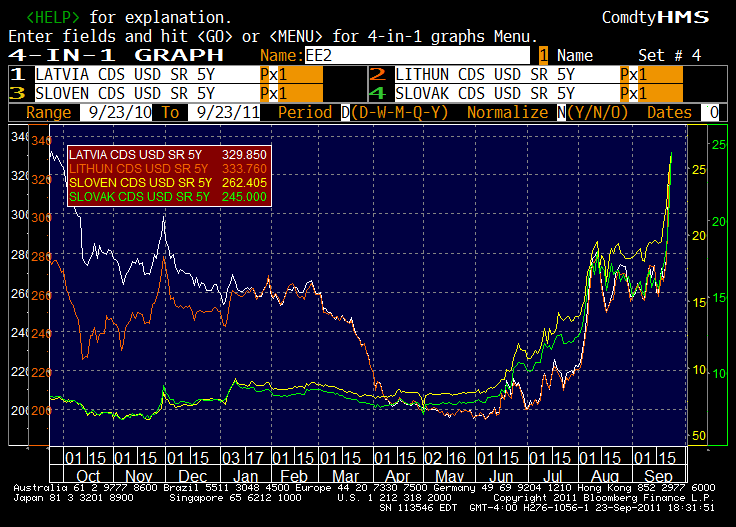 5-year CDS on Latvia, Lithuania, Slovenia and Slovakia – the breakout from the bullish triangles we have previously highlighted has resolved in a 'parabolic' move higher.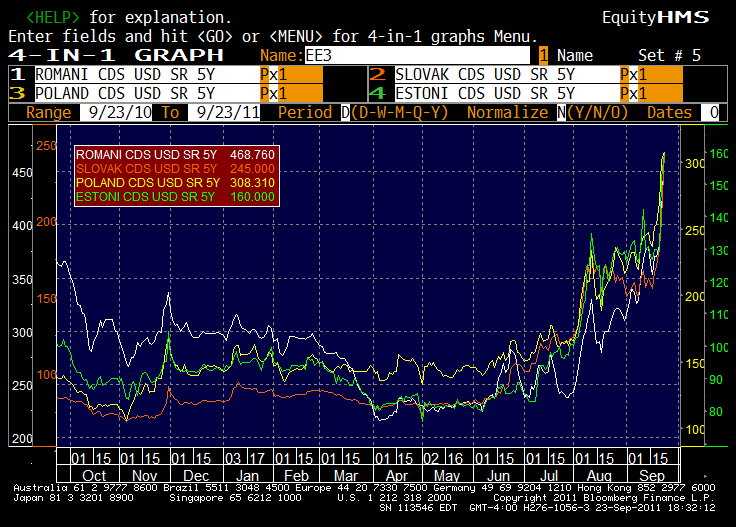 5-year CDS on Romania, Poland, Slovakia and Estonia – the same goes for these charts. A huge jump in CDS on Romania by the way – up 55 basis points on Friday alone.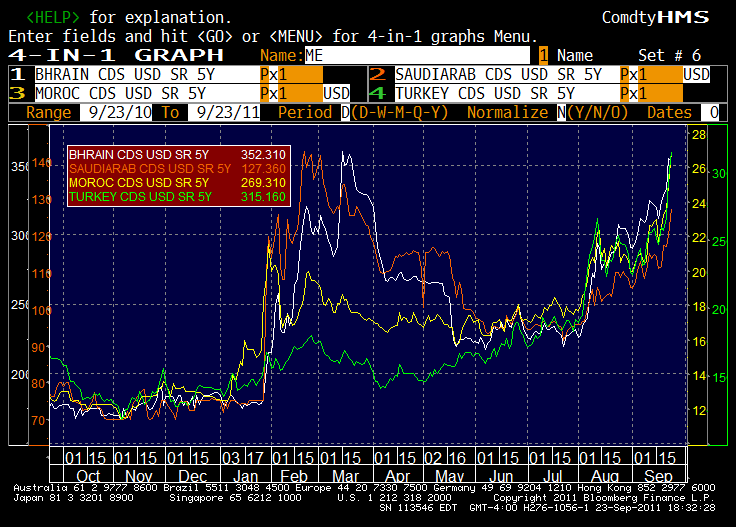 5-year CDS on Saudi Arabia, Bahrain, Morocco and Turkey – once again, CDS on Turkey and Middle Eastern countries are rallying further as well.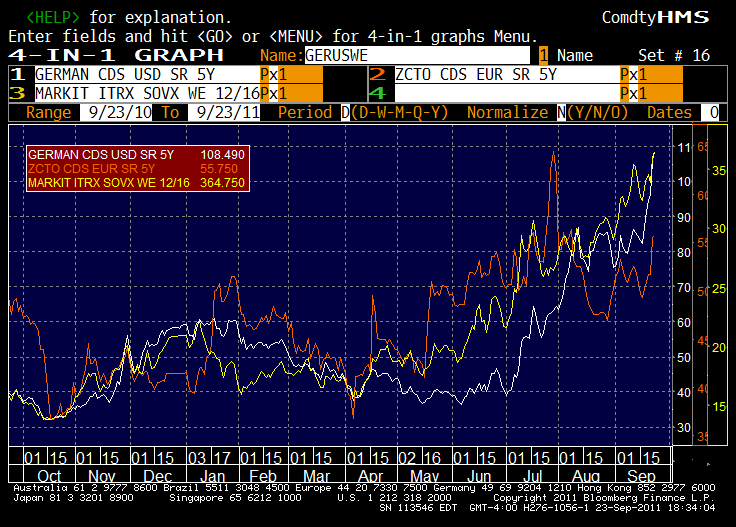 5-year CDS on Germany, the US and the Markit SovX index of CDS on 19 Western European sovereigns. Not surprisingly, the SovX keeps making new highs. It is absolutely astonishing to see an average of CDS on 19 Western European sovereigns trade at 365 basis points. A new high for the move for CDS on US treasuries as well.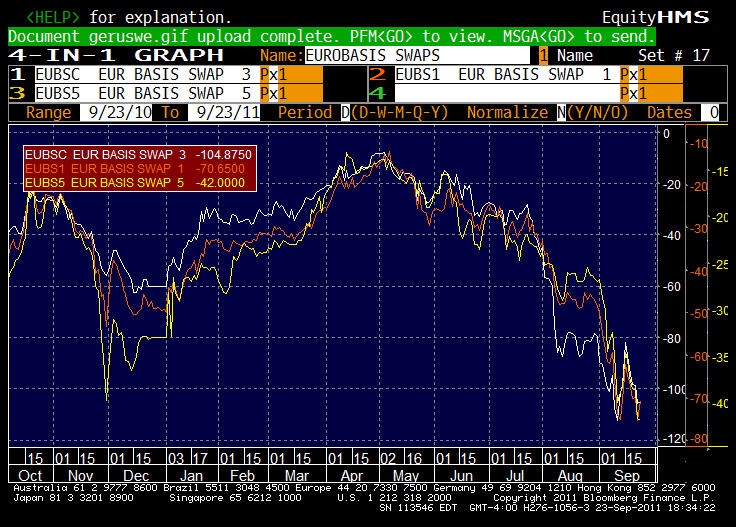 Three month, one year and five year euro basis swaps – there was actually a tiny bounce in the 'euro-doom' trio on Friday – presumably due to the ECB's very vocal promise of providing 'unlimited liquidity.'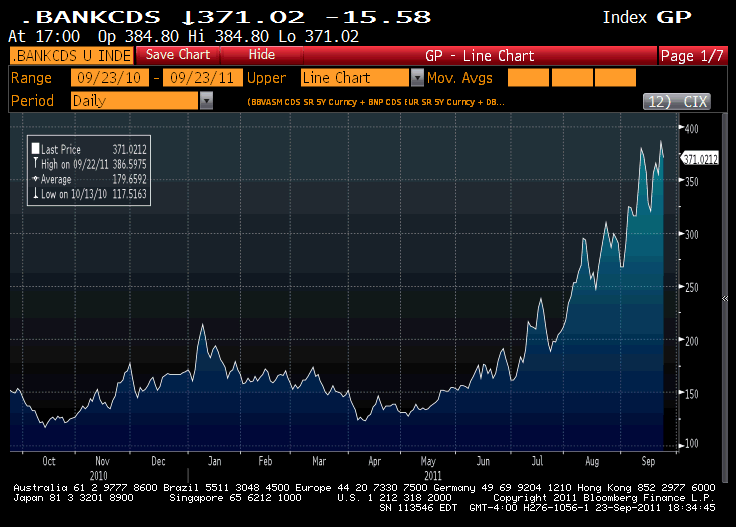 Our proprietary unweighted index of 5-year CDS on eight major European banks (up from seven previously – the index now contains CDS on BBVA, Banca Monte dei Paaschi di Siena, Societe Generale (OTCPK:SCGLY), BNP Paribas (OTC:BNPAF), Deutsche Bank (NYSE:DB), UBS, Intesa Sanpaolo (OTCPK:IITOF) and Unicredito (OTC:UNCIF). A slight pullback on Friday, in concert with a bounce in European bank stocks (the 'G-20 hope trade').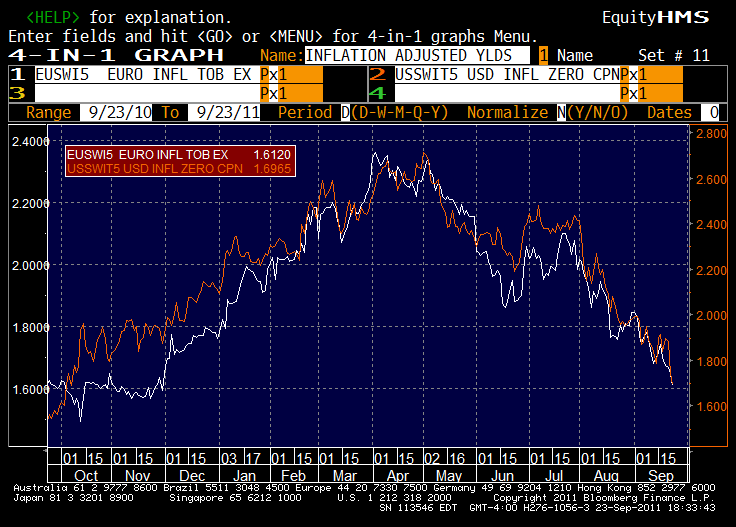 Inflation-adjusted yields resume their plunge. The entire increase in inflation expectations occasioned by 'QE2' has now been erased.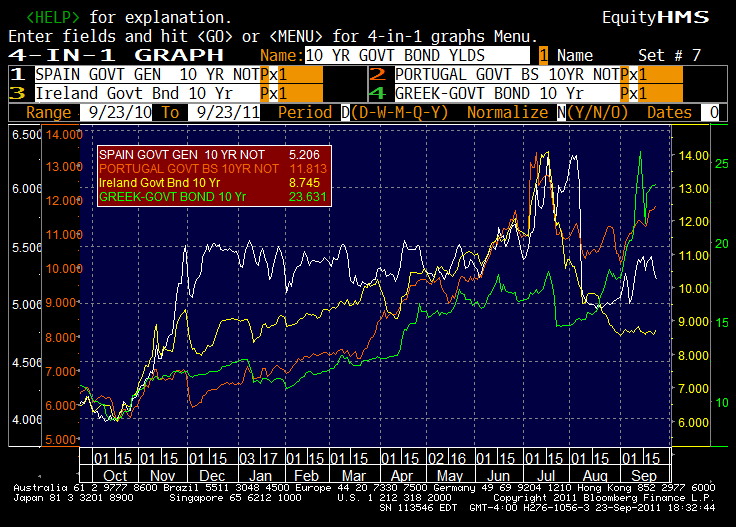 10-year government bond yields of Ireland, Greece, Portugal and Spain – Spain's bond yields are coming in due to continued ECB purchases.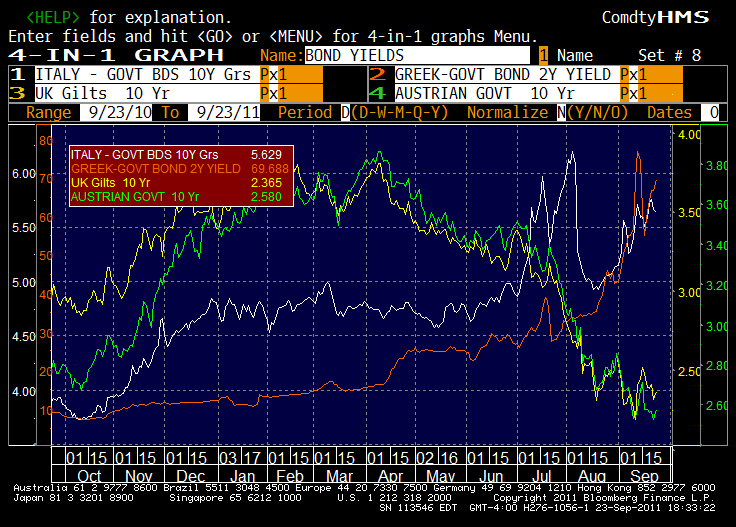 10-year government bond yields of Italy and Austria, UK Gilts and the Greek 2 year note. The rally in 'safe haven' bonds is probably overdone by now. And yes, Italy still looks horrendous and the Greek two year note is back at yielding 70% again.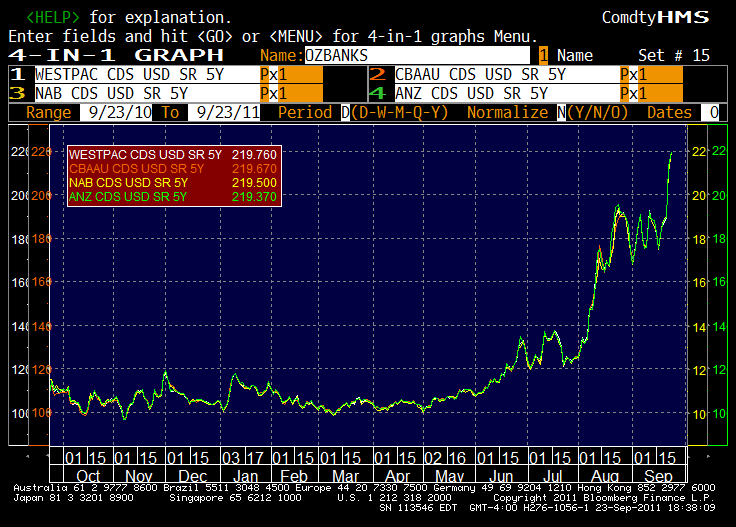 5-year CDS on Australia's 'Big Four' banks. As expected, the triangle consolidation has led to a big breakout move here as well. It is interesting that the market doesn't differentiate between these banks in terms of credit risk. This actually makes sense, as they all depend on overseas wholesale funding and are all exposed to the housing bubble. Needless to say this is a major warning sign for Australia's economy, and by inference also for China's.