McDermott International (NYSE:MDR) hit a 52-week low of $10.89 on Friday, September 23. The energy-focused engineering and construction firm has seen its share price fall nearly 45% since the beginning of July this year, as investors have been selling the stock for its weak fundamentals and tepid outlook. The disappointing second quarter results have added to this bearishness.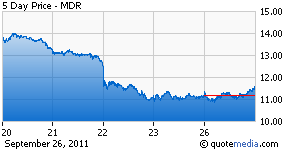 Incorporated in 1959, McDermott primarily serves the worldwide offshore oil and gas field development activities, including front-end design and detailed engineering, fabrication and installation of offshore drilling and production facilities, as well as installation of marine pipelines and subsea production systems.
Additionally, the company provides project management and procurement services. It operates in most major offshore oil and gas producing regions, including the U.S., Mexico, Canada, the Middle East, India, the Caspian Sea and Asia Pacific.
In August 2010, McDermott completed the spin-off of its 'Power Generation Systems' and 'Government Operations' segments into a separate, independent and publicly traded entity The Babcock & Wilcox Company (BWC).
McDermott recently reported lower-than-expected EPS for the June quarter – 27 cents versus the Zacks Consensus Estimate of 32 cents and the year-ago profit of 34 cents – adversely affected by a less favorable geographic mix and weak margins in the Middle East. Near-term bookings remain lumpy at the Texas-based engineering-to-project management services provider, as the current uncertain environment has hurt the economics of building new oil and gas infrastructure.
Moreover, we believe that the transfer of the power generation and government operations (post-split) has left McDermott with a less diversified business. As a result, the business risk profile of the reorganized McDermott is weaker than its earlier form.
Given these concerns, we expect McDermott to perform below its peers and industry levels in the coming months. As such, we see little reason for investors to own the stock. Our long-term Underperform recommendation is supported by a Zacks #5 Rank (short-term Strong Sell rating).
Partially offsetting these negatives are the company's solid margins, clean execution skills and expectations for accelerated activity levels later this year.