ETF investors actively reallocated assets last week amid market volatility. Four themes dominated last week's major ETF gainers and losers, as measured by net fund flows (share creation and redemption):
Global Equities: The largest fund inflow recipient last week was EFA, which tracks EAFE index (Barra's non-US/Canada index) which grew assets by 9.5% in the past 5 days as investors diversified away from US-heavy funds like SPY, IWM, and IWB. One global sector distinctly not sharing in increased investor appetite was emerging markets, with EEM and FXI both experiencing net investor redemptions.
Currencies: Traders increased bets in all directions for currency ETFs, with no clear direction. US dollar bulls poured into UUP, while euro bulls more than tripled the assets invested in FXE. Money poured out of formerly exalted currencies like Canada FXC, Switzerland FXF, and Australia FXA.
Leveraged Equities: Among the levered equity instruments, the Ultra Bull funds including FAS, TNA, and ERX all had significant inflows, while bear funds like FAZ and TZA had large outflows. The fact that this goes counter to the unlevered funds (inflows to SH and outflows from SPY) suggests that this was traders rebalancing hedges, needing fewer shares of ultra bear instruments and more of ultra bulls.
Bonds: US Treasury funds across the term structure curve gained, including 20+ year TLT and short maturity funds like SHV and BSV.
Large Market Cap ETFs - Top Inflows
Large Market Cap ETFs - Top Outflows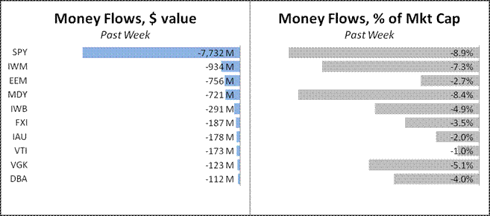 Leveraged & Speculative ETFs - Top Inflows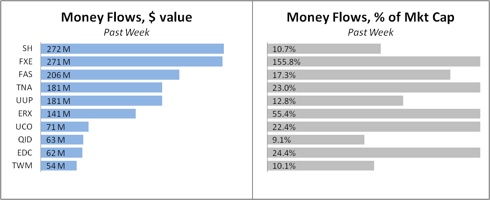 Leveraged & Speculative ETFs - Top Outflows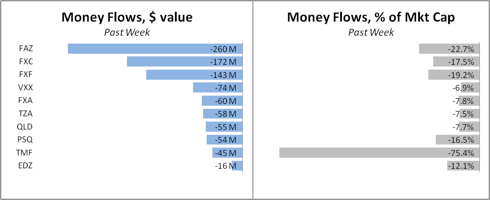 Disclosure: I have no positions in any stocks mentioned, and no plans to initiate any positions within the next 72 hours.