This article covers our analysis of the top gainers amid Monday's strong market rebound that saw both the S&P 500 (SPX) and the broader Russell 3000 (RUA) rise 2.3%. Of the nearly 5,000 stocks that were tracked, the top gainers that closed above $1 at market-close yesterday were analyzed to determine if they would continue going up, or if they would reverse their moves going forward. The following are some ideas based on that analysis.
Sell MELA Sciences Inc. (MELA): MELA is a medical device company developing a non-invasive, point-of-care system to assist in the detection of early melanoma. Its flagship product, MelaFind®, features a hand-held imaging device that emits multiple wavelengths of light to capture images of suspicious pigmented skin lesions, and extracts the data. The extracted data are then analyzed using automatic image analysis and statistical pattern recognition to help identify lesions to be considered for biopsy to rule out melanoma.
MELA shares soared 55.0% yesterday to $4.93 on news that the FDA issued an Approvable Letter for the Pre-Market Approval (PMA) of its flagship product, the MelaFind® hand-held melanoma detector. The success comes after a rather spotty record after the FDA first issued a not approvable letter for MelaFind® in March 2010, and then in November 2010 the stock got hit again when an FDA panel review raised safety and efficacy issues. The stock, trading as low as $1.75 last month, surged over a three-and-a-half fold to an intra-day high of $6.20 yesterday, rising first in early September when MelaFind® received the CE mark to begin selling the device in the European market, and then yesterday on the FDA news.
We believe that the risk/reward profile does not favor a buy at these levels, and that shares may have peaked at the $6.20 intra-day high yesterday, at least until the company begins releasing more promising commercial sales data after a possible approval early next year. Melanoma is a serious disease that affects over 70,000 new patients every year, and the demand for early detection is high given that the cure rate for surgical removal after early detection is virtually 100% while the five-year survival rate for patients with Stage IV melanoma is less than 15%.
However, there are significant risks to the commercial success of MelaFind® that are still uncertain. For one, MELA has received an approvable, not an approval, rating. Hence, there is still some risk, however insignificant, that the FDA could require a costly huge post-approval study. Second, the labeling indications for MelaFind® is very stringent, requiring that it be used by only dermatologists who have successfully completed a training program in its appropriate use, and that too only to obtain additional information for a decision to biopsy and not to confirm a clinical diagnosis of Melanoma.
We believe that these labeling requirements have the potential of severely restricting the use of MelaFind® once approved, and reduce the addressable market that is available for capture by MelaFind®. For example, the restricting of the program to only dermatologists would exclude plastic surgeons, primary care physicians, and others. Furthermore, the restriction to only dermatologists who have successfully completed a training program in its appropriate use should prove challenging, and could prove to be the most serious impediment to its adoption given how busy physicians are.
And finally, the restriction that it be used only to obtain additional information, and not to confirm a diagnosis, significantly reduces its potential use than what would be possible with the wider indication. Hence, we believe that shares have peaked for now at yesterday's intra-day high of $6.20, and that further price appreciation is likely only if commercial sales data in 2012 and 2013 are more promising than what can be inferred right now based on the more restrictive indication.
Youku.com Inc. (NYSE:YOKU): YOKU, China's largest video-streaming company, is more popularly known as the YouTube of China. However, in reality, it is more a combination of Netflix (NASDAQ:NFLX) and YouTube. Netflix, because it offers mostly professionally-generated content licensed from movie studios and TV companies, and YouTube due to its reliance on advertising as a main source of revenue. The stock rose 8.5% yesterday on the back of a 21.7% gain on Friday, after Susquehanna's Ming Zhao upgraded it to positive and raised his price target from $21 to $29.
The upgrade was based on speculation that YOKU could soon be an acquisition target in the consolidating Chinese telecommunications space, with China Mobile Ltd. (NYSE:CHL) and TenCent (OTCPK:TCEHY) mentioned as potential suitors. CHL is one of China's largest companies, and is a Hong Kong-based provider of digital wireless voice and data services to over 600 million customers in mostly mainland China. Furthermore, TenCent has been talked about to be interested in taking a stake in YOKU to make it its online video services provider ever since rumors first surfaced in mid-August.
We reviewed YOKU on August 15th soon after the company reported its June quarter when the stock was trading in the high-$20s, and we stand by our earlier bearish assessment on its challenges with respect to a tough competitive environment and our concerns about the potential profitability of its operating model.
Immunogen Inc. (NASDAQ:IMGN): IMGN develops antibody-based anti-cancer therapeutics using its proprietary Targeted Payload (TAP) technology that, unlike conventional chemotherapeutic agents, delivers tumor-activated pro-drugs directly to cancer cells. Its lead product in phase 3 clinical trials is Trastuzumab-DM1 (T-DM1) for the treatment of advanced HER2+ breast cancer that is under global development by Swiss global healthcare company Hoffman-La Roche (OTCQX:RHHBY) under a collaboration agreement between IMGN and Genentech, a division of Roche. Under the agreement, IMGN is entitled to a royalty on worldwide product sales of T-DM1.
IMGN shares were up 6.7% yesterday on heavy volume, after the company announced positive results for a phase 2 clinical trial of T-DM1 that showed improvement in progression-free survival compared to standard of care in HER2-Positive metastatic breast cancer patients. Specifically, study results showed that people who took T-DM1 experienced a 41% reduction in the probability of disease progression to death, and they lived a median of 14.2 months versus 9.2 months with current standard of care Herceptin plus chemotherapy.
Furthermore, T-DM1 patients experienced fewer common side effects and fewer severe adverse effects, with the probability of severe adverse effects at 46.4% with T-DM1 versus 89.4% for Herceptin plus chemotherapy. While the share price reacted appropriately to positive news from the company, we believe that the market will now wait for overall survival (OS) data from the trial, and also other T-DM1 trials currently in progress, before any further meaningful move in the price of the company stock.
Buy Odyssey Marine Exploration (NASDAQ:OMEX): OMEX engages in the exploration and recovery of deep-ocean shipwrecks worldwide. It sells coins, artifacts and merchandise from its finds, and it leases its themed attraction exhibit and expedition charters. OMEX shares were up 7.5% at the close, after being up as much 25.6% intra-day, after the company confirmed that it has located the SS Garisoppa, a 412-foot British ship that was carrying 7 million ounces of silver when it was torpedoed and sunk in 1941.
At current silver prices near $30, the entire haul is worth $210 million, making it the largest known precious metal cargo ever recovered from the sea. Furthermore, under the agreement with the United Kingdom Government Department of Transportation, OMEX gets to keep 80% of the net salvage value of the silver bullion recovered under the contract. We believe that with OMEX trading at a market cap of just over $200 million at yesterday's close, its shares are attractively priced here given the expected high value of the cargo that will be recovered from the SS Garisoppa shipwreck site.
Avalon Rare Metals Inc. (NYSEMKT:AVL): AVL is a Canadian company engaged in the exploration and development of rare metals and minerals. Its primary asset is the Nechalacho Rare Earth Element Deposit located in the Northwest Territories, Canada. Its shares rose 16.1% yesterday on no company-specific news from AVL or from its rare earth peers Molycorp Inc. (MCP) and Rare Element Resources (NYSEMKT:REE). Rather, the rise in the stock yesterday seems like a bounce from the nearly two-thirds fall in price in the last two months.
Other major movers yesterday on no company-specific news included Dutch insurance giant ING Group (NYSE:ING) that was up 12.2%; Arch Coal Inc. (ACI), engaged in the production of steam and metallurgical coal from surface and underground mines, that was up 8.8%; Consol Energy Inc. (NYSE:CNX), a producer of bituminous coal and coal-bed methane gas primarily in the northern and central Appalachian and Illinois basins, that was up 8.3%; Ancestry.com Inc. (NASDAQ:ACOM), a provider of family history information via ancestry.com, that was up 7.6%.
Table
click to enlarge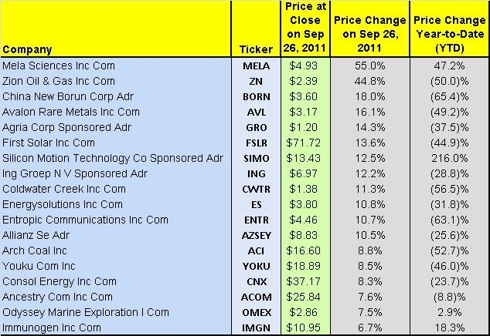 Click to enlarge
Credit: Historical fundamentals including operating metrics and stock ownership information were derived using SEC filings data, I-Metrix® by Edgar Online®, Zacks Investment Research, Thomson Reuters and Briefing.com. The information and data is believed to be accurate, but no guarantees or representations are made.
Disclosure: I have no positions in any stocks mentioned, and no plans to initiate any positions within the next 72 hours.
Disclaimer:
Material presented here is for informational purposes only. Nothing in this article should be taken as a solicitation to purchase or sell securities. Before buying or selling any stock you should do your own research and reach your own conclusion. Further, these are our opinions and we may be wrong. We may have positions in securities mentioned in this article. You should take this into consideration before acting on any advice given in this article. If this makes you uncomfortable, then do not listen to our thoughts and opinions. The contents of this article do not take into consideration your individual investment objectives so consult with your own financial adviser before making an investment decision. Investing includes certain risks including loss of principal.