Sprint (NYSE:S) has plummeted since the beginning of this year, losing almost one quarter of shareholder value while Verizon (NYSE:VZ) gained 0.3% and AT&T (NYSE:T) lost only 5.2%. Part of the problem with the company is that it has failed to effectively communicate its vision for 4G technology. It has reached a deal with LightSquared, had talks with Spectrum and Dish Networks, and owns part of Clearwire (CLWR). But which company will power Sprint going forward remains an ambiguous question.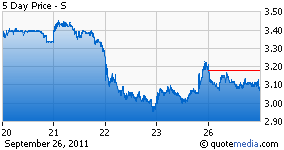 The stock is currently trading under book value and expectations on margins do not look promising. Currently, Sprint has a gross margin of 46.3%, while AT&T's figure is at 53.8%, and Verizon's at 58.6%. Over the next few years, the company likely faces continued market share erosion from Verizon which has done a stellar job on strategy and marketing 4G LTE.
With a beta of 1.29, no dividend yield, and ineffective communication, the market has become well aware of the risks inherent in this stock. Accordingly, this may be an attractive time to invest, as it will generate high-risk adjusted returns should promising developments occur between Sprint and its partners. While EPS will continue to be red for the next year or so, I anticipate EBITDA turning positive by 4Q12.
One promising development is a rumored partnership with Apple (NASDAQ:AAPL) on the iPhone 5. While this will diminish margins further, I see no reason to believe that it will not enhance shareholder value like it has for AT&T and Verizon. Sprint's stock price has exhibited high volatility due to speculation about a potential deal. Investors are eagerly awaiting the October discussion.
I also do not expect a Clearwire restructuring to negatively impact Sprint's stock to the extent that the market has anticipated. Given that Sprint has developed relationships with several partners in 4G, Clearwire's negotiating power has become limited. At the same time, Sprint's limited scale compared to other carriers raises concerns.
Being able to sell the iPhone will be beneficial in gaining subscribers and far exceed the costs of diminished margins. However, Verizon and AT&T have their costs under better control and could use that to increase advertising and diminish potential sales for Sprint, leaving the late arriver out in the cold. In short, the iPhone will not cure Sprint's problems, but it will at least give the company some time to recover lost value.


Disclosure: I have no positions in any stocks mentioned, and no plans to initiate any positions within the next 72 hours.