When we wrote "China's Property Boom Looking More Like a Bust" last June, the Guggenheim China Real Estate ETF (NYSEARCA:TAO) shares were trading at $19.41, while the iShares FTSE China 25 Index Fund (NYSEARCA:FXI) was trading at $43.55. About four months later, TAO and FXI shares are down to $14.26 and $32.27, or a decline of 26.5% and 25.9%, respectively, as of 9/23/11. Year-to-date, TAO and FXI shares are down 28.5% and 25.1%, respectively (see chart below).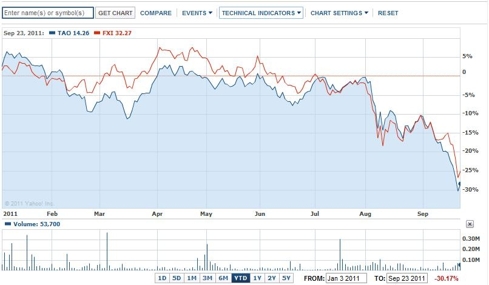 Click to enlarge
(Click to enlarge)
Investors who shorted TAO are currently in the money based on our thesis back in June whether they shorted outright or as a hedge against their FXI holding. However, investors who shorted TAO are still very much in the red if they were predominantly long in well-hyped Chinese Internet IPOs such as YOKU (marketed as the YouTube of China), DANG (marketed as the Amazon.com of China), and/or RENN (marketed as the Facebook of China). Investors who bought these hot Chinese Internet IPOs experienced significant paper losses of between 50% to 80% year-to-date (see chart below).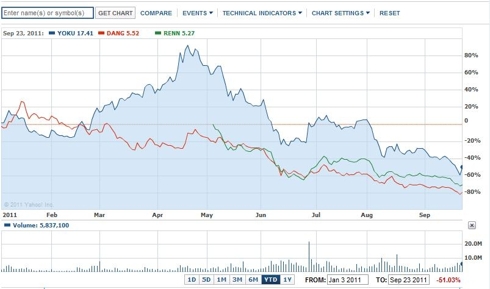 Click to enlarge
(Click to enlarge)
The immediate outlook for Chinese real estate and the overall Chinese economy is mired with pitfalls. Weakness in the United States and troubles in the eurozone may reduce China's manufacturing jobs and dampen economic growth. China's aggressive stimulus programs to stave off recession may produce unintended consequences. According to Bloomberg, Chinese lenders expanded credit at a record pace in 2009 and 2010, making more than 17.5 trillion yuan ($2.7 trillion USD) of new loans as the government moved to offset a collapse in exports during the global recession. The surge in loans exceeded credit expansions in the U.S. before its financial crisis, in Japan before its stock and property bubbles collapsed in 1990 and in South Korea before the Asian financial crisis of the late 1990s.
Conclusion
With heightened risks overhanging China's economy and declining real estate prices, investors might consider avoiding owning Chinese banks.
Aggressive investors might consider shorting Chinese banks with the weakest balance sheets or shorting the Global X China Financials ETF (NYSEARCA:CHIX). CHIX seeks to provide investment results that correspond generally to the price and yield performance, before fees and expenses, of the Solactive China Financials Index.
Disclosure: I have no positions in any stocks mentioned, and no plans to initiate any positions within the next 72 hours.
Disclaimer: Before deciding to invest you should carefully consider your investment objectives, level of experience, and risk appetite. The possibility exists that you could sustain a loss of some or all of your initial investment and therefore you should seek advice from an independent financial advisor if you have any doubts.