Eastman Kodak (EK) dropped 26% Monday as investors reacted to news of the company drawing $160 million from its revolving credit line. The revolving credit advance bears an interest at applicable margins over the base rates. The borrowing will bear interest initially at 1.5% plus the base rate, this would make the current interest rate 4.75%. The company has until 2016 to pay off the advance.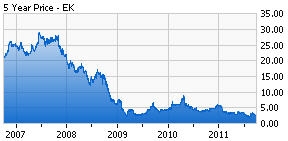 Many investors perceive the advance as a sign that the company may be experiencing a cash crunch which may lead to more problems. The company has remained relatively quiet regarding the allegations. Investors are waiting for a response from CEO, Antonio Perez but he has yet to respond to any of the concerns.
The sell-off is overdone being mostly driven by fear. After all, the purpose of the revolving credit line is to bridge any gaps in cash flow. If the company was in need of permanent capital the company would have issued a statement that would mention the possibility of a equity or debt offering that would follow the credit advance.
This sell-off presents investors a great opportunity to invest in a company with strong assets. I believe the credit line draw was used to balance out cash flow needs, and that the market is over-reacting. I don't see any reasons that would lead me to believe that Kodak won't be able to payback the credit line.
Kodak has been working on turning its business around and has seen strong growth in its consumer inkjet and packaging business. This division saw revenue increase 50% in the most recent quarter compared to the same quarter the previous year. I expect to see more good things from this business.
Kodak is focused on monetizing its intellectual property. Kodak is looking to generate revenues of $250 to $350 million just off licensing. I still expect Kodak to generate significant revenue from licensing.
I'm bullish on Kodak with current prices providing investors with so much value. The patents alone are worth several times more than the current market cap. I view this sell-off as a great buying opportunity to invest in a company with strong assets. Building a position at current areas provides investors with a great risk-to-reward trade. I would start with a small position and look to increase my position size as more information is released that comfirms my bias.
Disclosure: I have no positions in any stocks mentioned, but may initiate a long position in EK over the next 72 hours.