The HP Problem
Hewlett-Packard Co. (NYSE:HPQ) is not headed for an impending bankruptcy, suffering from a significant lack of revenue or earnings, and it does not have a growth problem. HP has a board problem and a leadership problem. Although Meg Whitman lacks experience running a company the size of HP she does possess the leadership qualities to guide the massive ship. Ultimately the board of directors is responsible for the company and I believe they have done a poor job thus far. A series of poor acquisitions and poor management decisions have plagued this firm. The selection of the new CEO was done so hastily that I think they are lucky to have chosen someone that I believe has great leadership. Even with lackluster leadership and direction by the board and by the recent string of past CEOs, HP still has managed some pretty impressive growth albeit some slacking of innovation in its Personal Systems Group business segment. HP has done a great injustice to itself with the palm acquisition and in its attempt to utilize that company's technologies in its TouchPad product.
What the New HP Should Be
HP has been suffering not only from the poor decisions by management but also by a lack of focus on its strong core capabilities. HP is not a dying company that is bleeding cash and looking like its racing to the edge of the cliff just to fly off. However, that exact depiction is what has been blasted across all media outlets by various sources. HP simply needs the leadership and vision to steer the firm toward its strong points. HP needs to focus on the enterprise segment and digital imaging and printing business lines. These segments have seen growth precipitously over the last few years and have great potential in those markets. This style of stream lining a business is similar to what Brian Moynihan is currently doing at Bank of America (NYSE:BAC). A renewed focus on the strong points with a simultaneous cut of the "excess" at HP, I believe, would be transformational for the firm. I think either option described in the below paragraph for the PC business line is viable if it is executed in the manner described.
The Possible HP PC business Spin-out or Sell-off
Recently HP has thrown around some small talk about the potential spin-out or sale of the PC business. I honestly think that the downside risk to an event like this occurring is extremely limited. HP is generating consistent revenue from this business regardless of the decline it is experiencing. As HP changes its business model from a PC maker to an enterprise servicer and digital imaging and printing company it can use the revenue from the PC business to invest in these areas. I think the PC space is long from dead but I do think it is a declining/transforming end of the business cycle (Maturity – Declining Stages). Now if we look at the other side of the coin and HP decides to sell off the PC business it will receive a nice cash settlement, which could then be invested into its growing segments.
The Recent HP Purchase
The recent acquisition of Autonomy has been received with much skepticism as well. Fortunately for HP it has actually made a useful acquisition in this case, similar to the 3PAR deal. It is my belief that despite HP overpaying for the most recent target, Autonomy is going to provide HP with significant synergies in its enterprise segments. More than 80% of all data across networks is considered unstructured data. Autonomy is a global leader in the management of this "type" of data and is capable of putting it to use for clients in a large meaningful way. Meg Whitman has dealt with unstructured data since she joined EBAY and is familiar with the ways to use this data that will be advantageous to clients and HP.
The HP Growth Story
Revenue is consistently growing in 3 out of 4 of its largest segments. The combination of these four segments generates approximately 95% of fiscal-year revenue for HP. The lagging segment (Personal Systems Group) is expected to generate approximately 30% of fiscal 2011 revenue with the other 3 segments expected to generate approximately 65% of revenue. The weighted average growth rate of revenue for the three expanding segments is 3.5% and the weighted average growth rate of revenue for all four segments is expected to be approximately 2.5%. This type of growth in revenue does not put HP in an aggressive growth category but it certainly should help calm investors dumping shares to know that HP is still generating revenue and earnings.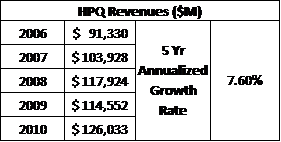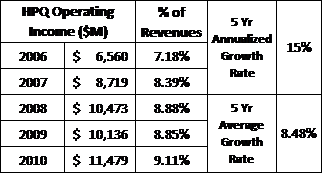 This next table breaks down HP into its individual business segments. These tables show the year-over-year (YoY) growth rates per business line from 2008 (%G – YoY), the percentage of total revenue each segment contributes (%R), the annualized 3-year growth rate, and how much revenue (in $M) each segment generates. I consider the significant decrease in growth from 2008 to 2009 in the Enterprise Storage and Servers space attributable to the Financial Crisis and IT spending cuts.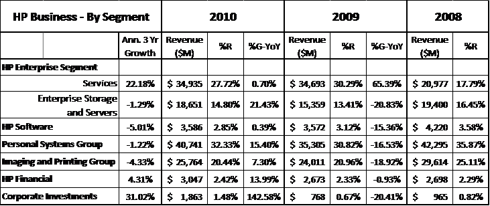 It should be clearly evident that the fastest growing business segment for HP is the Enterprise Services (ES) segment with a 3-year annualized growth rate of 22%. ES revenue is destined for a significant ramp up after Autonomy is integrated into HP. Along with the increase in ES revenue the synergies that Autonomy provides to HP will allow for bundled sales from the Enterprise Storage and Servers segment. These synergies will help ramp up revenue from the Enterprise Storage and Server segment. Based on the most recent 3 quarters the Enterprise Storage and Servers segment is seeing significant growth as seen in the tables listed below. It should also be noted that even though the HP Software segment has a small percentage of revenue overall it is seeing an average growth rate of 14% based on the most recent 3 quarters. These tables give viewers a breakdown of how each segment is performing against that exact quarter a year previously. The percent of total revenue each segment provided (%R-Q) is provided, and the percentage change in growth of revenue for that segment compared with a year earlier (%G of Rev – YoY) is given.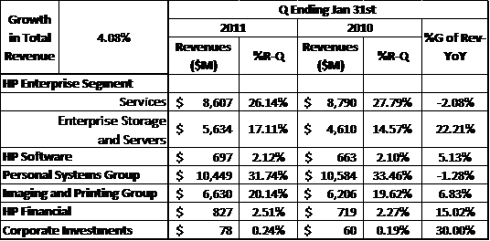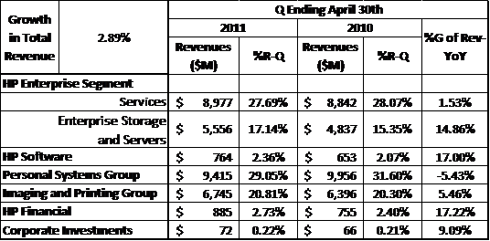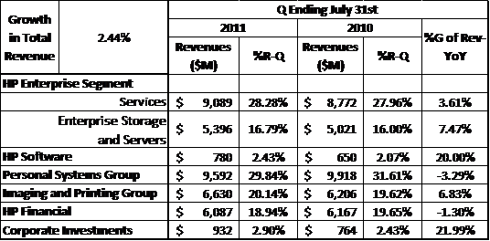 HP Earnings and the current misguided public perception
In conclusion the earnings power of HP has hardly been disintegrated even though this is the picture painted across the media. HP might have some issues with its leadership yet this has not affected the true earnings potential of HP. Currently HP is trading at a P/E ratio of 5.5. The stock price is at historical lows despite the little change in earnings power. I recommend all investors looking for a solid value position in their portfolios purchase some HPQ stock or purchase some call options expiring in 2012. Our fund is holding a nice position in the HPQ $22 call options in an effort to manage our risk. HPQ, based on daily adjusted closing prices for the last 2 years, is correlated with the Nasdaq (NASDAQ:QQQ) with a mere 19.62%. Even if we see a substantial sell-off over the next few months in the broader market I think there is very limited downside to HPQ and a significant upside potential. All SEC filings that were used to create this article can be found here.


Disclosure: I am long HPQ. I own $22 HPQ Call options expiring throughout 2012.